The Best 5 WordPress Site Builders: Use Them to Make your Website Fastest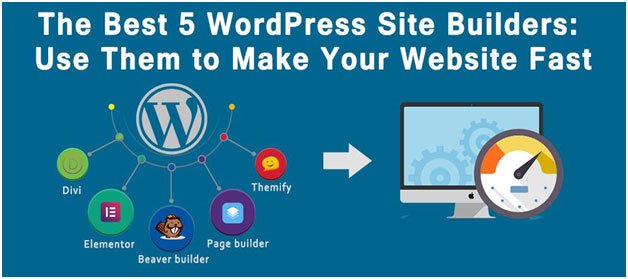 Owning a business in this world with highest technological advancements simply means that you must have an online presence of your business. Yes! A website is a necessity for advanced business growth. When thinking about building a website, WordPress might be the first platform that comes to the mind of an entrepreneur.
Now, for those entrepreneurs with technical know-how very well knows that building a website with WordPress is not a task that can be done overnight.
But, those non-techies would love to get their WordPress website as early as possible. Or those who are switching from Weebly to WordPress, will find out for the drag and drop site builders in WordPress as well.
When building a WordPress website, there might be various difficulties faced. There are numerous plugins and themes available in the WordPress directory.
But, it is hard to customize the premium plugins and themes according to the requirement of your business. Here is where the need for WordPress site builder comes.
There are a variety of WordPress site builders available out there which allows you to customize every component of your WordPress website without writing a single line of code.
I have sorted and finalized top 5 WordPress site builders which can be used to build the website fastest. Read on the below article to find the most suitable WordPress site builder based on your requirement.
Beaver Builder


Beaver Builder is a finest WordPress site builder plugins available out there. This is a solution to the agencies majorly focused towards working on client projects. This plugin is known for having a complete built-in custom interface that lets you to start your work by delivering a set of templates made earlier. It is a very easy to work with this plugin as it works on a very straightforward database and is a best option for the beginners.

Features :

Supports all the content modules like HTML, Photo, Text Editor, Audio, Video, & Sidebar.
Offers Full-width and column-based layouts.
Is lightweight and semantic markup for maximum performance.
Lets you add your own CSS classes and IDs.
Allows you to use WordPress Widgets and shortcodes.
Already contains pre-made templates.
Fully Mobile-friendly and offers Responsive Layouts.
Offers import/export features.

When using the premium version, even contains better features that would let you build up an entire user-friendly WordPress website without any coding skills.

Its pricing starts from $99 for unlimited sites.

Elementor


Elementor is a powerful WordPress builder that will let you build up the website with the fastest load speed. It is a live builder plugin that lets you see your page live as you edit it with this builder. The only thing you need to do is create sections and select the number of columns for every section and then just drag and drop the widgets from left panel to the section you need to work with. This plugin comes with tons of widgets along with the website elements that are used most commonly.

Features :

Comes with built-in templates.
Fully capable of drag-and-drop and lets you to make arrangements and alignments according to the requirements.
Faster than most of the page builders available out there in the WordPress directory.
Works perfectly with any theme.
Lets you import/export your custom-built pages.
Offers mobile editing controls along with exclusive toolset.

Though it works perfectly with all the themes, there would be something in the results that would depend on the theme's structure.

This is a free website builder.

Divi


Divi is one of the most popular WordPress site builders and is a super fast front end editor. It comes with more than 20 layouts and templates for different kind of websites. The plugin simply changes the way of building your website and create a website in a new and right way. This plugin also contains various content elements to let you make your blog impressive.

Features :

Lets you customize everything.
Easier organization.
Insanely fast.
Offers real time designs.
Lets you do responsive editing.
Offers instant content.
Comes with draggable widths.

If the builder is not used smartly, this can have negative effects on the SEO of your website.

Themify


Themify is the page builder that also comes along with the theme. Hence, if you are using the theme, you might have already used this page builder. It is a plugin that comes with various in-built features which allows you to work on front-end as well as back-end of the website. With live editing, it becomes easier to figure out the changes happening to your live site.

Features :

Offers front-end and back-end editing.
Comes with complete drag and drop support.
Lets you import/export your layouts.
Offers responsive, SEO-friendly, and translation ready website.
Is translatable to any language.
It is modular based in design and can be optimized for better performance.

This theme comes with relatively fewer content modules than other plugins. It costs $39.

Page Builder


This is a builder with more than one million active installs and is a fully functional plugin. This builder lets you use WordPress widgets and works with any standard compliant theme. Though it is a free plugin, it works completely well with as many paid solutions out there. In this plugin, all the content blocks has its title and settings in which you can adjust the actual content of the block.

Features :

Offers full drag and drop support at the time of editing canvas.
Works perfectly well with any theme.
It offers the version control.
Comes with responsive and grid-based output.
It offers multiple customization facilities.

With this plugin, some columns can't be nested within other columns.
Here, your work for building the WordPress website easily is done. Use them to build your website more creatively and in a great manner with the maximum speed possible.