How to Add Live Chat to Your WordPress Site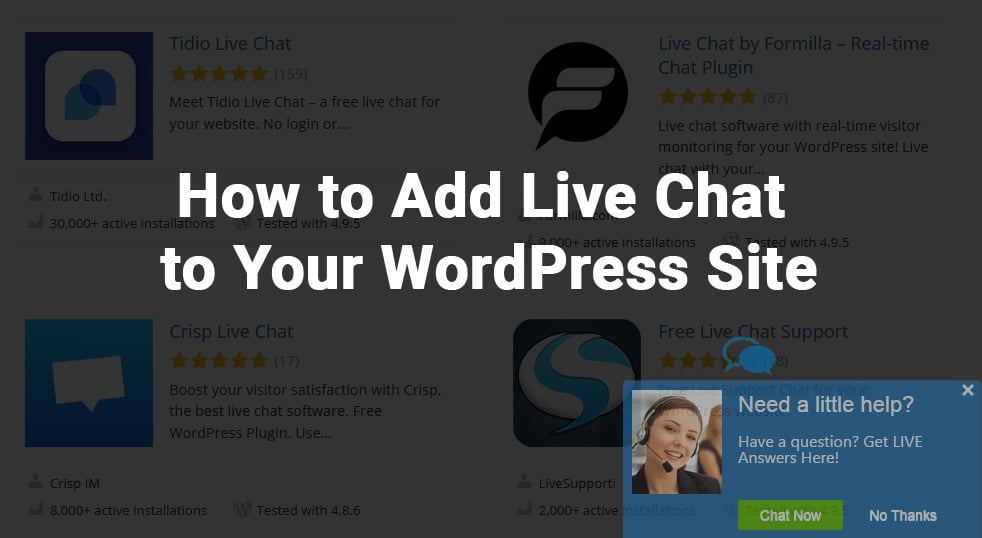 What is the crust for having a strong and loyal customer base? If you think it is the quality or versatility of services, then you are wrong.
Though they contribute to the success of the business but the main factor which is responsible for holding back the customers is the experience they have with you.
It's not that you need a marketing degree for providing a great customer service or understanding the importance of customer satisfaction.
The more worthwhile and memorable experience they have with you, the more they become your ambassadors and hence contribute in a substantial growth of customer base for your business.
But when it comes to online business, you need to be pro-active in your approach by actively responding to the customer queries, his doubts through email or comments. But the most effective way in today's scenario would be Outsourcing Live Chat Services.
Having a live chat plugin enabled in your WordPress website will power you to clear the queries of the customer in the real time, so that you do not lose out on any customer and deal him to his satisfaction.
Need of Live Chat
All the customer-first brands and sales outsourcing companies recommend using live chat for better customer experience and business growth. And it makes sense give the benefits of live chat! Live Chat means when you can have one-to-one conversation with your client/ user so as to give solutions to his problems. Let me throw some light as Why Live chat is needed.
Real Time Problem Solving: By providing live chat option in your business website, you are giving an advantage to people to freely talk to you without any wait time by emails, or picking up phones or comments from social media. For example you can get the latest style advice from an e-apparel store or enquire about certain electronic products by giving out the functionalities you need.
Budget Friendly: Around 75% of people feel comfortable with chatting rather than picking phone or giving a call to customer care service. Installing a live chat feature is much easier than installing a communication channel for phones. Live chat installation is just as single click process and indeed a budget friendly option.
Stand Invincible: You can very well modify or provide what the customer wants through his live inputs. You can beat out on your competitor on this vertical. In a survey conducted, it was proven that people who opt for guidance through live chat are three time more likely to buy the product.
Customer retention: A person feels more connected when his queries are answered and here is where lays the strong foundation of relationship. This customer becomes voice of your company by spreading the good and satisfied experience with others and hence, is responsible for customer pulling.
What are the Options available for implementing Live Chat feature
WordPress provides live chat plugins for this purpose. Plugins are readily available on the WordPress website.
Either you can have them from there or you can also go for third party plugins which may be paid. Whichever plugin you choose, there are some basic steps to be followed for their installation.
There are three basic steps in configuring a plugin but make sure you have taken a complete backup of the website before installation. Rather you should follow this procedure, for every single plugin you install.
STEP1: Download the plugin
The first step is to download the plugin either from the plugin directory at WordPress official website (make sure you have read the reviews, ratings and features before selection) or go to the Admin panel > Plugins > Add New.
In case you have downloaded the plugin externally you need to relocate the plugin file to 'wp-contents/plugins' folder. As soon as you place the Live Chat plugin folder, you will be able to see them in your plugin list. From there you can activate or deactivate your plugin.
STEP2: Configure the settings
As soon as you enable the live chat plugin, you can configure your plugin's setting as per your needs. The configuration involves whether you want to have username and emailed for the person, user's logging details/ IP, notification sound activation, whether you want to use it on mobile etc.
You can have the chat logging facility activated and some plugins also offer enabling of Google Analytics Integration.
STEP3: Optimizing
Now you need to optimize it for the user experience. It covers mainly the customization part regarding where to display, what all things to be displayed, multi user or single user.
Another thing which you can choose is displaying of timestamp in the conversation which can be very useful for tracking any information. You can also choose for displaying messages even if you are offline.
SO increase you customer base and customer satisfaction by having a live chat plugin. I am listing out few live chat plugins which are getting popular these days. Have a look.
Best Live Chat plugins for WordPress
WP Live chat Support

This indeed the most affordable live chat plugin by WordPress. You can limit you chat box to show only to the registered users only. This amazing plugin is compatible with all caching plugins.

Features:

No third party connections
No fees for subscriptions
Unlimited live-chats that too simultaneously
User can drag the box around any corner of page
Storing of offline messages
Can apply animations
Support for Google analytics
No Advertising

Tidio Live Chat

This plugin is quick to install and does not require any registration. The main x-factor of this plugin is that you can communicate with any user which is visiting your website.

Features:

It has a dedicated app for mobile users.
It is available in 3 beautiful designs
Supports 140+ languages
This plugin offers an email form to the visitor in case you are offline.

ZenDesk Chat

This stylish plugin is available for free from WordPress's official repository. App is also available for its dedicated wok.

Features:

Professional looking chat boxes
14 days chat history (for free version)
Minimum restriction for free users
One chat agent can handle chats one at a time.
Paid version starts from $11.20/ month

PureChat

It is a very popular third party plugin for providing a very efficient way of connecting with customers. It takes just 3 minutes for installation. It offers full customer support with its customer support agents present 24/7.
Winding UP
According to a survey around 83% of people need some guidance or support while making an online purchase. To take your business sales to higher level and increase your revenue, professionals highly recommend to opt for live chat plugin for your website.