Actionable Tips to Choose Affordable WordPress Hosting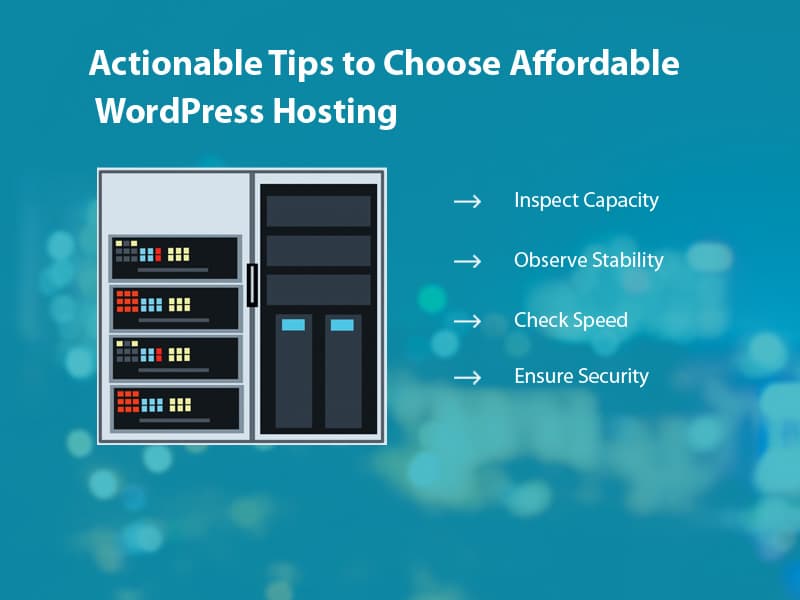 WordPress Hosting is a service that's designed exclusively for WordPress sites. This improves the speed and performance of your website for all your visitors. A non-specialized hosting service optimizes its servers for broad use rather than a CMS like WordPress. Most hosting providers can provide customers with exceptionally inexpensive pricing. People's decisions are suddenly centered on the host with the lowest price. They choose the cheapest WordPress hosting company they can find after learning this information.
WordPress is a little system that may theoretically run on any host that has PHP and MySQL 5. However, we must not overlook the importance of quality. There is a significant difference between a website that just operates and one that operates efficiently. Although most shared servers or shared hosts suit their users' needs, there are other more considerations to look at. Here are actionable tips in choosing affordable WordPress Hosting.
Inspect Capacity
The quality of your site differs from server to server, and the complexity of your site is also a consideration. A website with multiple plugins that conduct multiple database queries consumes more resources and slows down page loading. However, a shared server may easily operate one or more WordPress sites. A decent one, on the other hand, can easily handle a web page with between 10 thousand and 14 thousand page views each day.
Observe Stability
Apart from the issue of loading speed, you must ensure that your site will remain active for as long as the users view it. Nothing is more aggravating for a user than trying to access your site and discovering that it is suddenly unavailable. Unfortunately, with a low-quality hosting company, this might happen frequently. And you will be losing leads.
The finest hosting companies have their servers checked 24 hours a day and guarantee a 99.9% uptime. If your website isn't accessible to the public on a regular basis, its Google rating may suffer. As a result, while selecting a WordPress hosting company, be sure that your website is constantly accessible to its visitors.
Check Speed
Google and other search engines use your site's speed as one of their ranking factors. If your site doesn't load quickly enough, it could hurt your ranking in Google searches. Your pages will load rapidly on a well-performing website. So, keep an eye out for high-performance servers that will aid in the performance of your site. The speed of your site is also dependent on the server that hosts it.
A fast website will keep users on your page longer and prevent them from abandoning it due to a slow load time. If you are involved in any activity that involves internet sales, this is a critical element to consider. Sales and money will be lost if a virtual store takes too long to load. People these days are impatient. If you keep them waiting, you'll lose potential clients who will never come back to your website.
Ensure Security
The hosting firm should ensure that your website data is safe from any issues with the server that hosts it. If the server goes down, the organization must have an information system in place to ensure that no data kept on the server is lost in the event of an outage. A system of routine backups and/or data protection must also be in place at the firm.
When choosing a web host, make sure that your provider will supply you with all the tools you'll need to make your page function quickly and properly. You'll need a business that can help you create the best possible user experience for your visitors while also helping you rank effectively on Google. As a result, it's critical to select not only the cheapest WordPress server but also one that provides the highest level of service.
Review Customer Service
You'll almost certainly require the company's assistance at some point. Even if you never have to address a major issue, you'll need assistance with at least some basic adjustments. When that moment comes, it's critical that you have a reliable support system in place that can be reached quickly and counted on anytime you need it.
Because there are so many web hosting providers available, not all of them will provide the same degree of quality, support, or features. It's critical that you do your homework and search the web for as much information as possible about each WordPress hosting company before opting to utilize them.
Always keep an eye out for online reviews and ratings that can tell you more about a hosting company's performance, uptime, and features. You should also read reviews to discover as much as you can about their degree of help. Find out if they'll be there for you when you need them and if they'll provide you with excellent customer service.