9 WordPress Tips to Enhance Email Subscribers List for Your Business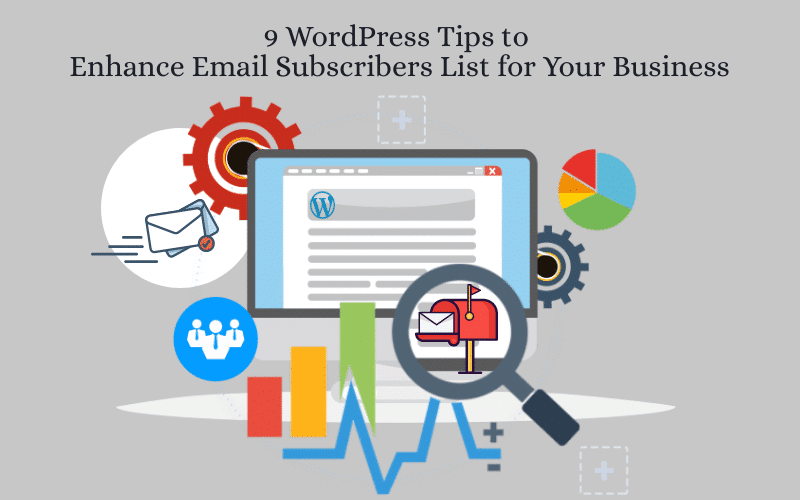 The low conversion rate or a declining number of email subscribers is the worst situation for any WordPress website owner. You invest a hefty amount in setting up your site, and if it's not giving the desired results, then it is as good as non-existent. Emails have always been an excellent method to increase traffic and revenue. Therefore, emails are widely used by businesses to boost their sales and revenues. If you are unable to get more email subscribers and looking for ways to improve it, then you have hit the right spot. Effective newsletter design is the initial step towards a successful email marketing campaign; then, it demands a constant effort to increase your email subscribers. Here we will provide some WordPress tips on growing your email subscribers' list.
Offer giveaway

You can see explosive growth in email subscribers after running a giveaway program. It is a proven way to increase your email list, after all, who doesn't like free things! Provide free ebooks or other freebies to give an incentive in exchange for an email newsletter subscription. You can run a giveaway contest where subscribers can get freebies after taking part in the competition by subscribing to emails. People will subscribe to your newsletters to get a chance to win your contest.

Add opt-in forms in blog posts

You can also try to embed opt-in forms right inside blog posts on your site instead of driving visitors to a landing page for conversion. It can be very beneficial and help you get more subscribers. This method can work because when people read your blog post, they are also likely to notice opt-in forms. You can use a reliable WordPress plugin to embed such opt-in forms inside blog posts.

A/B Split test

One way to increase email subscribers is to improve the conversion of your sign-up forms using the A/B split test. By performing the A/B test, you can find the most successful variation of a newsletter opt-in form. You need to create different versions of your opt-in forms and then use A/B test software. When you run a test, you can figure out what type of content, color, images, etc., work best for your audience. As a result, you can pick the most effective version of your opt-in forms.

Use social proof

Using the power of social proof is a robust way to get more email subscribers. To do this, you have to mention the number of people that have already subscribed to your newsletter. You can add a simple line like "20,000 people are already enjoying quality content" in your opt-in forms to encourage people to join your newsletter. It gives a motivational boost to people and provides them an excellent reason to subscribe to email newsletters. You can also add such motivating lines in your newsletter templates to create more attractive emails.

Use a mobile-optimized theme

According to Statista, 51.65% of the total internet traffic globally comes from mobile devices. Also, 48% of website visitors view web pages on their mobile phones. This data is enough to understand the potential of mobile devices. If you want more people to subscribe to your newsletters, you need to make sure that you are using a mobile-friendly WordPress theme. A responsive WordPress theme enables your website to look great on every device, so readers will be more likely to subscribe to emails. You can create a custom website theme that will suit your business using Photoshop design and get it converted to WordPress theme from professionals.

Try different content

The content you publish on your site is essential to drive more people on your website that can increase your subscribers' list. However, blog posts aren't the only way to do this. It would be best if you used different types of content, such as guest blogging, that will help you reach a broader audience. Find out the bloggers whose values match yours and build collaboration for publishing guest posts. Besides this, you can also use other types of content like Infographics, videos, and podcasts to bring more traffic and increase the number of email subscribers.

Use exit-intent pop-up

70% of people who visit and leave your site never return. An exit-intent pop-up is a kind of pop-up that appears on the screen when someone attempts to leave your website. Exit-intent pop-ups can be useful for increasing conversions; in fact, conversions can increase by 20% for e-commerce after using exit-intent pop-ups. The effective use of exit-intent pop-ups can help you grow your email subscribers' list. Add such pop-up to your WordPress website to get a boost in email subscriptions.

Make subscription easier

You should simplify your subscription process as far as possible. Remove all distractions that cause people to leave without subscribing. Further, the subscription forms should be neat and straightforward with lesser fields. Avoid asking too much information from visitors or readers in your sign-up forms and ask for essential information only.

Use lead magnets

Lead magnets are quite useful for increasing the email subscription rate. It works by providing some incentives to website visitors. A Lead Magnet is a highly valuable thing that you offer to website visitors in exchange for their email addresses. To create effective lead magnets, you should focus on delivering some solutions to the problems of your visitors or readers, so they will be more likely to subscribe to your email newsletters. You can offer lead magnets like ebook, printables, PDF checklist, templates, etc.
Final Words
Creating an email list is a vital part of your online business. As the list will grow in terms of more subscribers, you will have better chances for higher sales and conversion. However, increasing the list of email subscribers is not an easy task and requires a lot of effort. It's equally important to maintain the email list hygiene using any accurate email verification tools. Build a perfect email template HTML to create a robust email newsletter. Look for a good HTML email template design company to develop quality and standards-compliant newsletters.