9 Details That Will Make Your Website Look More Professional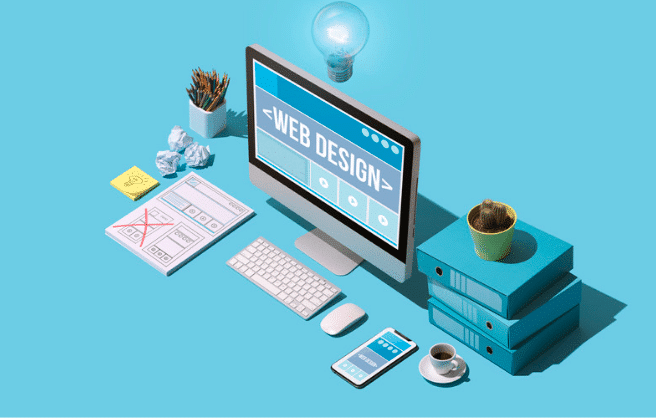 When I visit web pages, my eyes immediately go away if there are any glaring errors. This happens to all of us, as we tend to doubt a website's credibility before buying or hiring services if it doesn't look professional. This can lead to distrust and cause potential customers to back down. Therefore, I will provide several tips on improving your website's appearance and making it look more professional.
Your website's image says a lot about you, and it's essential to pay attention to even the smallest of details that can enhance its overall look and feel. It's not just about looking good; it's also about being functional and trustworthy. In this article, I will explain how to implement each tip, so you can create a high-quality website that will improve your brand's image.
9 Tips To Make Your Website Look More Professional
Use a Professional Platform to Create Your Website

Using a free service like Wordpress.com, Blogger, or Wix can take away a lot of your website's professionalism. Visitors may question if your business is reliable and serious. It's essential to have your own domain at the very least, but ideally, you should consider contracting a hosting service for your website.

This will help your website look more professional and eliminate the appearance of a free website. It's not expensive, and you can get it for less than $100 per year, including hosting and domain. If you decide to upgrade to a premium plan, it will cost much more. Also, free domains make it difficult to rank on Google, and it will be more challenging to increase your website's traffic.

Use Your Own Domain

This tip is related to the previous one. Sometimes, you may start with a free service, but if it's a business, you should always have your own domain. It's one of the essential elements of a high-quality website.

Configuring the Digital Certificate (SSL/HTTPS)

A digital certificate is a security method that protects the information between your website and its visitors, making your website look more professional. It prevents interception and especially prevents someone from impersonating your website.

It is becoming increasingly important every day, as it affects your website's SEO and can pose a security risk depending on the data you manage. It also influences the appearance of your page in the browser, and visitors may be deterred by a message indicating that the site is "not safe". Therefore, adding a digital certificate is crucial for building trust with your visitors.

Adding a Favicon to Your Website

A favicon is an icon that appears in the browser tab when someone visits your website. It also appears larger in shortcuts and on mobile devices. It is frustrating when web designers or developers fail to add a favicon to their website, as it is an essential detail that can make your website look more professional.

By taking care of these details, you can improve the appearance and security of your website. In the image below, you can see an example of where the favicon appears on my website, as well as the lock icon indicating that the security certificate is activated. On the left, you can see a website that has not established a favicon, and the default document icon appears. Adding a favicon is a simple yet effective way to enhance your website's appearance and professionalism.

Using a Good WordPress Theme

Choosing a good theme for your WordPress website is crucial. While there are many free options available that are simple yet effective, there are also paid themes that can be counterproductive if they have too many unnecessary features or are poorly designed. It's important to find a theme that fits your needs and design preferences.

Some popular free themes for WordPress include the default themes that come with WordPress, which can be customized without any coding knowledge.

For those willing to invest in a paid theme, Elegant Themes offers templates that are highly customizable and visually appealing. These templates come with a powerful and user-friendly builder, allowing for a wide range of design possibilities.

Choosing the Right Color Combinations

Choosing the right color combinations for your website is important for creating a cohesive and visually pleasing design. While some people have a natural eye for color, others may need to train their eyes to find the right combinations. While choosing the color for your website design, you can jump out the topics and find some graphic design inspiration online.

It's important to choose colors that work well together and complement your brand or content. There are many online resources available to help you choose the right colors for your website. Additionally, it's a good idea to use a limited color palette to avoid overwhelming your visitors with too many colors. By taking care of the color combinations, you can create a more attractive and professional-looking website.

Fixing bugs on your website

There are times when you browse a website and come across obvious flaws that give it an unprofessional appearance. This is especially true if you specialize in web design, but if you have created your own website, you can also take steps to improve it and enhance your brand image.

It is important to take these factors into account before publishing your website and to test it on both desktop and mobile devices, as an increasing number of people browse the internet on their phones. Although it is impossible to catch every mistake, you should do your best to review the entire website and minimize any issues.

Avoid misplacing elements on your website

Layout problems can arise, making it difficult to arrange elements on your website as you would like. In such cases, you may need to apply CSS adjustments to tweak the design. Elements may not align correctly, or fields may become overcrowded. Sometimes lines or images appear above the text, causing layout issues. A concrete sitemap will help others find information on your website quickly and easily. So make sure to design a sitemap to better demonstrate your website.

Adapt your website for mobile devices

Fortunately, adapting your website for mobile devices is relatively easy, and many templates/themes are already responsive. However, it is still important to review your website and make adjustments as necessary.

Attention to detail is key when it comes to creating a high-quality website that looks good on desktop and mobile devices alike. To ensure that your website looks good on mobile devices, take a tour of it on a phone or simulator.

Although it is a good idea to check your website on a phone once you have everything ready, there are also simulators available that allow you to view your website on your computer as if it were being accessed from a phone or tablet.
Summary
Does your website look professional? How many of the items on the list have you implemented? Have you resolved all the problems? Let me know in the comments.