8 WordPress Plugins Beginner Bloggers Should Have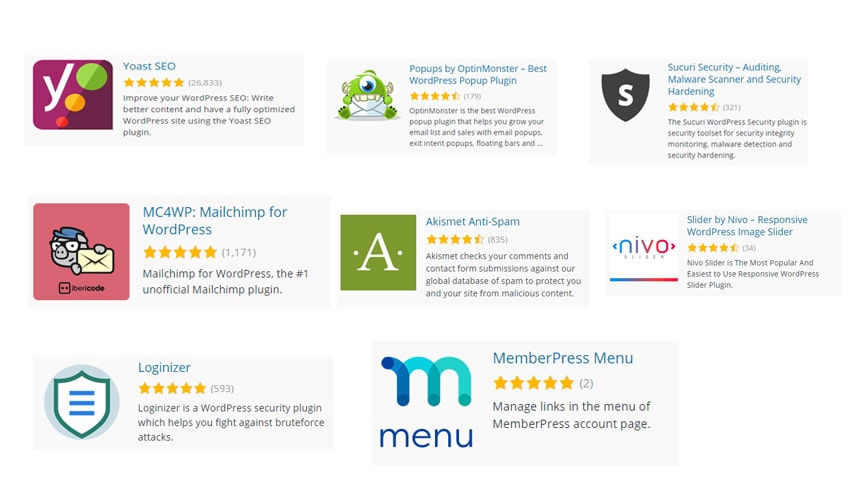 Beginning a WordPress blog is an exciting new adventure. Not only are WordPress blogs a wonderful way to showcase the many ways you express your creative self, but they're a great place to begin your business.
The digital age has proved just how lucrative a career online can be, which is why so many ambitious creatives and entrepreneurs turn to WordPress.
Within the realm of WordPress, plugins allow users to add a number of different extended software programs to their website. They enhance the functionality of your site and add exciting features that engage site visitors in a myriad of different ways.
There are over 55,000 third-party plugins within WordPress' directory, giving you plenty to work with as you customize and brand your blog. But what are the must-haves among such a vast collection of add-on software?
Let's walk you through the basic WordPress plugins every beginner site-maker should have, regardless of the content that will soon inhabit your unique domain.
Yoast SEO
Yoast SEO has become one of the most popular WordPress plugins for novices and seasoned site-makers alike.
Yoast boasts the most comprehensive search engine optimization solution, packed with an impressive selection of features and tools to improve your on-page SEO. Add meta tags, create sitemaps, and optimize your site for Google, social media, and more.
OptinMonster
When it comes to conversion rate optimization plugins, no software performs better than OptinMonster. Designed to allow users to convert bouncy visitors into interested email subscribers and paying customers, OptinMonster works hard so you don't have to.
By giving you the power to personalize campaigns to users, OptinMonster makes you more money. OptinMonster is a valuable tool for bloggers, eCommerce entrepreneurs, and new business owners.
Sucuri
When building your blog, security should be at the forefront of your mind. Sucuri is one of the leading security WordPress plugins that offers DNS-level network firewalls, and intrusion/brute force prevention, as well as malware and blacklist-removal services.
By sending all of your website traffic through cloud proxy, Sucuri is able to scan every single request and decide whether or not traffic is legitimate and what traffic can successfully pass through.
MemberPress
MemberPress gives you the key to building online communities and membership sites via WordPress—so it's really no wonder why it's one of the essential plugins to date.
Not only can you create subscriptions and manage content available to users based on their subscription plans, but you can even incorporate a number of popular payment solutions and online store features with ease.
Akismet
While everyone wants their site to receive traffic, nobody wants the traffic to be dominated by spam and bots. Akismet's number one job is to filter out and delete spam comments that can hurt your site's legitimacy.
Akismet is lauded for its 99.4% accuracy rate that gives you the peace of mind you need to tackle unwanted content on your blog.
Nivo Slider
Whether you're an artist showcasing your one-of-a-kind pieces or a graphic-design lover who wants to add some stylish flair to your site, Nivo Slider gives you the power to display an interactive image slideshow on your site that draws visitors in.
Add a splash of creativity with the visual wonder delivered by the Nivo Slider's crisp on-page clarity and allure. It's easy to navigate and comes with a comprehensive design structure that is truly user-friendly.
MailChimp for WordPress
MailChimp is one of the world's most popular email marketing services that allows users to manage subscribers, send emails, and track the fruits of your labor in bulk.
It is an absolute must-have plugin for WordPress webmasters and business owners and it's completely free to add to your blog. If you're looking to spruce up your eCommerce site, opt for the premium version, instead.
Loginizer
Designed to prevent third-party hackers from running a brute force attack on your blog, Loginizer is another security essential worth lining up on your plugin list.
Loginizer works by blocking an IP address after a maximum number of login attempts has been reached. The plugin also allows you to blacklist or whitelist specific IP addresses.
Venture into higher-level security features like two-factor authentication, reCAPTCHA, Passwordless login, and more to bolster your site's safety.
With these 8 must-have plugins, you'll be well on your way toward creating the WordPress blog of your dreams. What are other beginner-level plugins you use on your WordPress blog or recommend to novices? Let us know in the comments below!