8 Reasons Why You Should Use WordPress for Your Industrial Websites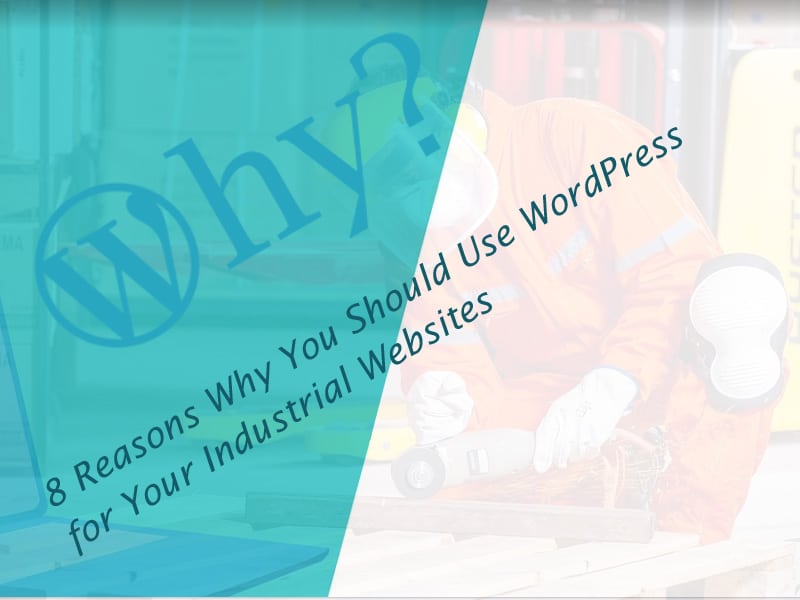 Evolution is an obvious phenomenon to occur with any company that survives in its market. Majorly, there are only advantages attached to evolution. But, image changeover of a company due to expansion is one thing that can be a disadvantage to it. Often in the minds of its consumers, the company is still working in a limited sector, as opposed to reality.
For example, WordPress that started out as a simple blogging platform, has then matured into a full-fledged CMS platform. Yet, most people either do not know this, or are hesitant at using it for making industrial websites. So, with this article, we intend to break this misconception about WordPress. And give you eight reasons why WordPress should be preferred for making industrial websites.
But first, let's go through some of the most amazing stats about this free and open-source content management system.
Key facts about WordPress
According to Netcraft and WordPress.com, 35% of the websites uses WordPress
A survey states how WordPress registers more than 1.1 million new domains every 6 months
As per W3techs, WordPress holds 61.8% of the market share and hence it is the most used CMS.
WordPress takes care of 80-90% of the total Google crawler's issues.
From the top 10 million websites, more than 500 that are built everyday are powered via WordPress which means that this platform powers 14.7% of the world's top websites.
So, what is it that has led to such outstanding stats of WordPress? And why is it that you should use WordPress for your industrial websites? Let's get to know.
8 reasons why you should use WordPress for your industrial websites
To know why WordPress is best for your industrial website, you should know what all should an industrial website have in general. And when you are in the process of listing those must-to have things in your industrial website, you'd come across things like:
High-quality video and images
Certifications
Manufacturing process and machineries that you use
Services you provide and its value
Case Studies
Product information
Ample amount of industrial website theme choices

After putting in WordPress, you could pick from hundreds of pre-made themes. These themes, which are available either for free or at some cost, offers you the liberty to customise your web page as you please. So, you do not need to completely subscribe to how the designer, developer has created it originally. This allows you to post unique content which is relevant to your industrial plant.

There also are hundreds of thousands of WordPress plugins that you can pick from. These bits of code amplify the capability of your webpage with only some clicks. Thanks to plugins, you could use WordPress for pretty much anything. Moreover, you can create a customized industrial website, or begin a blog.

Additionally, if you do recognise a bit HTML or CSS, you could use that understanding to customise your WordPress theme or plugins even more. Most importantly, WordPress is an open source platform.

Ease of operation without technical skillset

You don't have to be a coding savant to operate WordPress. Basic understanding of computer systems and the net is essential. You don't need to have the knowledge of PHP architecture or HTML or CSS for WordPress' basic operation. WordPress is designed to be set up speedily and controlled without headaches.

So, if you want to prepare a web page or blog. Just use the textual content editor, for operating which, you need basic language skills. Originally, the WordPress' textual content editor was designed to operate like a Word document. Easily personalize your theme you choose at the Appearance tab, add more detail in an intuitive, smooth way. Moreover, you may even download a drag-and-drop web page builder for ease.

No need of a dedicated technical team

Because of reason no. 2, you do not necessarily need a technical team to manage your industrial website powered with WordPress. Which is essentially beneficial if you are shifting or sharing your workload from just being physical to physical + virtual.

This can save you on operations. A full-time dedicated website management team at least consists of a developer, a designer and a content writer. And employing them fulltime can cost you anywhere from $30-$120 an hour. Whilst, there is no need to do so when you are starting to build a digital presence.

WordPress is SEO friendly

Search engine optimization, is one of the most vital techniques to make your enterprise shine online. And, going in-depth into it, consumes a lot of time and involves a lot of technicality. However, WordPress streamlines search engine optimisation to deliver you extra customers.
All you need to do is simply download the freely available Yoast search engine optimisation plugin. Doing so, will assist your webpage in standing out. Yoast plugin offers you the capacity to edit:

1) Meta descriptions,

2) Identify tags, and

3) Keywords which are very important from the SEO aspect of any industrial website. Moreover, this plugin is a blessing for all those who does not know anything about SEO. It gives recommendations and a grade by grade manual for set up and use.

Has huge community support

As mentioned in the statistics, millions of users operate WordPress. If you're having a difficulty go get anything together in your site, take a look at out their free forums. Not only can you study preceding threads, but also get your questions responded. Even after that, if you don't discover what you want inside it, you could connect with the theme or plugin creator. Also, there are numerous WordPress tutorials available on YouTube.

Smartly integrates with third-party tools

Depending on the kind of industrial website you are planning, you'd have to employ third-party tools. A classic example of commonly used third-party tool is Woocommerce: used to setup eCommerce stores online.

Another such example is Buddypress: used to create a private or paid members-only community. Salesforce is another such commonly used tool for tracking your sales pipeline automatically. WordPress can seamless integrate with many such third-party tools.

Offers optimum security

Internet site safety is a chief concern, especially in the manufacturers community and WordPress is a stable platform. It takes complete care of maintaining your customers' statistics, and business enterprise facts. In case a site operating with WordPress has a safety vulnerability, it notifies you to stop using:

1) Traditional software,

2) Vulnerable passwords, and other issues.

In other words, it ensures that your technology is up to date. And when you have questions or issues concerning any of those, the platform's safety group does a notable job of resolving issues speedily.

Provides multi-user capacity

Multi-person functionality is an extremely useful feature to have. Especially when you have multiple freelancers operating your website. Because all of them will want to access for creating as well as editing. WordPress offers you entire control over whoever has backend access to your website. Moreover, creation of new accounts with customized permissions is also possible. Typically for an industrial website, there is a:

Super Admin
Admin
Editor
Author
Contributor
Subscriber
The Conclusion
There is no doubt that WordPress is the most preferred content management system when it comes to making websites in general. We are a WordPress development company that offers you seamless backend interface for creation of your industrial website. Such a seamlessness which is either absent or less present in all other content management systems apart from WordPress.