8 Reasons To Choose GoogieHost For Free Web Hosting with cPanel
In the past few years, one name that has created its own buzz in the web hosting market is GoogieHost, all because of its free web hosting with cPanel that probably no other company is offering in the market.
But still, people are very much confused in the market, related to its service's quality and performance that's why we have brought to you the 8 reasons to choose GoogieHost for free web hosting with cPanel.
So before directly jumping to the agenda, let's have some glimpses about GoogieHost!!
About GoogieHost
Established in 2012, GoogieHost provides completely free-of-cost web hosting services that come with quite impressive features and top-notch security, making it one of the ideal options to consider!!
But we recommend that you don't jump directly to the decision before reading the entire article because you know!! Half-knowledge can be really dangerous. Well, moving further, GoogieHost was established with the aim of providing free web hosting services in the market so that everyone can make an online presence even if they don't have enough funds.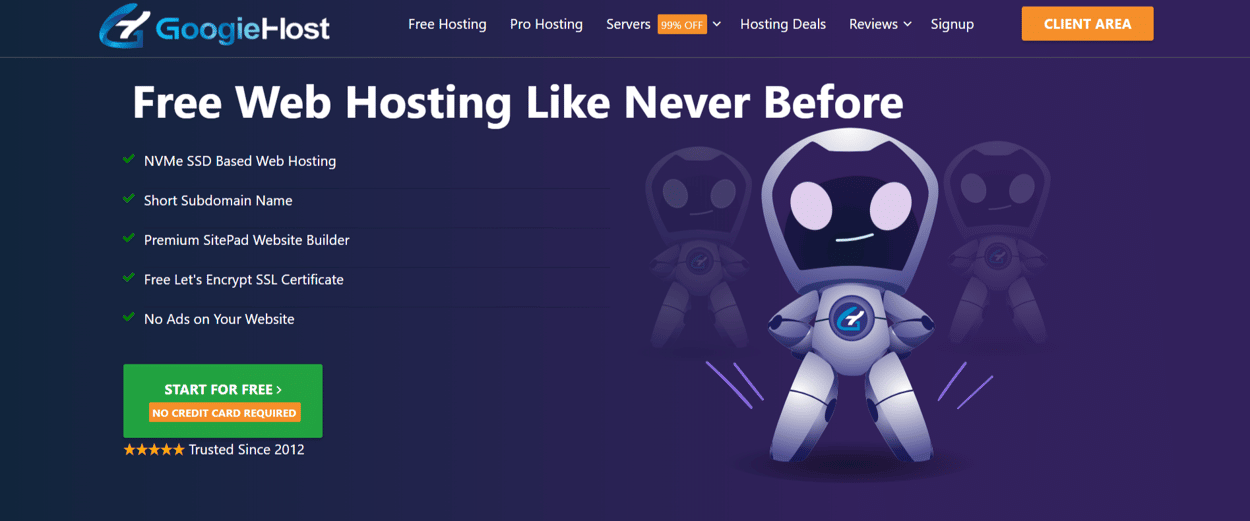 8 Reasons Why GoogieHost is Best for Free Web Hosting with cPanel
Coming back to the agenda!! Here in this section, we have mentioned 8 reasons to choose GoogieHost for free web hosting with cPanel. We recommend you read this section carefully because we have explained every feature in detail.
GoogieHost offers Premium Features Free of Cost

As we told you above!! We will discuss some of its key features that will help us understand the complete picture of the quality of its service. So here they are as follows:

Free Site-Pad Builder
One of the best parts about GoogieHost is that it provides you with its services with an easy-to-use site-pad builder that allows you to create a dynamic website with just the drag-and-drop method. In addition to that, it is equipped with multiple elegant-looking themes to enhance your website.

cPanel Access
cPanel is currently the most popular control panel in the market that provides you with GUI mode to manage and maintain your website files or other resources. But GoogieHost doesn't provide cPanel with free services!! It is only provided in the premium plans.

Free Sub-Domain
Despite you are getting hosting completely free of cost still, domains can turn out to be quite expensive. But no worries!! Because GoogieHost provides you free subdomain which you can for your website.

Hotlink Protection
You know this feature will definitely impress!! Sounds a quite confident statement? Well, hotlink protection is equipped to safeguard your website's images, videos, or all other media from stealing.

So all the data you post on your website GoogieHost ensure that your competitors cannot copy it!!

Security Against Cyber Threats

Hotlinks protection was quite impressive!! But what about the protection against cyber attacks? No worries because GoogieHost has equipped their server with top-notch security features such as Anti-DDoS, firewalls, full malware, and script injection protection to ensure that you are safe against all kinds of cyber attacks.

No Forced Ads

One more interesting aspect of GoogieHost is that it doesn't show you irritating forced ads on your control panel so that you can completely focus on your website without being distracted by advertisements.

Server Uptime

To assure the maximum availability of your website GoogieHost provides you its services with a 99.9% uptime guarantee, but what does this mean? Suppose you have chosen their annual plan, then according to their guarantee, they assure you that your website will be live for 99.9% of the year.

NVMe SSD Storage

GoogieHost uses servers equipped with the latest hardware equipment to ensure that you can experience blazing-fast performance for your website, But how does it make your website fast? See!! NVMs SSD storage is the latest storage drive available in the market which makes data transport between the server to the customer really fast!!

Free SSL Certificate

SSL stands for secured socket layers that provide your website with an encryption-based network communication to protect your website against any kind of unauthorized access, making it impenetrable on the internet.

Free Business Email Address

GoogieHost provides you its services with two premium-class professional emails that you can use to manage your customers and connections. In addition to that, you can also use that email to send newsletters to your customer.

Best Customer Support

Despite no live support being provided by GoogieHost, its ticket and email response is very impressive because it has a dedicated team of professionals who works 24*7 to respond to your queries with precise solution.
Do we Recommend GoogieHost?
Yes……!
If you are looking for a free website hosting provider that comes with powerful features such latest hardware equipment, top-notch security, and ultra-smooth performance of the GoogieHost then definitely we recommend GoogieHost to you.
Despite that, it provides very limited resources such as bandwidth and storage, but I don't think you should be concerned about it, especially at your initial stage, because you can upgrade to high resources as you grow!!
FAQs
Is free Web Hosting secure?
It depends upon the services provider you have chosen but if you are asking about GoogieHost then definitely their services are entirely secured, all thanks to features they have equipped in their servers.
Is free web Hosting really free?
Yes…!
GoogieHost provides you with entirely free services without any additional or hidden charges, making it a reliable option to consider.
How is free web hosting different from paid web hosting?
Well, the basic difference between the both is that free web hosting is completely free!!😜
Keeping jokes apart!! Free web hosting services come with very limited resources in comparison to premium hosting services.
Does GoogieHost Provide Premium Web Hosting Services?
Yes…!
Along with their premium services GoogieHost also offers you premium web hosting plans so that you can easily upgrade to unmetered resources without going anywhere else.
Conclusion
So, these were the 8 reasons to choose GoogieHost for free web hosting with cPanel, hopefully, you have found these points satisfying and have understood the complete picture of their service quality.
Hence while concluding this article, we can say that GoogieHost is an ideal pick for those who are looking for free web hosting with cPanel which can make your website blazing fast on the internet.