8 Best Live Chat Plugins for WordPress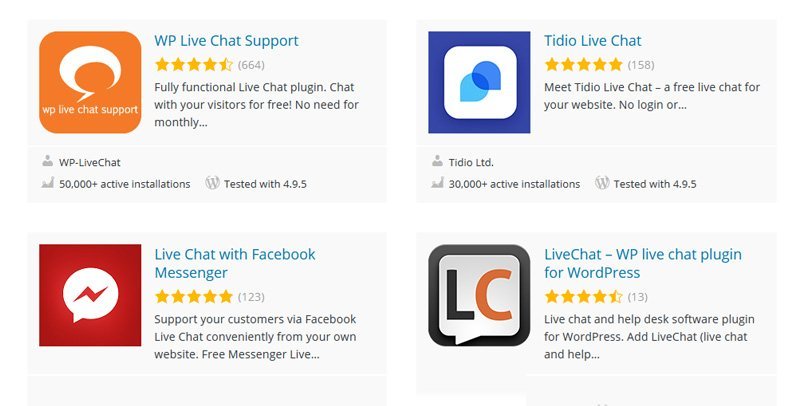 Customers like their queries answered instantly and any uncertainty regarding their purchase can result in losing the sale.
This is the level of personal interaction they look for while shopping and in case your website fails to provide them that whether you run an ecommerce store, a website or a blog even, you fail to turn a potential visitor into a loyal one.
Recognize the benefits of taking personal approach and take a moment to assess your website. Does it have everything essential to keep the visitors hooked? If yes then take your customer care services to next level by offering them a Live Chat option as well.
Live Chat software allows you to solve your visitor's problems immediately and empowers you to provide exceptional customer service.
Here are some of the best Live Chat WordPress plugins you can choose from:
Support Board
This smart WordPress chat plugin is fully integrated into WordPress, it sync the users and automatically detect the logged-in user. Thanks to Dialogflow you can incorporate an AI-driven chatbot in your chat in a few minutes.
The plugin fully syncs with Slack too, this means that you have a professional app for iOS, Android, Windows, and Mac that you can use to communicate with the visitors of your website, directly from Slack!
Support Board is available for WordPress and for PHP and helps you to automate customer service and support!
LiveChat
Live Chat is the industry leader in live chat support software. It's free and super easy to set with your WordPress website. Live Chat is not only a plugin but offers apps too that you can use on the go and keep in touch with your customers without having to login to your WordPress dashboard. It allows you to use survey forms before and after a live chat session so you may evaluate the performance of your support team.
Olark
Olark is a popular live chat solution for online businesses. It is easy to use and much easier to install into your WordPress website. If you prefer not to work with code then there is also a free Olark for WP plugin which makes setting it up easier than the regular version. You can integrate this plugin with other services such as Salesforce, Zendesk, Highrise, etc.
Zendesk formerly Zopim
Zendesk is another leading WordPress live chat service provider. It is easy to setup with Zendesk Live Chat plugin. Besides providing you with the Live Chat service, Zendesk also provides useful tools like user analytics, chat logs, and email transcripts.Zendesk plugin comes as iOS and Android apps too that allow you to connect to your Live Chat service through your smartphone without having to login to the WP panel. We are using Zendesk at our mobile app development agency website and have no hesitation in recommending Zendesk to anyone.
Comm100 Live Chat
Perfect for small business, Comm100's Live Chat solution is a simpler and faster live chat service. Comm100's Live Chat WordPress plugin allows you to integrate live chat on your WordPress website. This plugin offers all basic and essential Live Chat features with integrations to third-party services such as Salesforce, Google Analytics, and a few more.
SnapEngage
Whether yours is a small business, a thriving one or an already established one, SnapEngage is perfect for you. It offers Live Chat service to businesses of all sizes. This plugin offers an amazing set of useful tools that can be integrated with your WP website with great ease. They offer integrations with popular CRMs, a call back request feature, automated chat invitations, and customizable chat widgets to match your site.
Chat Room
Adding a Live Chat plugin to your WordPress website free of cost was never this easy before. As the name suggests, this plugin allows you to add a Live Chat room to your WP website. Each user is supposed to create an account on your WordPress website before joining the chatroom and start conversing with your customer support team.The downside of using this plugin however is the chatrooms are public and anyone with the chatroom URL can access the room which is not an ideal solution if your customers want to chat privately.
Quick Chat
Quick Chat is another self-hosted free live chat plugin for WordPress. Unlike Chat Room where the conversations between users was never private as anyone with the Chat Room URL could access it, this plugin allows users to chat privately without having to create an account. Also it supports features like user avatars and smilies.
WP Live Chat Support
WP Live Chat Support is another popular live chat plugin that is aimed at start-ups and small businesses who want to embed live chat on website without spending on monthly subscriptions. The plugin comes with a long list of awesome features, such as live chat dragging option, live chat animations, Google analytics integration and more.
This sums up our top picked 8 most popular Live Chat WordPress plugins.