7 WordPress Design Tips for A Fully Optimized Business Website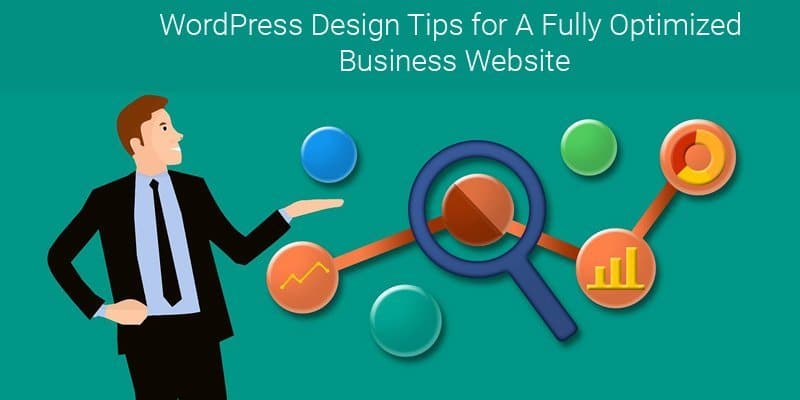 Your business website is an essential tool when it comes to the development of your company. This website has to be promoted online so that it is advertised well and marketed to the targeted audience without hassles at all.
WordPress is an efficient CMS platform that mostly helps you to build a search engine friendly business website for your present and future customers. The user interface is simple, and you can learn it without much difficulty at all!
Simple and practical design tips to market your WordPress website online
You might have an amazing site and portfolio for your business however if you do not optimize your website properly you will not get targeted customers or sales.
Search engines like Google, Yahoo, and Bing, do not care about the looks of your site to make it rank high on search engines.
You should ensure that the website has a balance of keywords, meta tags, filenames and other design specifications to provide visitors a good user experience for their search results.
If you wish to make a website that attracts visitors and converts them into customers, WordPress is the platform you should use.
How can you optimize and improve your WordPress website?
If you already have a WordPress website and wish to improve its search engine optimization, given below are some beneficial tips for you to embrace-
Take recourse to themes that have been optimized for search engines- If you check WordPress, you will find there are several SEO optimized themes. They use codes for creating layouts and designs that are SEO friendly and help you get on the top of page ranks. Google goes through the source code of these themes and gets the content that it wishes to rank on the top of search engines.
Create a sitemap for your WordPress website- if you wish to optimize your WordPress website fully, ensure that your site has a map in the XML format. There are plugins that you can use for creating sitemaps like Google XML. Besides this tool, you can also opt for sitemaps like Webmaster Optimizer and Webmaster Central. They are simple for you to use for your WordPress site.
Optimize your content on WordPress- If you wish to generate traffic to your WordPress website, it is prudent for you to optimize content with the correct keywords. The perfect keywords will help you highlight the right theme. The content you create should be simple, clear and precise. The text you use must be for readers, and they should be targeted for search engine optimization.
Highlight keywords- It is prudent for you to ensure that the keywords you use should be specific and highlighted well on your website. New York SEO experts suggest you use the H1 to H6 tags for highlighting sub-titles, headings and other sentences that will aid you in getting your site recognized. However, be careful and do not overdo it. This might cost your website, dear.
Exchange backlinks- Your WordPress website is recognized by search engines when you exchange backlinks with authority websites on the Internet. The links should be relevant, and they should be linked to these high-quality websites. You must ensure that you do not stuff your site with links.
WordPress file names- You should not ignore the fact that search engines also identify images. Google will display both content and text in the search engine results. However, in case your image does not have the correct file name, Google cannot identify them. The keywords should be placed in the file name along with the title and alt tag. They are important for your WordPress website design as well.
Permalinks- The permalinks you use should be short so that visitors can understand them. Make sure that the first four words you use in permalinks are relevant. Search engines will not be interested in the words you use these four words.
Omit the use of Flash- If you are looking for a fully optimized WordPress website, do not use Flash. Search engines fail to identify Flash and the loading time takes longer. It is prudent for you to restrict the use of Flash for Google ranks and your WordPress website.
These are some simple and useful tips you should take into account when you are creating a WordPress website for your visitors. Ensure that you have the right WordPress SEO experts to help you with the layout and the design.
It is prudent for you to always rely on professionals that have proven track records of experience and skills in the market. In this way, you effectively can optimize your WordPress website design and draw in targeted traffic in the process as well!