7 Tips for Marketing Your Service-Based Business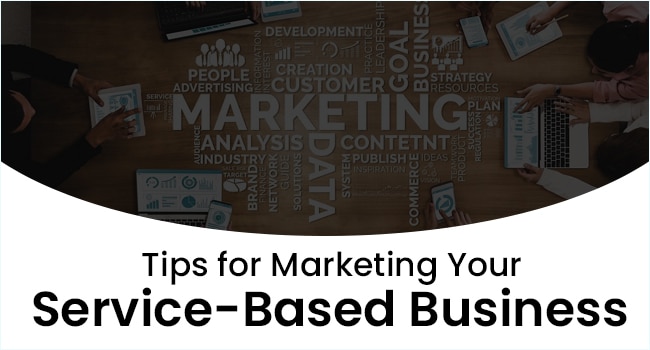 People always trust transparent and reliable services. They constantly hunt for good service-providing businesses and the struggle is real here. It's not a straight way like app product marketing, where the product promotes itself.
On the contrary, in mobile service-based businesses, there is a different way to hit the market.
You need to work on the business aesthetics and examine your market. Fill in the gap and sell your services in cohesion with newborn ways. Market yourself and your mobile app development team members. Take advantage of their experiences. Campaign for your business and associate as maximum as possible to the customers.
Best Methods to Market Your Service As Business
There are plenty of ways to market your services as a business. You just need to pick one for you which is reputable and people can connect with them. Try to make a clear picture of the cost-effective techniques that could help to channel your services.
Here are the 7 best methods that are great to elevate the sure success of your business.
So, let's begin.
Stay in Touch with Your Customers

To get yourself out in the eye of all, you need to try some new endeavor for your customers. We agree, one pack solution seems like a fairy tale, but you should keep trying new things till you find something unique that works.

Your business is your asset. Every new idea would elevate your product's place in the market.

Some of the formal methods you can encounter are mail, coupon distribution, calls, advertising, etc. Regular touch will hit the pitch for your services.

Things to keep in mind: Ignore the spam mail, or frequent emails or calls. It will cause a great distraction to your potential customer, and chances laid them to dismantle.

Use the Social Networking


Social networking, once in a day everyone stays on it. In the old tradition, businesses have followed and pitched to the people via calls or email, or even print and media advertising. But today, social media takes a significant place in the mind and hearts of people. Use this medium to trigger your posts, updates, and any important news relevant to your web design and development service. Make it more constructive for the people.

Things to keep in mind: Ignore the random and useless things on your social media business profile. To get the constant connection, sometimes, you should make the post according to the occasion, make regular replies to their comments. Ask them to share it on other platforms to utilize the wholesome of the product.

Attract the Customers with Incentives

Who does not like deals and discounts? Possibly no one. Companies can use this as a weapon to get themselves promoted. You, as a business owner or expert prodigy, take this as an opportunity and attract your customers.

Marriage-mail and Valpak offer great deals to pick family units by zip codes and coupons via mail. Boostability gives a comparison tool to compare online marketing administrations to get exposure into the local market.

Things to keep in mind: Remember, you are the face of the company, and your services are aligned with your business ethics. Unwanted promotion could degrade your existing value.

Connect with the Business Communities

Business communities are the modern trend to gather quality experts on a single platform. Here, the people from different parts of the regions share their expert knowledge. Utilize this platform for the maximum compliance of your mobile application development services. Maybe a few of them are denied direct promotion, but you can always ask them politely to share your business services and identities.

Some of the useful business communities are the local rotary clubs, meetup groups, LinkedIn platforms, or the Chamber of Commerce.

Things to keep in mind: Ignore the obsolete business ideas and models with the community.

Business Cards are Valuable Source

Business cards are meant to describe your business identity. Use them as a tool to get associated with similar companies. You can build or recreate your networking via these cards. Mark your important services as a reminder on the business cards.


Vistaprint and GotPrint are the business card service providers under 10 dollars. You can ask them to make one for your company.

Things to keep in mind: Don't share your business cards with the least interested people. Accompany them with those whom you can trust for lifelong. As trust is the key to shifting your business journey to the next level.

Offer Value Over Price

Focused marketers are engaged in the market stats and price. But you take this as an advantage. Add some valuable services within the fixed price, that way makes it more beneficial to the customers.

See, price is not the only concern for you and the customers as well. But valuable services with lucrative price tags could attract and poise them more.

Things to keep in mind: Come up with some bundle of custom software development services or mobile web or app services. Like, offer some extra services or even future upgrades for the product.

Use the Public Mouth

Yes, you heard it right. Public opinion is a powerful way to reach out to every corner. Utilize this resource carefully.

The best way is you should regularly go to public events, donate some charity for a real cause, or meet new business tycoons. Take your efforts as imperative and sincerely, rest of the work these people will do.

Gauge your hard work and eventually, these methods will come out to be the best possible ways.

Things to keep in mind: It's important to carefully promote yourself in the public. Possibilities are you could either land up or fall.
Final Thoughts!
Wrapping up everything. Promotion is as important as the creation of the product. But when it turns global, it becomes vital. So, it's wise advice that you should take care while promoting your services.
Your product speaks a lot about your business. Start your app journey with some great market companies. Or you can hire a mobile app developer from the industry.