7 Super Security plugins for your WordPress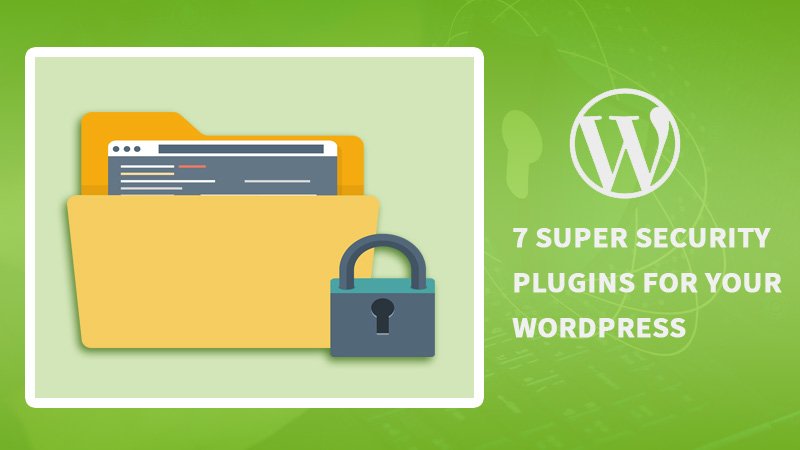 Creating a website and hosting it through WordPress is a great idea when you're just starting out. It's one of the most versatile hosting services that you can find.
Of course, your domain name will contain WordPress in the address, but you can pay for hosting and still use WordPress plugins and themes. So simple! And boy, there are plenty of plugins for WordPress.
Every website you know of has a form of a plugin. These can range from unique chatbox plug-in to highly-advanced security plugins. When you compare WordPress hosting to other hosting solutions, it is clearly ahead in terms of flexibility.
In this article, we'll be talking about 7 super security plugins for your WordPress website. The security plugins serve an important function; they protect your website from various forms of attack and attempt to protect data as best as possible.
So, how about we start our list?
Bulletproof Security

BulletProof Security is one of the best security plugins you can find. And for a good reason. It provides you with a couple of security benefits such as database security, firewall security, login security, and many other stuff.

The plugin isn't complicated to use at all; it comes with four-click setup, and all you've got to do after is – relax and let the plugin work!

The plugin is versatile as well, with functions such as limiting unsuccessful login attempts, blocking fake traffic, blocking security scanners, blocking dangerous or untrusted IP, and blocking various forms of code scanners.

The plugin is consistent in checking WordPress core files for any malicious behaviour. Your website also receives a cache system which should speed it up.

You could also get the pro version which comes with some extra features.

Sucuri Security

If you've been searching for website security programs or plugins, you might have heard about Sucuri. Sucuri has been in the security business for some time, and they create some amazing stuff.

Their plugin provides a couple of interesting features:

Auditing Security Activity
Monitoring File Integrity
Scanning Malware
Blacklist Monitoring
Website Firewall

It also uses plenty of popular blacklist engines such as Sucuri Labs, Google Safe Browsing, McAfee Site Advisor, Norton, and some others as well.

Sucuri Security also protects your website from things such as DOS attacks, bruteforce attacks, etc.

There's a pro version as well that brings you better advice and service.

Acunetix WP SecurityScan

Again, like the previous plugin, this one was made by a respected and well-known website security company, Acunetix. This one, however, comes with a scanning tool that's meant to find issues and vulnerabilities in various web applications.

Acunetix WP SecurityScan is great for scanning to see if something's wrong and to get suggestions on what to improve.

The plugin offers version hiding, admin protection, file permission security, database security, and removing the WP generator tag from the source.

6Scan Security

Every website needs protection and security against hackers. They can ruin everything you made, and it's wise to have something in place to prevent that.

6Scan Security is a great plugin in this regard. 6Scan works automatically and fixes holes in your security. It works great as well! This is because of using rule-based protection for the site and automatically updating your security.

6Scan protects against SQL injections, CSRF, Cross-Site Scripting, remote file including, directory traversal, DOS attacks, and other top 10 security vulnerabilities.

And, the most impressive part of 6Scan Security is that, whenever it finds holes in the security, the plugin fixes them automatically using an auto-fix server-side agent. If something serious happens with your site, the plugin will notify you over E-mail.

iThemes Security

Or as it was previously known, Better WP Security. iThemes Security is one of the most plentiful plugins in terms of protection methods. The installation process is very simple and requires only one click. IThemes Security easily blocks automated attacks.

The plugin also scours your website for common security holes and fixes them.

Now, what makes iThemes Security unique is that it tracks what registered users do on the site. If there's any suspicious behaviour, the plug-in reacts to protect your site.

It provides two-factor authentication, password expiration, export/import settings, malware scanning, etc.

iThemes Security stops brute force attacks, and bans suspicious IP addresses. reCAPTCHA is also present to prevent unwanted spam on the site.

JetPack

People that have used WordPress at least a little might have already come across JetPack. The reason behind this is that the people behind WordPress.com made this plugin! JetPack is quite a flexible plugin that provides various unique benefits.

It is supposed to your social media presence better, improves website speed, and protect against spam. Due to a vast number of modules, JetPack is very popular on the market.

If you want the best protection, however, you'll have to pay $299/year which isn't too terrible considering what it comes with.

Real-time backups and on-demand malware scans are a must if your website is growing in size, but if it's still small, the free version will suffice.

VaultPress

VaultPress is the final plugin we'll be talking about in this list, but it's by no means the worst. In function and elements, it is similar to iThemes Security Pro or Sucuri Scanner.

However, it doesn't come free. Even so, the price isn't too crazy; the starter version is $39/year but if you want to the best protection, go for the $299/year version. There's also a $99/year version!

What's great about VaultPress is that it is cheaper than other WordPress plugins of the same type, and the dashboard is very simple. Everyone knows how to use it which is great for people who aren't too tech-savvy.

Another positive side of VaultPress is that you can prepare manual or real-time backups using a calendar.

It also comes with a 'stats tab' that shows info about when your website was visited the most (time of day) and when certain threats have appeared as well (if there are any).

Lastly, if you ever run into issues using the plug-in, contacting the VaultPress team is easy. The experts will help you out as best they can, which is usually enough to fix stuff all the way!