7 Best WordPress Trends to Follow in 2022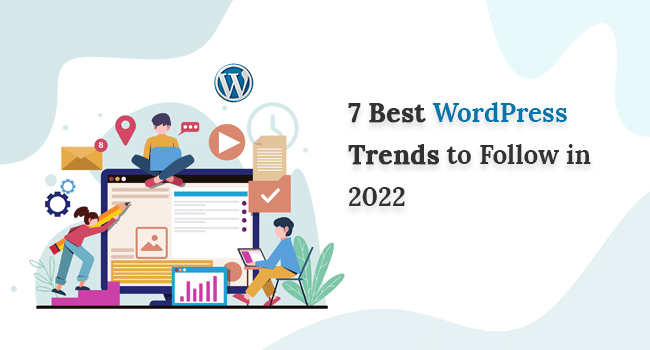 WordPress is the most popular content management system. Over the years, it has only gotten better as a platform to create professional and scalable websites. Moreover, over 40% of the websites on the internet are powered by WordPress.
Each year, many new trends come into the picture and help us better use this platform. So whether you are a businessman whose website is built on WordPress or a WordPress developer who has a keen interest in the latest technology & trends, this blog contains some of the must-to-know WordPress trends.
It is essential to keep track of the new trends that revolutionize the web development industry. So, let's explore some of the major WordPress website development trends of 2022.
Top WordPress Trends in 2022
Drag & Drop Builders

Drag-and-drop page builders are a great way for beginners to build a website without coding. In addition, it provides users with the ability to know what their page will look like when the changes are applied.

So, it is possible to build a feature-rich eCommerce website without coding knowledge or expertise. For this reason, drag-and-drop builders will continue being popular among small business owners and startups.

Here are some of the best drag-and-drop builders for WordPress website development:

SeedProd
Beaver Builder
Divi
Elementor
Thrive Architect

Voice-search

Some key statistics for voice search tell us why it is vital today. One-third of the United States population use voice search features. 71% of consumers prefer to conduct queries by voice instead of typing.

Businesses will offer the convenience that users are looking for simply by adding voice search plugins. Businesses will want to consider how you can leverage WordPress SEO features for voice search optimization.

Put yourself in the place of your potential audiences. Imagine different strategies for mastering the voice search algorithm for a WordPress website. The same strategy must be applied to your content strategy as well. Keep in mind what terms the users may be using with voice-search when looking for a particular product.

Augmented Reality

Augmented reality is transforming how people shop online. it adds a computer-generated image over top of a photograph or real-world view.

eCommerce sites are able to utilize this technology to provide customers with a more functional look at the products.

For instance, several augmented reality plug-ins can help furniture and home decor businesses. Using Augmented Reality for your WordPress website development allows businesses to take potential buyers on an interactive journey.

WordPress for eCommerce

Integrating eCommerce capability is a growing necessity for most websites. For example, businesses can quickly turn their WordPress website into an eCommerce website using WooCommerce.

WooCommerce currenstly powers over millions of eCommerce shops. It provides features and ease of use with the payment gateways, inventory, and marketing capabilities. This can help you run your business more effectively and improve customer service.

Minimalist Designs

Minimal design will remain a popular trend in 2022. Minimalistic website designs using flat graphics and white space offer great usability.

Minimalism focuses on simplicity and leaving out any nonessential elements in an object. Minimalism is not only about reducing the number of elements and colors.

But it is about making your design more human-centric and simpler for your users. For example, it advises against using too many colors or other complex elements in the design.

White Space

White space is essential in website design. It helps attract the users and engage them too. Having white space on the website is one of the significant elements that can add value. White space always provides a precise, uncluttered feel to your website.

Like the minimalist design, white spaces on web pages have gained tremendous popularity. No matter what your website is about, you can choose to create it with WordPress and make the best use of white space.

Creating an attractive website does not always require a lot of colors, graphics, or other design elements. Sometimes, the best way of achieving great design is by reducing the number of elements. Less is more true when it comes to designing a website.

Using Videos

Many business websites use videos to promote their business, no matter what you are selling. Of course, videos on websites are not a new thing. But many companies have only realized the importance of these elements in the past few years.

This trend will continue to appeal to businesses and their audience. Invest in video and make use of it wherever it feels suitable. The video trend will be around for a long time. Use it to grab the attention of the users and increase sales.
Conclusion
WordPress development is the choice for most small, medium, and large enterprises. WordPress is the best option for building robust websites, irrespective of the type of business.
Whether you plan to design a website from scratch or look for a revamp, make sure that you look for the best WordPress website development company to help you create a scalable and robust website with the trends mentioned above.
An experienced WordPress website developer will be able to guide you better. Start the work on your feature-rich website today!