6 Things You Didn't Know About Building a Website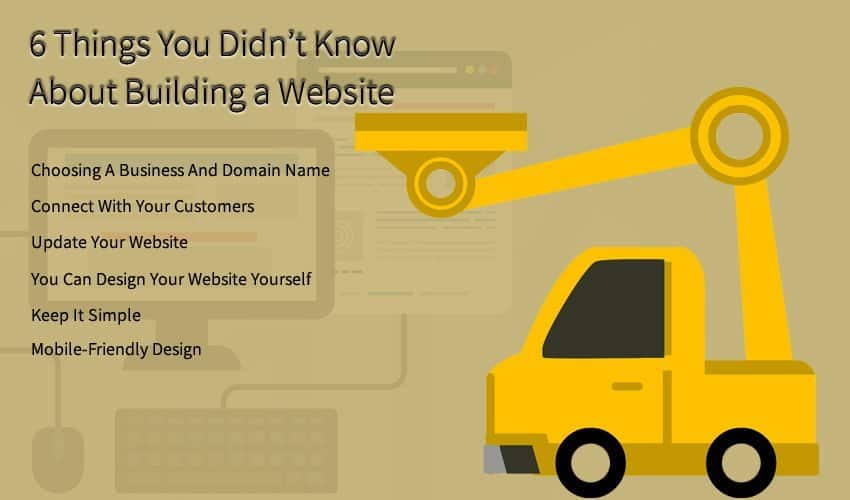 A website is an overview of what your business does and tells your customers how they can access your services and products.
To stay competitive in the market and leave a mark on your potential customers, businesses need a professional, engaging website.
Not all business owners are tech-savvy people, so creating a website from scratch to managing it well can be a challenge.
Let's say nothing can be done perfectly in the first attempt. So to help you create a website that leaves a good impression on customers, we are here to give you some advice.
We've gathered these top tips from various experts in the tech industry so that you can learn from their experience. Here is a list of 6 things that most people don't know about building a website:
Choosing A Business And Domain Name

This is the most essential and fundamental step in the creation of a website. You must select an appropriate business and domain name. The step is critical because it eventually decides how your business is going to appear to your customers in search engine listings.

You should always be direct about what services your company provides and choose a domain name that defines your services very clearly. By reading your business or domain name, people should clearly get an idea of what you do. Vague and tricky names usually don't work out well in the long run.

Connect With Your Customers

Having a strong connection with your customers is extremely important for the growth of your business. The importance of this step cannot be highlighted enough. Whenever a person visits your website, and they have a question about your product, they should know how to contact a company representative.

You should have a complete 'Contact Us' page on your website with details, which include a phone number, an email address, and a postal address. The simple act of having an understandable contact us page can turn a visitor of your website into your next potential client.

Update Your Website

Nothing can be worse than creating a website and then forgetting to update it. Ideally, you should monitor your website and update it often.

A site that is left un-updated for months gives a clear idea to the visitor on whether they should be investing in your services and products or not. It can also lead to your customers getting a not-so-nice surprise when they arrive at the check-out counter.

Always keep your website up-to-date to include your latest products, services, and policies that you work on to make things better for your customers.

Either make someone in your business responsible for regularly updating your website, or hire a professional to do this to make sure it is well taken care of.

You Can Design Your Website Yourself

It is understandable if you don't have the budget to hire a highly qualified professional to create your company's website. Thankfully these days it is relatively easy to build your own website thanks to the range of website builders that are now available. It will take some time and effort, of course, but even if you have zero web design experience you can build a professional-looking website by using the correct tool.

If you are a complete beginner, make sure you choose and easy-to-use website builder like Wix which allows you to design simply by dragging and dropping images, text and other elements. Hiring a professional web designer is arguably better if you have the budget for it, but if not, you can save a lot of money by designing or building your website yourself.

Keep It Simple

A website is all about showcasing your products, services, and connecting with your customers. To serve this purpose, it doesn't have to be a jigsaw puzzle.

No one likes complicated stuff. Trust us choosing an intricate design for the sake of making your website look fancy will fail your business miserably.

Go for minimal design, subtle colors, and an easy to understand template so that connecting with your business doesn't become a hassle for your customers.

Mobile-Friendly Design

These days very few people use desktops. More than 52% of web traffic comes from mobile phone devices. The point of sharing this fact here is that you should get your website designed in such a way that it can easily be used from a phone.

Make it easy for your customers to reach, connect, and get the desired information from you directly from their phones; so that there is no need for you to persuade them to do business with you. Make dealing with you so easy that your customers never think of a second option ever.

The importance of having an online presence these days should not be underestimated. If you're not online these days, you essentially don't exist.

A website can work as an engagement tool between you and your potential clients, and so having the best design which will excited and intrigue customers is vital to drive sales, growing your client base and ultimately making your business more successful!