6 Responsive and Free WordPress Themes to Create Winner Websites in 2022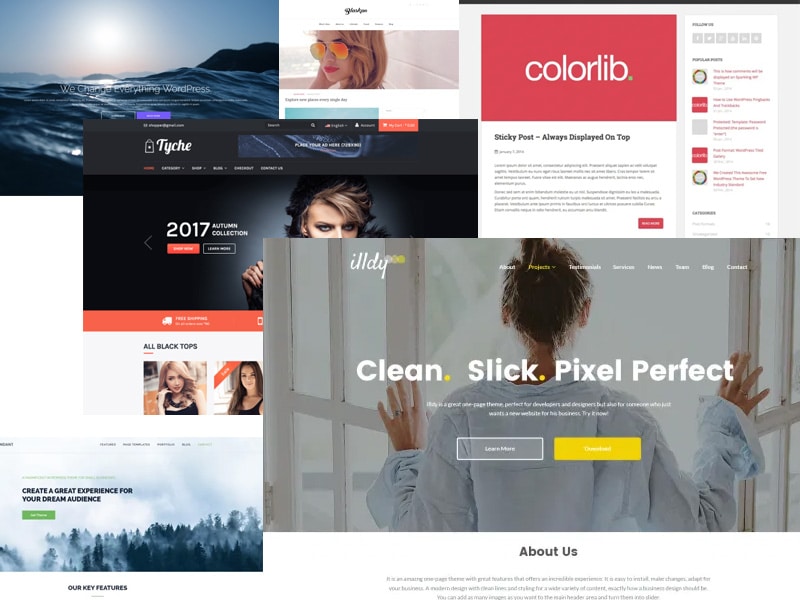 No one may dispute the statement now as WordPress is the most preferred and user-friendly CMS platform for web development.
Due to its popularity and acceptance across the globe, there are thousands of other contributors too have made various plug-ins and themes customised for WordPress platform for the developers to use with one click.
The users also love to use these custom-made WordPress themes as it is so painless and instant to use these to create anything personal blogs, portfolio pages, to even corporate websites.
However, as there are plenty of such available on this platforms, it is now easy for the users to find the finest themes for their purposes. Many of these themes do have mind-blowing features, and the right choice can take your website on top in no time.
Let's discuss the best free WordPress themes, which will help you create an astonishing website in 2022.
Top free WordPress themes
1. Shapely
Even though offered for free, it is an incredible WordPress theme to compete with any premium themes in terms of enhancing the overall web development experience. Shapely is both beautiful and practical in one, with the capability to efficiently blend graphics and functionality.
The design is compatible with Windows, Linux, iOS, Android, and Windows operating systems and phones alike. It can support advanced features too as high-resolution retina display of iPhone etc.
Shapely typically features the latest one-page design, which is ideal for a business site or professional portfolio. The theme also makes your website compatible with featured WordPress plugins as Google Analytics, Yoast SEO, Contact Form 7, and Gravity Forms.
2. Tyche
Tyche is found to be an ideal theme for the clothing or shopping sites using WordPress to build. It is well documented, which makes the task of developers easy while using plenty of add-ons available.
It primarily has a sales-oriented structure featuring banners for ads and shopping cart. The essential add-on features for e-cards like free shipping and subscription are also featured on this theme.
Tyche is also compatible with WooCommerce plugin. The design is well thought with product display features like most wanted, highlighted, latest trends. All these come for free with a smooth design and a clean code for the developers to explore.
3. Illdy
Illdy is another trending and highly flexible theme which is;
Unbelievably avant-garde
Cutting edge and modern
Highly pliable
Youthful with fresh face
Deeply functional and well documented etc.
It is primarily a multipurpose theme, which is developed by SEO Brisbane experts as a result of painful, time-taking research, but being offered completely free.
Illdy is featured with a WordPress Live Customizer and Retina-ready icons. On top of these, there are various layouts to choose from and customizable template pages, which makes Illdy fully prepared for creating very sophisticated and modern websites right out of the box. The endless possibility of Illdy also includes support to Contact Form 7, SEO Yoast, NextGEN Gallery etc.
4. Ascendant
Popular among the WP developers as a multipurpose theme, Ascendant can be used to build any web page ranging from blogs to small business sites. Ascendant comes with a handful of versions as free, pro, or subscription. Being responsive and mobile-friendly out of the box, you can customise the footer, sidebar, and header in whichever ways needed.
For business websites, Ascendant also features compatibility with WooCommerce plug-in. The powerful shortcuts and cool navigation and menu options make it much user-friendly too.
5. Sparkling
If you want to create a sparkling website, this is the ideal way to choose. Since it is free, this flat and most modern theme is all set with the latest Bootstrap technology. Sparkling will look so amazing on mobile devices with its sharpness and fluidic layout. It also includes a lot of great features, which are usually found on only premium themes for WP.
Sparkling features and a full-screen slider, which allows the developer to emphasis more on photos or other visual content. This also can support many advanced plugins to meet various functionality such as SEO by Yoast, Gravity Forms, Contact Form 7, W3 Total Cache, and a lot more to add more beauty and efficacy to websites.
6. Blaskan
For those who want a specialised blog on WordPress, Blaskan may be the best choice. It has a significant feminine touch overall, with this, it is more inclined to the lifestyle and fashion topics for women. There are eight categories for posting. It is a Bootstrap-based theme with a minimalist approach to design. There are a lot of white spaces to make the images stand out on the monitor.
There is a separate author's section for the readers to know who owns the posts and there is also a three-column design for posts in a box format. A detailed demo and easy-to-understand documentation also make it much easy for the developers to follow it. Available entirely for free, Blaskan will meet any of your needs in terms of a fully functional personal or professional blog.
A few more other free 2022 best option to try out are Breviter, NewsMag Lite, Allegiant, Sentio, Affluent, Dazzling, Travelify, Unite, Brilliance, Transcend, Zerif Lite, Enigma, Ascent, and FlatOn.
It is advisable to try out a few of these by learning the features and going through the documentation to identify which one will ultimately work the best for your site.