6 Questions to Ask to Pick the Website Builder that's Right for You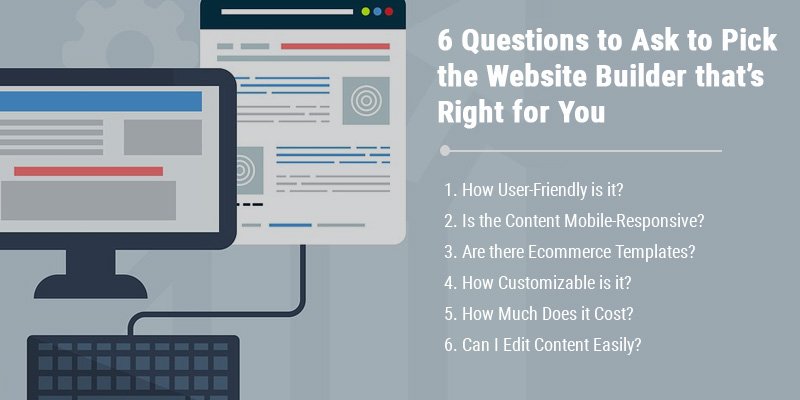 So you're ready to build a website, only there's just one problem: you don't know how to code. Don't worry, you're not alone! Most people who build websites these days don't have much experience in coding at all. In the past, the only option if you couldn't code was to hire a developer to make your website, but those developers often came with a high price tag.
Luckily for you, there's now plenty of drag and drop HTML editors and website builders for businesses or individuals looking to create a website how they want it, without needing to code or hire a programmer. The trouble now is picking the best website builder for your needs.
Not every content editor will come with all the features you are looking for in a site. That's why it's crucial to establish which priorities are most important to you when you create a website. Is it going to be how the site looks? Its functionality for your customers? Its editing abilities for you?
Once you've decided on the most important features for your site, ask yourself these questions to narrow down your options and finalize your decision:
How User-Friendly is it?

Especially if you are unfamiliar with HTML, this will be a very important question to ask. Understand what will go into creating a website. That may involve using either a text editor or a visual editor. Many website builders use drag and drop interfaces that make it simpler for your to fill in content blocks on your page.

Also consider if the website builder has tutorials or other resources and support available to you. These can make all the difference if your site encounters any technical issues.

Is the Content Mobile-Responsive?

This is a must for all websites nowadays. Too many people are accessing the Internet on their mobile devices to ignore your site's mobile-responsiveness. Google has even included it as a determining factor for sites to rank higher on search engine results' pages.

Some website builders are better than others for this. A lot of WYSIWYG editors in their attempt to be mobile-responsive don't actually give you what you see when you edit a page. You don't get a clear picture of how your site will look on a different screen size, and it might not be as clean or as polished as your would hope.

What you need then is a content editor that allows you to create responsive content in the builder rather than needing to use a separate mobile editor to make more changes to your site.

Are there Ecommerce Templates?

If you're planning on turning your website into an online store, it will need certain features that other templates or builders won't give you like cart and checkout functionality.

Making a professional-looking site might also matter more if you are creating an ecommerce business. Some web builders don't have as professional of templates or styling options, which could make your ecommerce business look childish or sloppy. This won't give your customers a great first impression of your store and may hurt your sales.

But even if you aren't starting an ecommerce business, remember to go back to what features you want in a site. It may not be a checkout cart or multiple payment options, but it could be greater blog capabilities or varying types of photo galleries. Make sure the website builder and template you choose have those content features you need to create your vision.

How Customizable is it?

For people who want a unique site over anything else, the website builder of choice should allow for large amounts of customization. If you've found a website builder you love, but it doesn't let you customize much, you could also use a content editor application as an add on to your site. For online stores, there are even some text editors that will integrate with your webshop.

Look for how flexible the builder is for styling your site. This may mean paying more for a premium plan or templates with advanced customizing options, which leads us to our next question…

How Much Does it Cost?

Free plans don't always give you a lot of options to work with. But perhaps less options is what you are looking for, just a simple way to get your business visible on the Internet. If this isn't you, though, you may have to pay more for the features you want, especially if you need to download additional plugins to get the site functionality you need.

Most website builders let you test their platform for free. Try them out for yourself to see which interface feels most comfortable for you and has all those features you are looking for in a website.

Can I Edit Content Easily?

When you want to make a quick change to content on your site, ask yourself how difficult those small edits might be with a certain website builder over another. Do multiple edits to a page slow down your page load time? Or are edits easily coded into your site without needing to fix any code bloating?

The DragDropr application can help here. It's a visual online editor that lets you drag and drop content to create the perfect web pages just the way you want them. You can easily edit the content you've already made with your web builder without bogging down your code. DragDropr lets you customize your pages the way you want it while also automatically generating mobile-friendly content and integrating with your favorite ecommerce platforms or website builder.

So no matter what website builder you choose, DragDropr can help to make your site better, all without needing to code! (Test it out with a free trial.)

Picking the right website builder is tricky. But if you know what you are looking for in a website, it becomes much simpler. Prioritize what you need for your site. Then go through these questions and pick the features matter most to you in order to decide on a website builder with confidence.