6 Best Contact Form Plugins for WordPress Comparison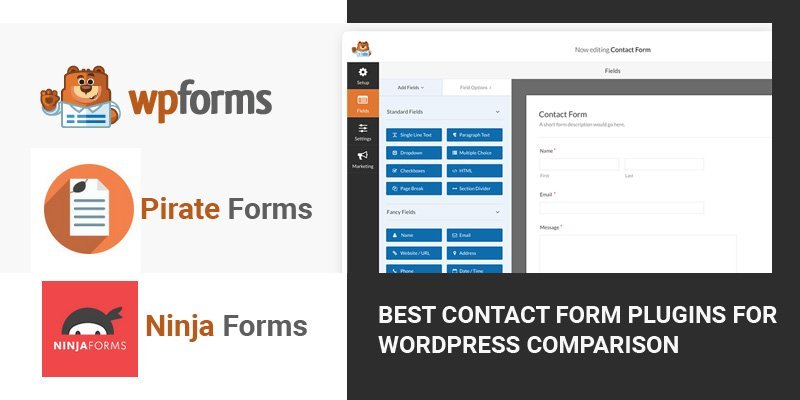 WordPress has become the most popular platform for website development these days. Many developers and companies are building their portfolio of WordPress development to earn leads and clients.
Some of the benefits of using a WordPress website are-
WordPress allows you to change the design of your website in minutes. Through the different themes available on the platform, making changes and enhancements to the design becomes a cake walk.
You select right WordPress plugins from 10,000 plug-ins available on the platform that allows users to extend the functionality of their website without having to code even a single line.
WordPress websites are inherently SEO friendly as they are often updated, and there is always fresh content available on a WordPress site because of the ease of publishing content.
WordPress is a community that thrives on sharing knowledge and helping each other out. There are developers, designers, and enthusiasts of WordPress development who readily help WordPress grow and evolve.
If you have a WordPress website, too, then you must know what a contact form is. A contact form is basically a series of questions that must be filled out on your webpage by your visitors. The responses of your visitors are directly emailed to you.
Contact forms are increasingly used for getting feedback from visitors, allowing your visitors to post questions to you, or request you for services or information about your services.
Contact forms have become very popular these days because-
They help you reduce spam as your email information is nowhere exposed and the contact forms are handled server side.
Since you decide the information that you want your visitors to give, you can get the exact information without any filters or junk.
Since the emails are directly dropped into your inbox, you don't have to worry about managing them manually. The emails are consistent and organized!
If you are looking for the best contact form plug-ins, here are the 5 best ones to choose from-
1. WPForms
With a starting price of $39 per year, this plug-in has a rating of 4.9 and more than 800,000 active installs as of 2018. this plug-in is for beginners in the WordPress community. With this plug-in, even a newbie can create complex contact forms.
When you opt for WPForms, you need no developer to work for you, and you can develop almost any kind of contact form- including an order form, a survey form, a donation form, or a simple contact form.
The plug-in is highly easy to use with drag and drop form builder that can be used by a zero-level developer.
With WPForms, you can publish your contact form anywhere on your website with just a simple click.
The features in the plug-in can be enhanced by the use of the premium version for more complex and multi-page forms.
2. Pirate Forms
Pirate form is a free plug-in that has a generous rating of 4.6 and more than 200,000 active installs. The interface of the plug-in is useful when there is a need for a simple contact form and not much dazzle and complexity is required.
Pirate Forms caters to the user who wants a simple contact form readymade without having to create anything and wants it displayed on his website without any further delay.
This plug-in is completely free with no hidden charge nor any paid upgrades.
The plug-in has all the basic necessities of a contact form, such as CAPTCHA, SMTP, etc.
The plug-in does not have any added functionality which is its only flip side.
3. Ninja Forms
This is a freemium contact form plug-in that can be used to create interactive contact forms with minimal efforts.
The plug-in is available for free in the WordPress repository, which means it can be downloaded and installed in multiple sites.
Premium extensions allow for enhanced functionalities.
There is a lot of documentation, guides, and support for this plug-in.
4. Jetpack
Jetpack, the plug-in from camp Automatic also has a contact form module within it. The module can be enabled in the Settings option.
Instead of creating a form with this plug-in, you get to create the form right on the editing screen of the post or the page.
With Jetpack, you can adjust the fields when you want to add new ones and remove the old ones, and then you can finally publish the form on the website.
5. Gravity Forms
This is one of the more premium contact form plug-ins that is charged as $39 for a single website up to $199 for unlimited websites. A standout feature of the plug-in is multi-page forms that allow your visitors to fill out comprehensive details.
Another great feature is that you can limit the form entries when, say, you are running a challenge, and only want to accept 50 or so submissions through your form.
Advance form fields can be included such as websites, file uploads, schedule forms to setup appointments, etc.
6. ARForms – Form Builder Plugin WordPress
The ARForms WordPress Form Builder plugin is an all-in-one tool that allows you to build any type of form without requiring any technical skills.
This plugin stands out with over 50+ pre-built, fully designed sample forms and 30+ form elements!
The ARForms WordPress Form Builder plugin's Real-Time Editor can assist you in creating the form using a simple drag and drop option.
You can select from different styles, including: Rounded Style Form Design, Standard Form Design & Material Style Form Design & it comes with sitewide in-built pop-up forms.
The analytics function in ARForms is one of its best features, allowing you to see form entries and views on a daily, monthly, and annual basis.
Free lite version: https://wordpress.org/plugins/arforms-form-builder/
With these 5 top WordPress contact form plug-ins, we are sure you have chosen one for your specific requirement. Your choice of contact form plug-in really depends on the kind of experience you want and your reasons for building a contact form.