6 Aspects Makes WordPress the Best Content Management Platform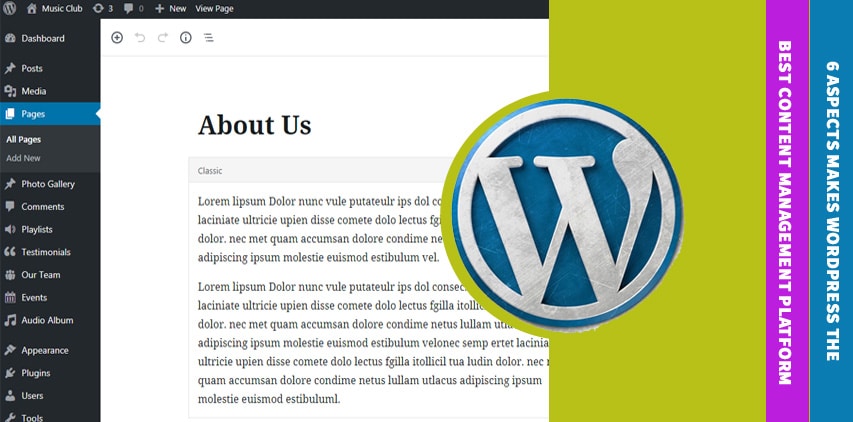 Why choose WordPress for your site? What makes this platform a popular content management system (CMS) recommended by many of the biggest names in the blogging world? Whether you are a novice or an advanced WordPress user, the platform allows you to set up a simple blog or use its comprehensive CMS for complex high-volume platforms with comprehensive ease.
It is a simple and free CMS with many features and ample customization for marketers and developers alike. WordPress can be used to develop all types of sites, be it a simple personal blog or a complex website for a big company.
This platform, according to most experts, is an open-source platform. That means its code available to its users. Thus, anyone can access it, make changes, and customize the platform to conform to their brands.
This is the primary reason WordPress is used by about 29 percent of all sites on the web and has a CMS market share of approximately 60 percent.
Additionally, there are more than 53,000 free WordPress plugins in the platform's plugin repository and thousands of other themes in the theme repository. Surprisingly, these numbers don't include all other places you can find plugins and themes outside the WordPress official platform.
If you are still wondering if WordPress CMS is right for you, perhaps you may want to know who uses it. The simples answer is, 'everyone.'
While some platforms are good for web developers and others work perfectly for beginners who don't understand coding, WordPress caters for nearly everyone. Developers, schools, small business, non-profit organizations, bloggers, and giant corporations can use WordPress to grow their businesses.
Whether you intend to successfully take your current business online or set up a genuine online business WordPress is an indispensable tool.
You can create a fully-fledged company site, membership websites, e-commerce sites, and more. Also, you can implement support portals, forums, courses, and knowledge bases where you can publish a Black Friday case study and other pieces of information and share with your audience. Generally, the possibilities to create sites using WordPress are endless.
So, what makes WordPress unique and popular?
It is an open-source platform

Being an open-source platform, WordPress grants its users access to a unique world of possibilities and freedom. For beginners, many all-in-one platforms come with hosting service.

That implies you cannot your site to another host and manage it the way you used to particularly if the website is experiencing excessive downtimes or slow speed.

On the other hand, WordPress hosting option is available for a broad list of other hosting services such as Kinsta, Bluehost, and SiteGround.

Besides, any developer can develop and release a plugin, a custom code, or a theme for WordPress. This offers the users an endless library or WP plugins and outstanding themes to choose from.

For instance, if you want to add courses to your website instead of hosting a third-party platform, WordPress allows you to install the right learning management system. If you intend to optimize your blog posts for SEO, just install a plugin known as Yoast SEO.

Easy to use for starters

WordPress is an easy-to-use, user-friendly interface for both average blogger and developers. It offers you a great base, to begin with, and how you choose to proceed is pretty easy.

You opt for 'starter themes' if you intend to learn how to set up or develop a WP theme and website design. Perhaps you may later set up a WordPress business. You can also choose from the thousands of ready WP themes for your site.

With tools like simple drag-and-drop page builders, live theme customizer, and widgets, creating unique designs and styles doesn't require coding knowledge. Managing a WordPress website is easy too.

Inbuilt blogging platform

Well, there are many popular blogging platforms offering various blogging capabilities. However, the fame of WordPress stems from the platform's history as a blogging platform.

It has been one of the top platforms on the web for more than a decade, and it has kept blogging platform built into its content management systems despite its advancements.

What does this mean for WordPress users? Well, you create all types of sites and still include a great blog in them.

It also means outstanding blogging capabilities such as optimizing your blog posts for SEO using tools like Yoast SEO and organizing your content with child categories and parent categories.

Self-hosted nature of WordPress

Nearly any web hosting service provider can support a WordPress website because it is an open-source platform. In fact, this offers you more control over your site than people who opt for other all-in-one platforms.

There is a couple of reason someone would opt to switch hosting service. Some of these reasons include low site loading speed (associated with server quality), prevent DDoS attacks, your current host isn't keeping with the changing server technology, and probably your current host is offering poor client service.

If any of these issues crop up, all you need to do is to move your site to another hosting service provider. WordPress and many other top quality hosting services make it possible and easy for you to switch hosts without facing any significant downtime.

Generally, all-in-one platforms tend to control all the aspects of your website, and that means you must redesign the site with another platform if you plan to move it.

Regular updates and highly secure code

WordPress is a platform with many layers of security. At its core, the basic version of WordPress with no plugins and themes is very secure. Besides, its team of developers is always quick to release regular updates to fix all flaws and bugs whenever there is a security threat.

SEO-friendly

It is safe to say that search engines such as Google love WordPress. The platform has clean code, and its basic version is extremely fast.

Well, a lot goes into SEO-friendly website and using WordPress alone might not make your site rank well. However, there is a broad array of WordPress related products and tools you can use to make your site SEO-friendly.

The fame and numbers associated with WordPress speak for themselves. The platform has been growing at a very fast rate since its inception over 15 years ago.

Generally, WordPress has been under-the-hood for nearly a third of all site in the web and has been the choice of CMA for about two-thirds of each CMS-based site on the internet.