5 WordPress Firewalls to Protect Your Website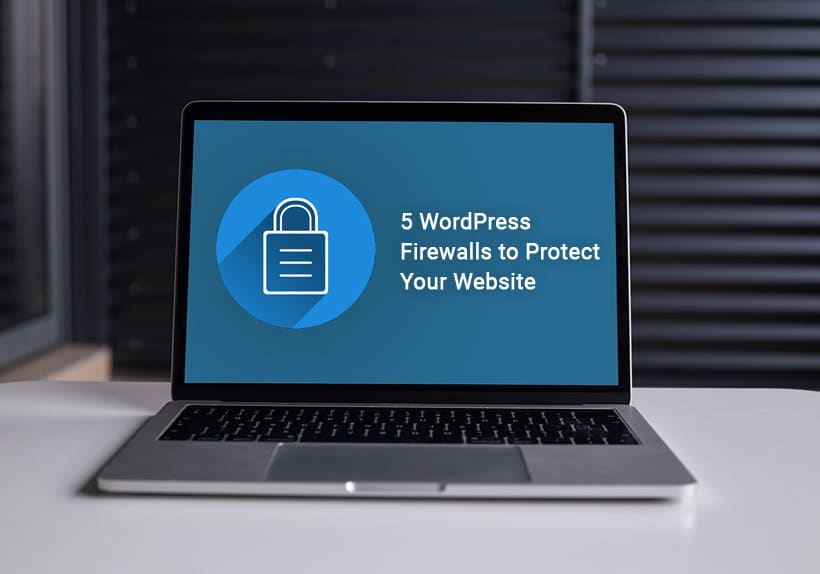 Did you know that almost 1 in every 25 websites has been hacked? A hacked WordPress website damages the core of the business, including revenue generation and, of course, your brand honor. From installing malicious content to stealing your password, a security threat makes your website vulnerable to continuous phishing attacks. But every problem comes with a solution, and the answer is – a firewall.
In this blog, I will discuss the top 5 WordPress Firewalls. But before we dig in, let me shed some light on the Firewall basics.
WordPress Firewall Plugin – The Basics
A WordPress firewall is a filter to restrict malicious and poor traffic, or you can take it as a shield that acts between a WordPress website and all the incoming traffic. On the basis of pre-programmed regulations, it strains out the bad traffic to your website.
Security must be your top priority when it comes to WordPress development. It is crucial to protect your website from bad bot traffic, enhance login security, decrease the website load, and provide safety from bad IPs.
Among the multiple types of firewalls, here I am talking about web application firewalls. So let's get started!
5 WordPress Firewalls to Protect Your WordPress Website
With cut-through competition and many options in the market, I understand the difficulties and confusion you may be facing in the market, so I would like to help you with my recommendations. Here are my top 6 WordPress firewalls protecting your WordPress website.
I am obliged to start with the classic one! Yes, the brand has a specialization in WordPress security. Free to all WordPress users and complementing your present security posture, you must know that GoDaddy is its latest owner. I personally adore the remote malware scanning and Geoblocking features.

Features:

Provides protection from vulnerabilities
Options for Whitelisting are there
Offer Global IP protection
Geoblocking is there
Monitors File Integrity
Security hardening is effective

Pricing: Starts with $199 per site for basic features.

The description of MalCare is incomplete without mentioning its extraordinary login security. Relying upon the MalCare firewall for your website protection can be the foundation of your website's success and strength. Moreover, it contributes to its continuous improvement. Whether it is protection against Brute Force or other web threats, MalCare is a forever good-to-go option.

Features:

Gives 7-layer protection
Does the instant malware removal for your website
Provides Activity log tracking and bulletproof backups
Cleans your website with just 1 simple click

Pricing: Starts at $199 per year

As it claims to be a true web application firewall, the security features are advanced and powerful. If any HTTP/HTTPS request is sent to the PHP script prior to reaching WordPress and its plugins, NinjaFirewall simply scans, hooks, or rejects it. It protects the scripts included in the blog installation directories and sub-directories, whether part of a package or not.

Features:

Monitors the file integrity
Allows real-time detection
Provides strong privacy
Provides protection for the XML-RPC function
Offers stellar support

Pricing: Starts with $69 per domain per year

The ClouldFlare is one of the most popularly used firewalls for WordPress. It is very strict with spam bots and bad traffic. You may find its setup complicated, but once it is done, you will find its features beyond amazing, including firewall logs and an analytics dashboard for reports. Having excellent threat intelligence, it provides protection with a few simple clicks.

Features:

Easy to manage firewall with a single control panel
Offers relatively faster deployment
Comes with flexible response options and advanced rate limiting
Prevents the exposed or stolen credentials

Pricing: Free to use for bloggers

Wordfence

This one is fascinating, and I must say that the creators have put so much of their time and creativity into making this one. With plenty of available and flexible tools, the software seems comprehensive. Even before reaching the platform, all the malicious requests and poor traffic is blocked.

Features:

Popularly known to block malicious requests
Offers limited login attempts
Easily blocks malicious traffic
Provides the endpoint site protection by integrating deeply with WordPress

Pricing: Free with basic features and $99 per year for premium services
Wrap Up:
Be it any business domain, you must ensure the security of your website. It is essential! You never know when an online predator has started observing your digital presence. Whether it is spam, a virus, or a hack, it can ruin your business to the core. You must have the WordPress firewall by your side at the earliest to protect your website.