5 Ways to Repair a Broken WordPress Installation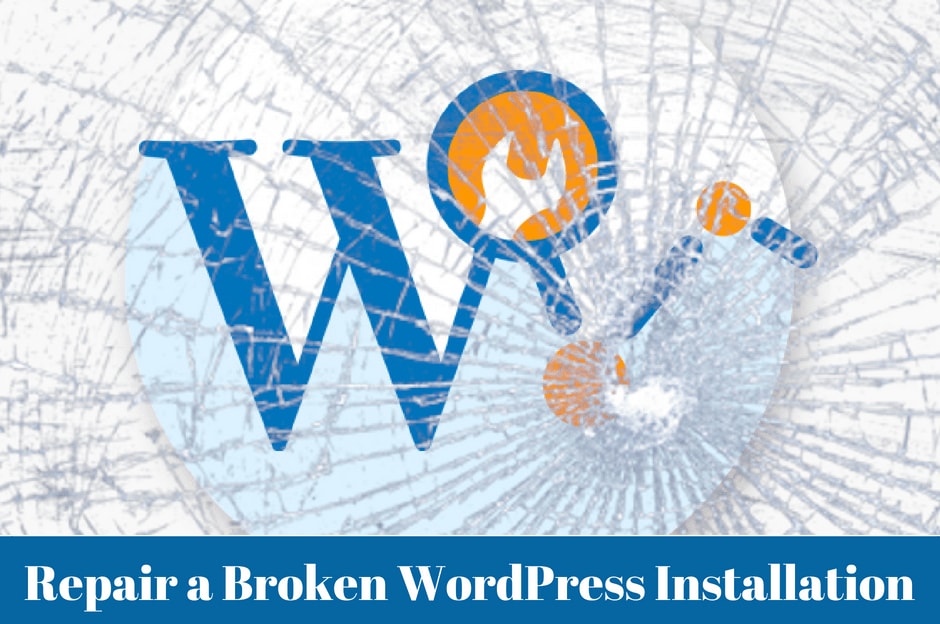 WordPress websites rock the digital landscape. Every day, numerous WordPress websites are built all over the world.
The availability of lots of free and premium themes, plugins, regular updates, free software, etc, encourage folks to use WordPress for the smooth operation of web-based businesses.
There are many non-tech people who create WordPress websites and blogs themselves. Either due to the lack of technical expertise or ignorance, they commit mistakes in WordPress website installation.
On several occasions, unpleasant things happen during WordPress website installation. Do you know how to deal with a broken WordPress installation? Want to learn more about it? If yes, then have a look at the below-mentioned points:
Deactivate WordPress Plugins at First
These days, different WordPress plugins are widely used by webmasters and digital marketing professionals.
They help website owners to automate their business operations, perform different tasks easily and quickly, and increase the overall productivity up to a great extent.
Using too many plugins on your website often cause problems, such as white space which blocks users from accessing the admin page of the website. Loading of web pages also become a thing of worry for many website owners.
If the problem is caused by the plugin, the easiest way to get rid of them is their permanent deactivation. To do so, just go to the admin section of your website and disable all of them.
Now, you should check whether the problem is resolved or not after disabling those plugins. You must check the functionality of each and every plugin and disable them if they are causing problems.
If you are able to access the plugin page, just visit the FTP page and rename the plugin folder. This process will help you to track the right plugin and deactivate the malicious plugins.
Install WordPress Once Again
Sometimes, you face problems because of some interruption in the installation process. If this is a case with you, just reinstall the WordPress once again.
This action can be performed using tools and you can handle the situation with the use of update and reinstall option.
WordPress will make use of built-in updater. It installs files once again and makes necessary changes to themes and plugins as per your settings.
If you are not using the built-in file to perform this action, then use the FTP file to install the WordPress plugin once again.
Never overright the WP plugin as it has the theme, plugins, and uploads. Just delete old files and upload new ones that you want to see on your website.
Scanning of Configuration File
If you are using the files and seeing an error message- cannot connect to the database, then you need to connect to the site with the help of FTP.
The user should scrutinize the wp-config.php file to make sure that the password, username and database name don't contain any error.
If you use a correct name and still the site is showing some errors, then have a look at the hosting service. Try to if there is any issue related to the database of your website.
Fix all those issues if they are available. Take the expert's help in this regard if you don't know how to deal with the problem.
See the Database Table
You can face problems in WordPress installation if it is not associated with the plugin or the core WordPress files.
You can deal with this problem by going to database tables through the phpMyAdmin. Just visit the database using phpMyAdmin and look for errors in the database tables.
If you find any error, just chose the repair option and handle each and everything as per your needs. The hosting company will assist to the access the admin page of your website.
In this regard, you can find lots of supporting documents. Just find those documents, read and use them to deal with the issue of broken WordPress installation.
Search other WordPress Errors and Fix Them
There are several types of WordPress errors that create chaos in WordPress installation. If you are not aware of those problems, they frustrate you because of your inability to trace errors and solve the problem.
So, you can take the help of expert WordPress developers to solve the problem. Technical assistance for WordPress websites is provided both by companies and individual WordPress experts.
Just weight their pros and cons independently and employ them at work to solve complicated technical problems in WordPress installation and kick-start your WordPress blogging life in an easy way.
Final Words
Both tech and non-tech individuals create WordPress websites every day in great numbers. Sometimes, they face problems with WordPress installation and are clueless about the root cause about them.
By following the above-mentioned tips, they can easily deal with the problem of broken WordPress installation and start their WordPress life easily.