5 Ways A Reliable Dedicated Web Hosting Service Change Your Business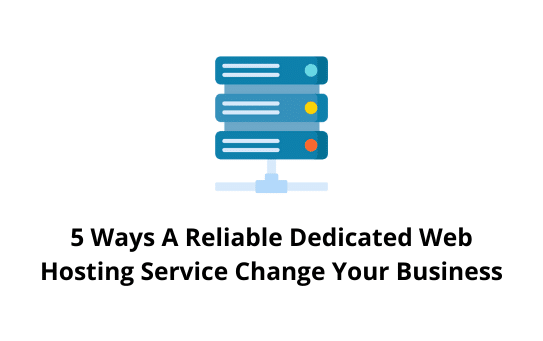 Every business is looking for a competitive edge over its competitors. To build the credibility of businesses, they prefer websites. If running a business website, you need a domain name, SSL, and a secured and dedicated server hosting environment. All these things you can get by choosing the correct web hosting provider.
As you are running a business website, technical glitches are inevitable. Hence, you require a reliable managed dedicated server hosting provider. It means your collaborated service provider will install relevant applications on the server's OS. A dedicated server creates a useful impact on hosting websites. Do you want to know how a top-quality dedicated server scale your business? Keep reading this post.
How does a Good Dedicated Web Hosting Enhance Your Business?
Dedicated hosting is the best choice for businesses that want to scale their online presence. Below we have mentioned some of its cool benefits that captivate your attention.
Top-Quality Bandwidth

Bandwidth is an essential part of transmitting data on the server. It determines the capacity of data transmission between websites and browsers. The higher the bandwidth is, the more data, files and information you can transfer on the website. With dedicated hosting, business websites can process volumes of data and applications within no time. Furthermore, your website's visitors will get a smooth browsing experience. Due to the top-quality bandwidth, images, videos, and other resource-intensive data are easily accessible in the dedicated web hosting.

Top-Notch Security

Data security is an important parameter to consider in the internet age. With the growing digital transformation, potential cyber-attacks and security threats are also increasing. Such problems will affect the server and put a negative impact on your business brand. Malware, spyware, and viruses always target sensitive information, leading to data breaching.

So, dedicated hosting is a perfect choice when businesses want to keep their sensitive information secure. A Reliable dedicated hosting meets all security standards like SSL certification, multi-layer security level and other security features. Users host web projects smoothly without any interruption from noisy neighbors. As a result, no intrusion activities lead to data breaching.

Moreover, businesses do not require any third party to secure customers' data. One rental, dedicated hosting plan is enough to accomplish this task. There will be no reliance on other service providers for security purposes by doing so.

Enhanced Performance and Full Root Control

Entrepreneurs must have full root control over the server to maintain online success. Any involvement of outside users will hamper the freedom of users to customize the server. A company needs to modify the server according to its requirements. It is where dedicated hosting gives users full SSH root access to users. It allows them to access any operating system, content management system, database, FTP accounts, etc. If dedicated servers are located in Tier 4 data centers, they ensure a guaranteed uptime of 99.95%.

In dedicated hosting, users get entire server resources to host web projects. Also, with the help of the latest generation processors, CPU cores, fast SSD storage, and other resources, users get the enhanced performance of their website and applications. Users can access web files or databases at the blazing fast speed at the dedicated server.

No Overhead Investment

Although while renting the dedicated server, businesses are investing some capital, they do not require overhead costs of additional hardware. It means they do not have to pay for additional web hosting infrastructure. A top-grade web hosting provider includes all relevant hardware for good quality web hosting.

Apart from that, if you choose the managed dedicated web hosting solution, monitoring regular updates, installing OS and other configurations are done by the web hosting provider. Besides, maintaining domains, FTP accounts, databases, and other files on the server are easy to manage by a control panel. You need a trustworthy web hosting partner to get such features highlighted above. Their plans include control panels, advanced resources, and add-on managed support.

Scale Web Projects Hassle-Free

There is no cap on server resources from service providers' end in dedicated hosting services. Users can easily scale their websites and applications in the dedicated resource. If you compare dedicated hosting with other hosts like shared, VPS and cloud, you will get more server resources. So, get the space to host unlimited domains and files at dedicated servers.
Conclusion
In an online business, websites accessibility is a major factor in determining its success. Running resource-intensive websites and applications with less server resources impacts their performance. Also, businesses cannot overlook security factors. Hence, dedicated hosting solutions make businesses credible and enhance their brand awareness.
Even customers prefer websites having higher performance, data security and maximum availability. It delivers positive results to businesses and widens the consumers' base. Thus, this web hosting kind is successful for businesses.