5 Tips to Using WordPress for Beginners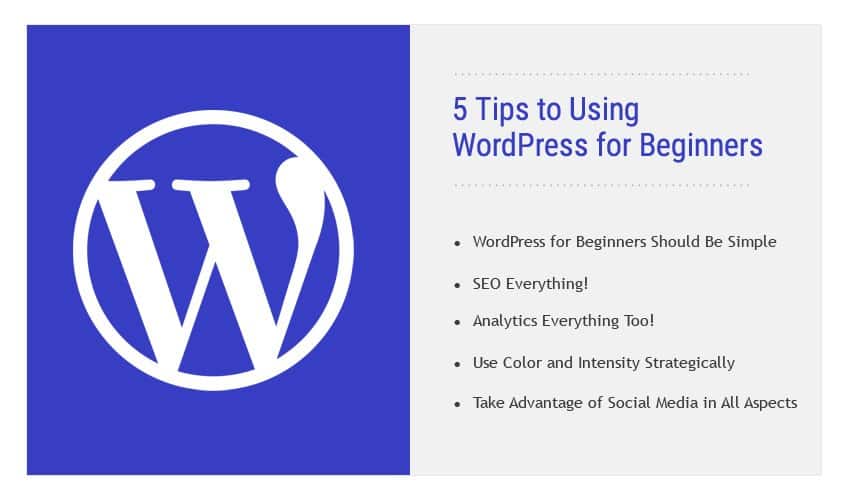 There are more websites on the internet than there are people on the entire continent of Africa. And it's not even close.
There are about 1.74 billion (yes, with a "B") websites online right now, according to the website Internet Live Stats. The United Nations' Economic and Social Affairs Department estimates there are 1.31 billion people on the African continent. That's a difference of about a difference of 430 million.
Granted, less than 200 million are active.
Many of those sites run on WordPress. WordPress for beginners is not as hard as it sounds. Don't hesitate with these five tips.
WordPress for Beginners Should Be Simple

That is true on many levels: for this section let's look at this from a user experience perspective.

Websites are meant to provide some kind of utility for both the publisher and the user. And unless your website is the next social media monolith, the function should be intuitive and clean. Another word for that early website is elegance.

Remove all the widgets, apps, ad space that isn't completely necessary to the user experience. This is especially true for the sidebar of the main content.

Make sure that sidebars don't turn into the clearance aisle of your website when you create a webpage.

SEO Everything!

This harkens back to the standing out bit. Vast swathes of the internet are filtered through only a handful of conduits when people are looking for something. (Shoots side-eye at the Google Search Engine, which holds a hammerlock on the search engine market)

If you are a beginner, there are several plug-ins and widgets that you can use to make the most of your WordPress site's SEO. Some of the top options include Yoast, All in One SEO and SEOPress.

It's also likely that you will often hear that SEO is dying or changing all of the time. It isn't dying, it's just getting more competitive. And with mobile and tablet usage on the rise, SEO for organic desktop traffic is getting even more competitive and costly–however, if you want to have a successful site with traffic, you will need to rely on Google search traffic.

Analytics Everything Too!

This is the next logical step for marketing a group or cause through WordPress.

You need to jump into measuring and following your site's analytics and stats as soon as possible. This will help you understand what success of the website means on the outset and where to go from there.

Make sure that your page has its own thing and that you can measure it.

There are innumerable ways to deepen your understanding of what success is, means and could mean for the website and its publisher. One way to get real-world industry insights is to get connect with professionals through a growth marketing conference.

Use Color and Intensity Strategically

There are a ton of tools within WordPress that can do a ton of things to the look of a website. Some are through the use of different WP themes and customizations available, while others might need to be set up with a custom programmer or through plugin features.

While tempting, don't use them all at once. It often feels like a simple project isn't good enough because there isn't enough too it.

Remember, less is more when it comes to web design.

That said, start simple and find the right place to add a WHAW-POW! splash of color or intense design element.

Take Advantage of Social Media in All Aspects

No matter what type of website or blog you are planning to create with WordPress, it's important to take advantage of everything social media has to offer. With over three billion users spread across the major social platforms, there must be a way to use WordPress and social media to improve the chances of success for your site.

Some of the best ways to accomplish this are to make sure you are using the best social sharing plugins with your site. Instead of a user needing to copy and paste your site URL and then add it to Twitter or Facebook, they can just click a button right on your site.

When setting up these plugins, it's also important to know which social platforms are best for your site. For example, LinkedIn might work better for business sites, while Facebook might work better for entertainment sites.
Go Without Fear
The No. 1 takeaway for WordPress for beginners is to go into web publishing with confidence. At the same time, go into it with eyes wide open that you want to be a homerun success overnight. Focusing on further development in your skills and further development for your website will pay off dividends later.
Check out our other articles about WordPress themes to get a start on the overall Vibe of your website. Help us help you get over that first hurdle and setting a vision for your company or organization.