5 Reasons To Hire A Dedicated Development Team Instead Of Freelancers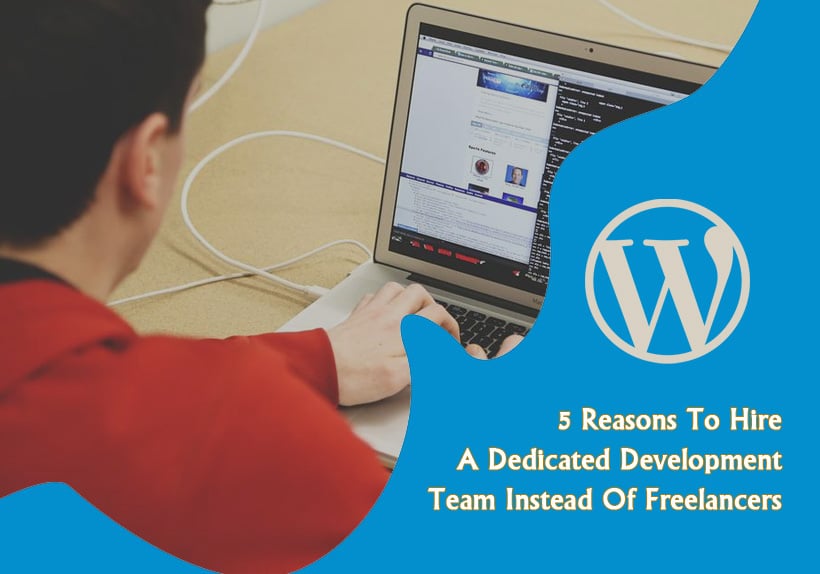 Website and mobile application development is an intricate procedure that comprises several variables.
Discovering the right dedicated software development team, getting the essential tools, and accomplishing process efficacy—-all demand money and time.
Software development projects vary by requirements, scope, and length. Generally, an organization's internal development crew has no skills or resources to execute innovative features or test the current ones.
This is when acquiring external help becomes crucial. Companies have the choice of getting freelancers or appointing a dedicated squad for their projects.
In today's guide, we will compare both models and demonstrate why employing a dedicated development team is more advantageous for your business.
In Which Circumstances The Two Models Are Preferred?
A Dedicated Team

A dedicated development team is a group of software engineers and developers, UI/UX designers, quality assurance specialists, project managers, and other necessary experts who work full-time for a software development company.

Whenever an individual businessperson or a firm requires resources for their project, the project manager of a dedicated crew allocates professionals with the correct experiences to work exclusively on that job. You can hire a dedicated team when:

The quality is important, and the time frame is unidentified.
The requirements can alter as the project progresses.
The project is complex and bigger or when multiple projects need to be done.
The budget limitations are not defined.

Freelancers

They are individuals who work for themselves rather than an agency. These self-employed experts offer services to clients in numerous fields, including software development. You can hire freelancers when:

The project is easy and short.
The budget is small, and requirements are fixed and will not change.
The deadline is known, and the quality is not the major apprehension.
5 Reasons To Hire A Dedicated Development Team Instead Of Freelancers
Here are five reasons you should appoint a dedicated software development team instead of freelancers.
Better Project Results

Freelance developers can get busy with various jobs or easily lose track. Therefore, they are not dependable and don't take responsibility for the projects.

Besides, if any problems emerge during or after development, you don't have a squad of specialists that can offer solutions or assist you anytime you need.

A devoted staff working for you provides a substantial advantage in such a situation. Remote software developers are dedicated to your job, delivering the results you intend to obtain from a project.

If any issues arise during the usage, you have a crew to aid you at the time you need. All this leads to improved project results.

Start Working On Your Project Quicker

Making an internal team can take a prolonged duration of arrangements and onboarding processes.

That's a hazardous delay that the majority of projects cannot take in the current fast-paced industry atmosphere.

Employ a dedicated development team to cut down the time required to start the real work on the project.

The development agency should be able to simplify the initial processes and have your crew serviceable in a couple of weeks.

Greater Adaptability And Scalability

If you already have a dedicated team, you can adjust them. You can scale the squad up or down. It will be done according to your business requirements.

The developers are flexible enough to adapt to your business's requirements and generate plans accordingly.

However, this is not the scenario for freelance developers. They are typically inflexible pertaining to changes.

Easily Track Your Project Progress And Performance

With countless project management software like Trello, Asana, etc., tracking and handling a remote crew has become easier.

A reliable agency should assist you in setting up all the essential tools and starting smooth communication to manage the project successfully. You can be definite that your resources are utilized efficiently.

Premium Quality Work Delivered Within The Time Frame

Dedicated squads appropriately plan and manage the projects. The outsourcing development company plans tasks related to the project and allot work to individuals on each task.

On the other hand, freelance developers are not very good at scheduling, handling, and planning projects. That's why they sometimes deliver the work on time and sometimes miss the deadlines.

Even after that, you need to check the project to guarantee that there are no issues. And if you discover errors, you have to reach out to them again to resolve the errors.

Eventually, it is a waste of your valuable time to send the project back and obtain it after all errors are fixed.

Dedicated teams finish their work within the time limit. They develop, review, and test their projects. They diminish the possibility of errors and provide a high-quality product on time.

If budget is not your problem, you should employ a dedicated team for your project.
Frequently Asked Questions
1. How To Appoint A Dedicated Team For A Small Business?
Employing a dedicated crew for a small business is similar to hiring the same squad for a large company. The key contrast is the number of experts you require.
While larger organizations often employ a dedicated team with project managers, business analysts, and quality assurance experts, you may want to hire a few developers only.
2. What Are The Perks Of Hiring A Dedicated Team?
Hiring a dedicated staff is the best option when you have an intricate and lengthy project. This model arrives with higher flexibility and cost-effectiveness.
You decide whether you want to concentrate on your other business tasks or be a hands-on supervisor for some time.
Conclusion
If top-notch quality with 24/7/365 maintenance and support is your primary concern, you should opt for a dedicated team.
Having a dedicated squad means you will be certain that your project will be done aptly and within the time limit.
Freelancers also offer good outcomes and are affordable, but they work on multiple projects simultaneously and are not flexible. So, it is better to hire a dedicated team than a freelancer.