5 Facebook Live Tips to attract audiences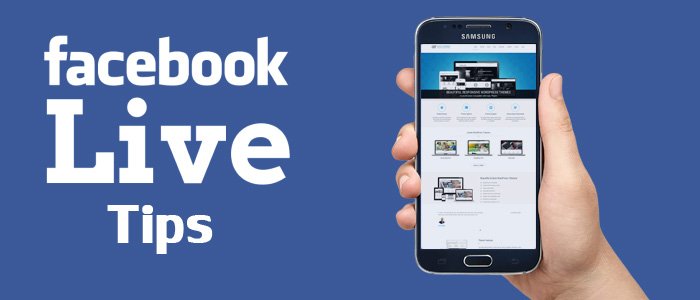 Facebook Live, in no time has become the highly influential and powerful marketing tool. It has tremendously changed the ways of social media marketing strategies. FB live is a new trend setter, with an unbelievable power to capture the hearts of audience. Do you know that a Facebook Live video is watched around three times longer than a normal video post?
Not only this, audience participation is around ten times more than normal ones in terms of comments and likes. These figures depict that a live video engages more people which in turns increases your reach as the video will be pushing your livestream into their newsfeeds.
Live streams help to make more profit for online businesses. So you may try to buy Facebook likes to enrich your account with more followers and likes. It may help you to get more views on your live streaming videos.
What is Facebook live?
Facebook Live is a new feature introduced by Facebook which allows the users to have a real time video chat/session with the followers and viewers. A live streaming video is a much more powerful tool to interact with people to check out their reactions, emotions, answering their doubts etc.
Facebook Live helps more and more people to discover you. It's a new way of broadcasting as in here you will be interacting with a warm audience who is ready to put their instant queries, give emails addresses etc. A longer video shows that people are finding it interesting and are building trust in it.
There are many topics on which you can start discussions unless you are opting for any particular subject. You can live stream on topics like:
current hot topics on politics
question answering session with your fans
an interview with your friend or colleague or professor
Healthy discussion with an expert or a professional
Show your talent like playing any musical instrument, sing a song, your acting skills
Some professional classes like cooking, dancing, academics
Watching favorite show or movie with your fans and checking out the reactions.
Any of your unusual activity which interest the audience
These topics are just to give an idea, how can you begin the Facebook live if you are running short of topics. So get on your cameras and start shooting. But WAIT!!!
I will give you five TIPS so as to make your live video, a hit. Just follow these and I am sure within couple of minutes, the number of viewers will increase exponentially.
Strong Internet Connection

Be very very sure about your internet connectivity before going live. Having a strong Wi-Fi connection is recommended unless you don't want to get interrupted in the middle of an important discussion.

If you don't have a Wi-Fi then you will require a 4G connection. If the signal tends to go weak, the 'Go Live' button will be grayed. A strong connection means that it should offer good speed and should be reliable.

There are many tools available online for checking the internet speed. Just do a speed test to ensure that connection will not break in the middle.

Inform followers about video beforehand

Keep a pre-audience ready by posting a written post about you going live or any other tools you have for broadcasting. Making a broadcast beforehand will be building anticipation among audience for the upcoming livestream event.

Informing one day before will allow people to complete their other tasks on time and will tune to you on time. Your regular followers will be notified about your live-streaming.

Even, when you wind up your video, don't forget to ask your viewers to subscribe or click on 'Follow' button so as whenever you go live next time, they will be automatically notified.

Attention grabbing title

Make sure you mention the title of the video or write a brief description of the agenda of the video. It should be just like a breaking news headline. Or if you are giving any description, it should be attention seeking and highly impressive such that any person who sees it, goes irresistible to tune in. it has been seen, a live stream with a great title or description attracts more viewers than with a live video without any title.

Make your conversation more engaging

Try to say 'hello' whenever someone mentions a comment. Keep on responding to their comments side by side to make them feel important.

eep the duration of your video a bit longer so that more and more people discover you. The maximum time Facebook live allows streaming is 90 minutes. Welcome the people as soon as you start the video.

Don't waste time in showing off stuff in the background. Don't wait for a significant number to people to join and then plan to start your discussion. Even the people who join you late can replay your video for anything they have missed on.

Just be patient and keep calm whenever you see visitor count increasing. Make sure you have started your actual discussion within 45 secs so as to interest more and more people. You can go for a quick recap of the agenda for the visitors after say 45 mins discussion.

Just don't keep on briefing every follower who joins you as they can always replay the back to see what was happening in the video.

Leave audience for wanting more

It is all about, how much interest people take in your live video. Don't drag so much your question answer session. Keep something which people can query you by emails and by written post or visiting your site. It should be such that which tempts them to follow your live streaming.

Just signal them a good bye note few minutes before ending your conversation. Choose a good closing line. But before closing, ask your viewers for live notifications so that they get notified for your next.
With these tips, I am sure you will definitely mark a great impression to your viewers. In today's digital era, it has become a quintessential part to promote your image online as it triples your business.
The younger generation prefers doing things online rather than going out in market and searching. Even for the bare minimum information we are dependent on internet and social media.
Not only you need a good website but promoting it through social media sites is also very important aspect which cannot be neglected. Even you can drive your blogs to your social profile.
In simple words, like if you are using a WordPress website, you can plug the RSS feeds directly to your Facebook profile. Vice Versa is also true.
There are certain plugins available for WordPress for its integration with Facebook. Even you can sign in with the help of a Facebook id. Your comments on the website will have a picture of your Facebook account.
Tying up your business with latest social media platforms will give a boost to your business and pave your way for a successful career.