5 Easy Ways to Migrate Your WordPress Website with Plugins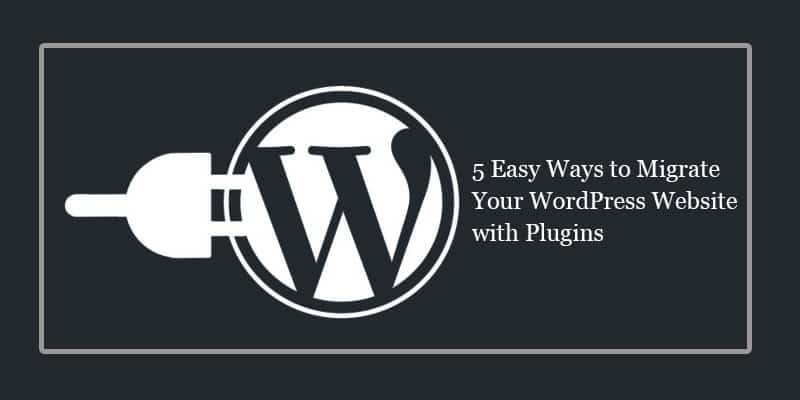 To migrate a WordPress site, you can choose from a number of ways: first install WordPress, export content from a website and import it into the new one; copy all files and database updating table rows in the "big hand"; among other different and creative options.
If you need to migrate a site project or you are just tired of slow service from your host or poor support, there are many reasons why you may need to migrate your website in WordPress.
Migrating a site manually can be daunting and you run the risk of spoiling everything, but you take some care, run everything according to some of these plugins, it is very likely that you have no problem.
Now, if you want to avoid hassles and reduce the time it takes to move a site, there are several plugins that help a lot when it comes to migrating WordPress.
The list below includes migration plugins that will be a hand in hand when migrating your WordPress.
WordPress Duplicator
Many people love this free plugin. It allows you to duplicate, clone, back up, move and transfer an entire site from one place to another.
Duplicator has accumulated more than 700,000 downloads and received an average rating of 4.9 stars in the WordPress Plugins Repository.
WordPress Move
With this plugin you can change the domain name you are using and migrate your installation to another server. This plugin also allows the transfer of your database and the creation of backup copies of your installation.
This free plugin is not as popular as Duplicator, although it is easy to use and migrate a site using it is fast and painless. Do not forget to back up your files before using this plugin or any other (obviously!).
WP Migrate DB
WP Migrate DB allows you to copy your database from one WordPress and install on another with just one click on your dashboard. It is a useful plugin for synchronizing a local development database with a live site.
This plugin is great for developers. You can easily pull a live database from a remote location and replace it with your local database, or vice versa.
BackWPup
This plugin is great for performing backup in WordPress, BackWPup copies and stores the complete files of your site.
From your wp-content files to your posts, the plugin backs up and sends everything that was copied to for tools or external areas such as Dropbox, S3, FTP, etc.
For those who want to save the backup files in Amazon Glacier or Google Drive you need to use the paid version of the plugin.
BackupBuddy
For high-quality backups and in conjunction with the best storage tools and solutions – Stash, Amazon, Google Drive and FTP, BackupBuddy even sends email.
A paid plugin, but with different plans that fit the different needs and realities of those who get it, BackupBuddy makes backups and complete restorations without losing any detail of your site.
One of the most important features of the plugin is that you can choose to restore only one file or directory, individually and objectively.
Conclusion
The first time you migrate a WordPress site can seem a bit scary. It involves more than just copying files from one place to another.
But once you know what it takes to migrate and what tools you need to use, the process is fairly simple as long as you follow all the steps correctly.
Migrating a WordPress site does not have to be complicated, as long as you know what to migrate and the correct order to follow. If you follow the steps above, you will realize that the process is quite simple.