5 Best Digital Marketing Strategies For WordPress Users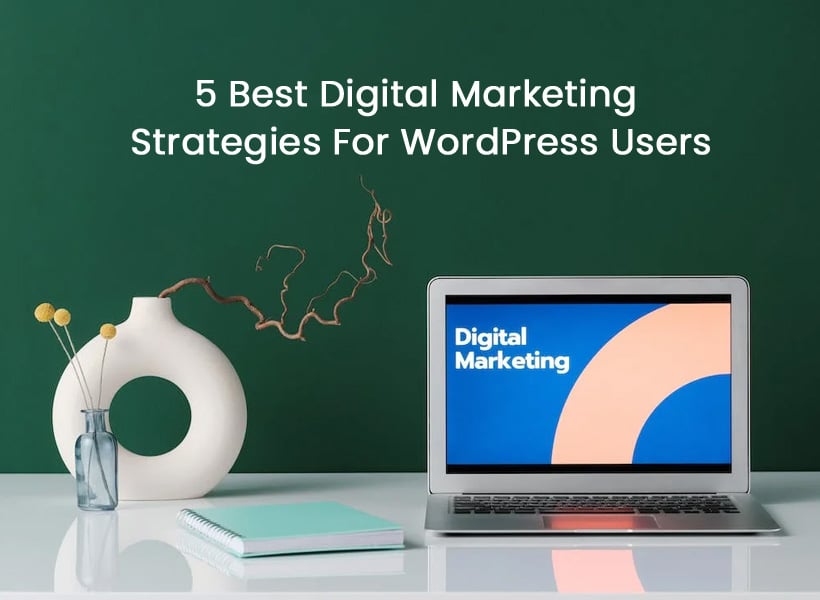 In the contemporary timeline, adhering to the varying dynamics of marketplace it has become non-negotiable to rely on traditional marketing strategies only. However, for the purpose of extending customer base, and gain impact on sales as well it is essential to make digital marketing channels the ultimate foundation.
WordPress being one of the most user-friendly, and popular CMS has the correct utilization where trillions of global users rely on it to build and run their online businesses. Either you own a SME or a giant e-commerce store, the relevancy to incorporate effective digital marketing strategies for your business would not differ in any case.
To guide you well, this article has combined 5 best digital marketing strategies for WordPress Users which are proven beneficial for conversions:
Search Engine Optimization (SEO):

SEO or Search Engine Optimization is explained as the basics of making and implementing a successful digital marketing strategy. It consists of the optimization planning of making a website excel higher in SERPs (Search Engine Result Pages). Along with having, a source of organic traffic constantly dragged to WordPress site. Moreover, the SEO tools, and plugins make the process simplified.

Yoast SEO is one of the most well liked WordPress SEO plugins. Users can manage Meta tags and snippets, analyses readability, construct XML sitemaps, and optimize content for target keywords. Yoast is a vital tool for website owners since it also provides insightful advice on how to enhance the quality of content.

WordPress users by relying more on SEO can often avail the advantage of high-quality keywords, structured with rich visual content, Meta titles, descriptions, along with a robust internal linking structure. Utilizing technologies like Google Analytics to regularly check website performance can also aid in locating potential improvement areas.

Content Marketing:

For WordPress users, content marketing encourages content creating, distribution, and relevance is provoked. This has been roaming specifically to engage target audience. An excellent platform of content creation is supported through WordPress forums. Hence making blog posting, articles, videos, and other visuals easier with respect to intent.

Start with identifying your target audience and comprehending their demands and interests in order to develop a successful content marketing plan on WordPress. Create a content schedule to maintain consistency and organize your content around topics and key phrases that are pertinent to your company or sector. Make use of multimedia material to maintain audience interest and promote social sharing.

Spread the word about your material using a variety of platforms, such as social media, email newsletters, and other pertinent websites. This will not only improve the exposure of your website but also position your business as a thought leader in your industry.

Email Marketing:

For customer retention, and engagement email marketing remains one of the most potential digital marketing tool. As for WordPress site users, collaborating an email-marketing plan has proven benefit to make process simplified, and targeted.

Using plugins like Mailchimp or Constant Contact, you can create eye-catching email themes; create email sequences based on user behavior, and build email lists. By providing incentives like free eBooks, savings, or access to special material, you may get people to sign up for your newsletter and grow them into devoted clients.

To deliver personalized content and offers, divide your email list into segments based on user choices and behavior. To continuously improve digital marketing plan, keep an eye on the effectiveness of your email campaigns and watch data like open rates and click-through rates.

Social Media Marketing (SMM):

Social Media Marketing has the most essential impact for businesses conducted through a WordPress site. By connecting with the target audience and have, the relevant services or products marketed in the right way possible. WordPress users can easily take advantage from SMM by ensuring that the social sharing buttons are properly integrated into the WordPress site. Thus making content distribution of plugins easier and functional.

With the help of the well-liked WordPress plugin Jetpack, users may automatically publish material on numerous social media platforms. You can increase your audience and draw in more potential clients by encouraging people to share your material.

Respond quickly to comments, mails, and mentions to engage with your fans. Run social media giveaways and contests to boost participation and follower numbers. To reach their audiences and increase the exposure of your brand, work with influencers and other companies in your area.

Mobile Responsiveness & Performance Optimization:

User experience in the current era is the only way possible to ace this digital marketing landscape. Websites that takes more time than usual often end up having discouraged set of customers, and a non-negotiable amount of effect on SERPs. Investing in performance optimization and mobile responsiveness is crucial if you use WordPress.

To pinpoint problem areas and enhance your website's loading time, use tools like Google Page Speed Insights. To ensure a quick and easy user experience, compress images, employ browser caching, and pick a reputable hosting company. Therefore, make sure your website is mobile-friendly and attractive on a variety of devices. A mobile-responsive website is essential for the success of your digital marketing due to the rise in customers accessing the internet via mobile devices.
Conclusion:
If you are a WordPress site owner, then be ready to idealize the realm of digital marketing strategies. Which are discussed in this article and ensure that by every possible means your site is encouraged to make the most out of available tools, and plugins. Therefore, set aside your resources, which are on the lead to deployment, and be courteous about the fact that Digital marketing is the key to make your site excel and appearance uplift through every possible format too.
WordPress Website owners can increase traffic, raise brand awareness, interact with their audience, and ultimately increase conversions by implementing the five best digital marketing strategies covered in this article: Search Engine Optimization (SEO), Content Marketing, Email Marketing, Social Media Marketing, and Performance Optimization along with digital marketing strategies too.