4 Ways to Install & Activate WordPress Theme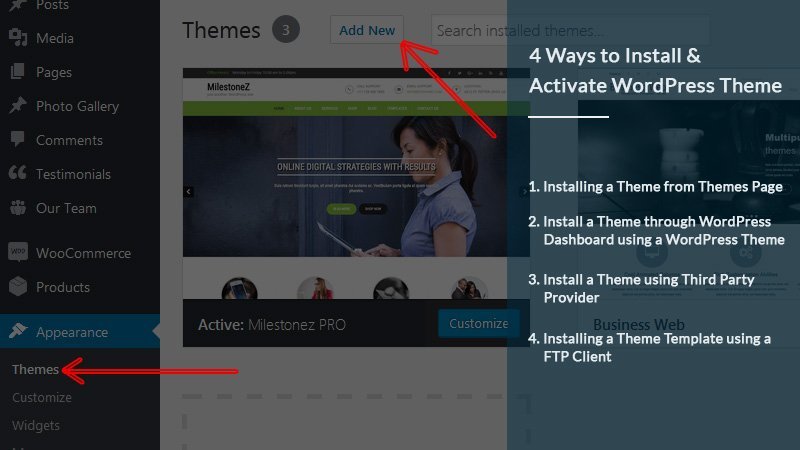 One of the foremost superb things regarding WordPress is that the accessibility of thousands of themes. A professionally designed theme offers you an opportunity to vary the planning of your website in a few minutes. Most themes also enable you to make one of kind layouts for different pages of your site. What's more, if coded accurately, a WordPress theme can help you in getting better search engine ranking too.
Installing a Theme from Themes Page

You can install install a brand new theme right from your themes page. This option only works for the free themes on the market in WordPress directory.

To do so, first go to Appearance > Themes and click on the button: 'Add New'. You will be taken to another page with many free themes for you to scroll around. You can filter them by features, popular and latest or add your custom filter.

If you would like to use this filter, click the 'Feature Filter' link. You can choose to filter by color, layout, features, and subject. On the other hand, on the off chance that you are searching for a specific topic, give the name in the inquiry box and hit enter.

After selecting the most suitable template, you can designa landing page and change the menus, add more pages to the theme or take some out, add blog post and more.

You can modify theeverythingof your site. By clicking on the right sidebar of the dashboard you will find all kind of tools you can change; from general settings to the appearance You can also add plugins that facilitate many tools to work of the site, plus you can edit the .html, .php and .css files if you are a techie savvy. You can find plugins to design a contact form, image galleries, banners, page builders that make easier to design the layout of a page and SEO helpers.

Every template gives you access to different options so a good idea is to take some time to choose the one that suits the best for your business.

Install a Theme through WordPress Dashboard using a WordPress Theme

To install a theme with this method, you will need the compressed archive of the theme.

So the first thing to do is to download the theme. Go to the WordPress theme directory and click on the blue 'Download' button to transfer the zipped archive.

The second step, is to go to Appearance > Themes and click on 'Add new theme ' box or 'Add New' button on the top of the themes' page.

Third, click on 'Choose File' and select the zipped archive of your chosen theme. After it finishes downloading, the item will be installed automatically and you will be redirected to another page, which is going to give you the options of preview or activate.

The last step is as simply as clicking on 'activate' button. Same as above, after installing the theme then you can add plugins, pages, menus and more.

Install a Theme using Third Party Provider

There are other websites beside WordPress where you can findthemes from different authors like the following:

Envato Market: is one of the leaders providing premium WordPress themes today. They offer more than 25,000 distinctive premium topics – a significant number of them accessible at great discounted prices. You can buy Wordpress templates to use in Wordpress platform or subscribe for around 30usd a month and have unlimited acces to download html files, photos, graphics and more.
Template Monster: Template Monster features includes a big selection of premium website themes and templates for a range of content management services. You can filter your searche can be based on subject, function, features, popularity, or WordPress version compatibility.

Once you decided for the theme that most fit your business, blog, service, from the dashboard > make sure you go to Appearances > Themes.

Once you are on the Themes page, click on the "Add New" button. On the next screen, click on the button labeled, "Upload Theme". From here, you can choose the theme you downloaded from any of the websites above (usually the entire .zip file you downloaded from them).

Click on the "Choose File" button and find the theme you downloaded. Once you have selected the theme in question, click the "Install Now" button.

When the download is finished just click on 'Activate' and your theme will be installed.

Installing a Theme Template using a FTP Client

WordPress lets you to transfer the theme files manually. For this purpose, you may want access to your server files and be familiar with using an FTP client like FileZilla. Again, you will need the compressed file downloaded from a third party or WordPress.

When using an ftp client you will need to add to the steps above the following:

Extract the archive file in your computer.
Open up your favorite FTP client and connect to your web server.
Get into the 'wordpress' directory.
From that directory, open the 'wp-content' folder.
Finally, open the 'themes' folder. Upload the extracted theme folder to the 'themes' folder.

After transferring all the files to the 'themes' folder using your FTP client, go back to back the Appearance menu and click on the Themes page. You will find the theme there. When hovering over the theme box, you will see two buttons appear to activate or preview the theme.

By using an FTP client you can modify the files using languages like Bootstrap, Foundation, Skeleton or custom CSS.
Conclusion
Once you finish setting up your website your next step is to optimize it for SEO to boost your business sales. You can hire a seo firm for on-page optimization or a ppc consultant to help you design your marketing campaigns. You can also add plugins that can help you with SEO but hiring an agency is very worthy because the can help you choose the right keywords to use in your website and your marketing campaigns which is crucial for online success.