4 Reasons to Consider WordPress for Your First Website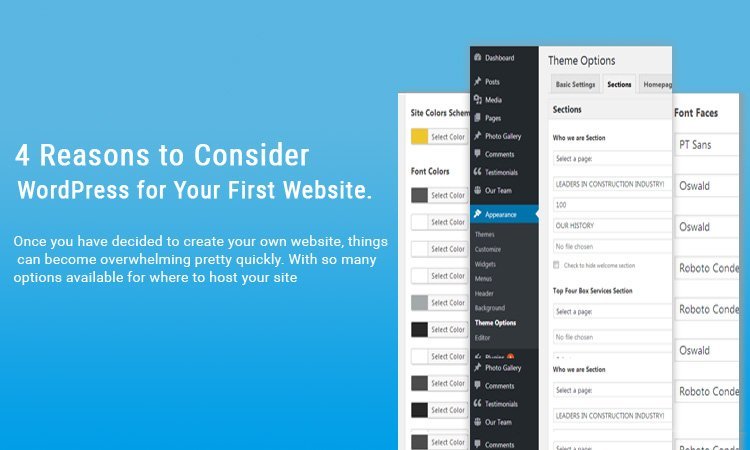 Once you have decided to create your own website, things can become overwhelming pretty quickly. With so many options available for where to host your site, how your site should be designed, and what your site should be named, making final decisions on all of these matters can prove to be difficult.
If you are just starting out with a website for yourself or your business and are unsure where your site should call home, there are a few apparent reasons that will persuade you that WordPress is probably the right choice to help you easily make a well-functioning site you can personalize and love.
It is easy to customize the appearance of your site.

Rather than having to fully design and develop a website from scratch, WordPress offers its users options of themes that can be further customized. On top of that, there are websites that offer additional themes for WordPress sites.

Browse the themes that are available to you to see what would best fit with the vision you have for your site. Just as finding the perfect domain name takes some time, finding a theme that will meet your needs requires careful consideration. With so many options to choose from, you are sure to find one that gives your site and the personality you want it to have.

You will always have customer support available to you on your own time and on your own terms.

If any problems ever arise with your WordPress site or if you have questions about how to do something with it, in addition to the customer service team at WordPress you can contact for help, you have an entire online community available to you.

With its status as the world's most popular open source content management system, WordPress support forums, blog posts about it, and tutorials are scattered all across the web.

If you are experiencing technical difficulties or are wondering how to make a certain edit to your WordPress site, chances are likely that someone else has been in the same position you currently find yourself in and will be able to answer your questions through a quick Google search done on your part.

It is SEO-friendly.

WordPress was developed with SEO in mind. It has been groomed for high SEO performance, and as such, with your site being on WordPress, it already has a leg up in its SEO efforts.

If you decide you want to further optimize your site for search engines, there are always additional SEO plugins available for you to use, you have full code access, and you can also significantly improve your site speed with some simple modifications.

Managing your site and its media is simple.

WordPress provides its users with simple options for the management of both its users and the content you wish to publish to your site. You can set up your site so that different people are granted different access to it.

With this capability, you can allow certain people to create content for and post content to your site (which you then even have the option to break down further into administrators who manage the site, authors, and contributors) while allowing others to only be able to view your site — all without ever having to leave WordPress.

Adding media to your site is easier than ever with the ability to drag and drop pictures into the uploader tool on WordPress. There are also image editing tools within WordPress so that you can quickly and easily edit your visual content before posting it to your site without ever having to leave WordPress.
While WordPress may not be the perfect application for every website, it is a great choice for many. Once you plan out your website goals, give WP a closer look and you may be surprised how versatile it really is.