4 Amazing Ways to Differentiate Your Ecommerce Store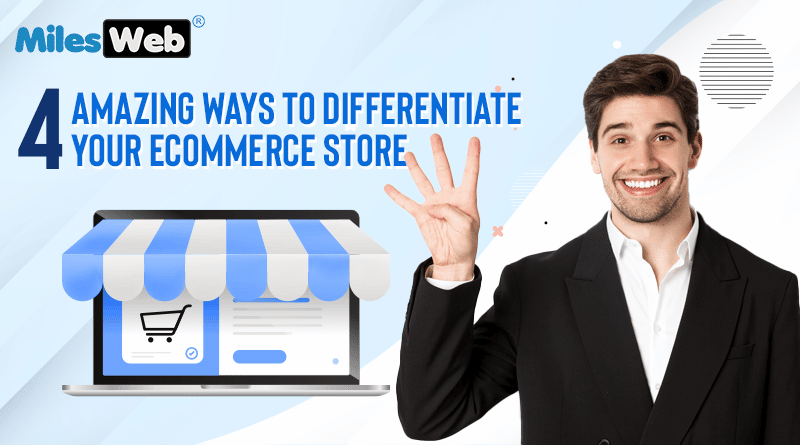 In today's digital era, most of the biz owners are preferring internet mediums to sell their products and services. This phenomenon is called eCommerce. As of 2022, there are more than 7.1 million eCommerce sites live and are hosted on Enterprise-Class Dedicated Servers. The main objective of hosting dedicated servers is to enhance the performance of mission-critical eCommerce sites.
In the current scenario, many eCommerce websites are having a tough fight amongst themselves to win customers' trust. If you are looking to build your eCommerce brand, how will you be able to differentiate? Most of you will develop your eCommerce site on WordPress and for that, you will be requiring WordPress Cloud Hosting for eCommerce services. But it is equally important to implement some strategies to stand out from the crowd for your eCommerce brand.
Why do you need to differentiate your eCommerce brand?
In a competitive era, many eCommerce brands are struggling to hold market share. So, what should an eCommerce business do to survive? Your answer should be, to choose the right eCommerce niche and the target audience. Moreover, you should focus on your business stability and aim for the right opportunities to sustain yourself in this fast-paced and competitive world.
Creating a comprehensive digital marketing strategy is the backbone of all businesses. According to reports, 90% of all Internet users use search engines to search for brands and products. Such figures have a great potential for driving traffic to your website. However, hardly a few entrepreneurs implement this strategy to drive sales from their eCommerce site.
Proper SEO, social media presence, web pages with good readability, PR, Pay Per Click advertising, and many more strategies are there to help you gain a competitive edge. In a nutshell, Charles Darwin's theory of "The survival of the fittest" is the main reason to differentiate your eCommerce store.
How Can I Differentiate My Ecommerce Store?
If you have your eCommerce store and want to differentiate it from your competitors, below we have highlighted some strategies. Implement them to make your eCommerce brand different from others.
Understand the shopping cart abandonment

In your eCommerce business, an online shopping cart carries too many values. It reflects the customers' engagement. Thus, if we talk about shopping cart abandonment, it shows the loss of a customer who went through an exit process to buy products from an online store. Why so? There might be some reasons related to this like:

Your platform is offering the same product as your competitors at a higher price. In this case, online consumers will buy products from customers.

Expensive shipping and delivery charges.
Violating privacy laws and asking for too much of customers' information.
Slower performance of your website.

Hence, what is the ultimate solution for the same? You should have a contact page where customers can raise queries. Or else, for instant communication use Live chat support or the ticket system. Your technical executives should resolve customers' issues at the earliest.

Engaging Content

Famous eCommerce brands are popular because they have strong content to showcase their products and services. Here we are not only talking about slogans and punchlines. But your eCommerce page should have enough content to provide general product descriptions, images, and details provided by manufacturers and distributors.

Publish long and short descriptions of your products. Use FAQs also on your eCommerce website. Bring your brand's voice to the conversation by adding multimedia content like photos and videos. Use testimonials, feedback, and reviews from other customers to influence the purchasing decision of online shoppers. In the last, do not forget the SEO optimization of your content. It will you're your eCommerce page in getting good search engine rankings.

Offering Multiple Payment Options

Don't stick to accepting one payment option. Remember that data breaches and cyberattacks and even on the dark web, sensitive payment information are breached. Everyday credit card or debit card fraud is rising. Because of that many consumers have stopped using the card payment option to purchase products.

One survey of 2009 of 2,000 British adults shows that 50% of online consumers will prefer to cancel if their preferred payment option is unavailable. Adding PayPal, mobile app payments, or wallet payments are some helpful measures you can add to your eCommerce site. The COD (Cash on Delivery) system is also a good option that many online consumers prefer.

Come with a unique product

Introduce some unique products that your competitors also do not offer. That unique product should promote your voice, culture, brand tone, and values.
Conclusion
In a nutshell, these were some strategies that are important to help differentiate your product from the ever-growing competitive eCommerce business. Implement them on your brand and your product. Also, take the help of digital marketing experts to implement effective content marketing strategies and make your eCommerce content effective.