3 Ways to Instantly Improve the Performance and SEO of Your Website
Do you currently have a website or blog and aren't happy with it's overall performance or success? Maybe it's not making the amount of money you thought it would, or the traffic isn't growing as fast as you like.
No worries. There are always new and exciting ways to improve the performance of your site — which can ultimately increase earnings, traffic, and engagement as well.
Follow these three simple, yet extremely effective, tips and working methods to improve the overall performance and SEO of your site.
Increase Speed and Performance with a CDN
Have you ever been to a web site that took longer than a second or two to load? Isn't it the most annoying thing in the world? If you said yes, you aren't along.
In fact, every second it takes for a site to load, there is a huge drop off in site visitors who are willing to stick around and wait for the content to load. This is also something Google looks at when measuring sites and determining where they should rank in the search results.
According to Incapsula CDN, "Studies show that a second-long delay causes a 7% drop in conversions, an 11% drop in page views and a 16% drop in customer satisfaction." — as you can imagine a single second is loading time can make the world of a difference to your site or brand.

As we just recently saw during Amazon Prime Day, it quickly turned into a disaster day when Amazon couldn't keep their site online and fill all of the orders flowing through the site.
We haven't seen any exact numbers on how much this potentially lost the company, but it had to have been in the hundreds of millions most likely.
With all of this in mind, no matter how big or small your site might be, it has to load very fast. One of the best ways to fix this, is through the use of a content delivery network. A "CDN" is used to remote host your website or blog on different server locations throughout the world to improve performance and loading times, based on wherever your site be loading from.
When deciding on whether or not to use a CDN with your site, it's also important to understand that modern CDNs can handle numerous IT tasks, and aren't 'just' for site speed performance. Other tasks and benefits include; handling high traffic loads, blocking spammers, scrapers and other bad bots for harming your site, setting up localized coverage without additional costs, reducing bandwidth consumption, and much more.
Best of all, when using a CDN, not only are they quite affordable and make a world of a difference for site performance, it's also as simple as installing a new WordPress plugin or adding a line of code to your site. There are no advanced technical design skills required.
Writer Longer and More Detailed Text for SEO
Have you ever thought about how many websites and blogs are on the internet today? If so, you will likely have thought about how much content is being produced on a daily basis.
If you also have a website or blog and are trying to rank in Google, you will probably find it a lot harder than it was in previous years. This is all due to the fact that there is way too much content and competition on the internet today.
As bad as this may sound, it also leaves room for opportunity for those who are willing to put in the time and effort to create better content. While we all know 'Content is King', but the best way to improve audience engagement, conversions owner sites, and also ranking higher in the search results is to make sure all of your best content is accessible in one super detailed post and not spread over a bunch of smaller articles. Remember, quality over quantity.
A perfect example of this can be seen in the graph below from Backlinko. The best ranking websites and content in Google is now more content heavy than other sites ranking lower in the rankings. Notice how sites with around 2,000 words rank much better than sites with less than 1,700 word per article.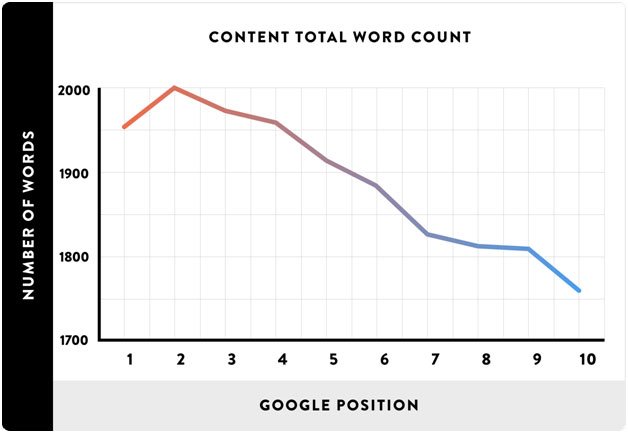 A better way to approach content creation on your site, would be to focus on writing very detailed and data rich articles with 2,000-3,000 words of text, versus coming out with a new smaller article daily.
At the same time, by writing more detailed content and less content overall, this will also allow for better content promotion and manual outreach. Why? Simply because it will be easier for you to link back to the same resource time and time again, and you won't need to spread yourself thin by linking and promoting different articles on your site.
This is exactly what we will be looking at next.
Focus on Content Promotion and Manual Outreach
With more than a billion active sites on the internet today, if you want to rank at the top of Google, you are going to need to have some high-quality backlinks, referral links, and mentions to your site. The more relevant and higher-quality, the better.
If you are going for quality and really want to put in the time and work to rank above the competition, it's going to take some extra effort.
According to GotchSEO, the "rules of SEO" are as follows:
Keep It Relevant
Let Authority Sites Be Your Friend
Focus On Real Websites (With Real Traffic)
Distribute Your Anchor Text Intelligently
Let Your Backlinks Live in Clean Neighborhoods
The article also goes into detail on the importance of anchor text and backlink profiles. Most sites are building links and going after their money keywords, but more often than not, a natural backlink would actually be quite generic or listing the actual name or URL of the site.

If you follow these steps, you will have a much better chance of ranking higher in the search results and also jumping past the competition.
Improve to Your Website or Blog is Just a Click Away
As you can see, there are plenty of ways to dramatically improve the performance of your site — even if you have little to no technical or site design skills.
Most of these changes are done through the click of a few button, while also putting in the time and effort where others won't.
Don't get discouraged by the fact that there are millions of sites on the internet today. Keep creating amazing content, optimizing your site for the best performance possible, and also promoting through legitimate link building and promotion efforts where others won't.