3 Tips to Build an Engaging Email List on WordPress
Email marketing is a powerful tool that can help businesses of all sizes connect with their audiences, build brand awareness, and drive sales.
However, to be successful with email marketing, you need to have an engaged and growing email list. If you're running a business or just starting out with email marketing, you may struggle to figure out how to create an email list that converts.
The good news is that it's not as complicated as it may seem.
By using the right strategies and tools, you can build an email list on your WordPress site and start reaping the benefits of email marketing in no time.
In this blog post, we'll share some valuable tips and best practices to help you build an email list that engages your audience and helps you achieve your business goals. So, if you're ready to take your email marketing to the next level, keep reading!
Add an opt-in form to your blogs
Using a form on the side of your blog is a great way to encourage visitors to join your email list. By placing an opt-in form in a prominent location on your site, you can capture your audience's attention and invite them to sign up for your newsletter or other email content.
Here are some actionable tips to help you make the most of using forms on the side of your blogs:
Use a clear headline: Make sure your headline clearly communicates the value of your email list and what subscribers can expect to receive. For example, "Get exclusive discounts and updates straight to your inbox!"
Keep it simple: Don't overwhelm your visitors with a long, complicated form. Keep your form short and to the point, asking for only the essential information like name and email address.
Offer an incentive: People love getting something for free! Consider offering an incentive like a free guide or ebook in exchange for signing up for your email list.
Use eye-catching design: Your opt-in form should be visually appealing and fit with the overall design of your site. Use colors and images that catch the eye and encourage visitors to take action.
Here's an example of an opt-in form by Death Coffee;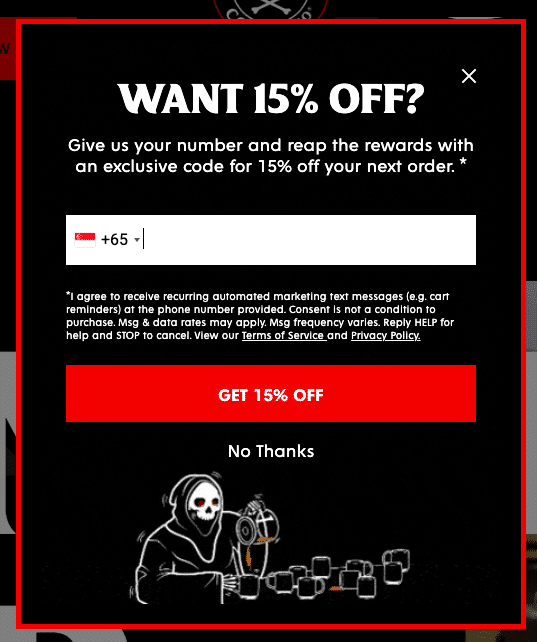 For example, if you're a food blogger, you could offer a free recipe ebook to new subscribers in exchange for signing up for your email list. Then, you could create an opt-in form that says "Join our community and get your free recipe ebook today!" and place it on your blog's sidebar. This will help you capture your readers' attention and grow your email list in no time!
Be sure to include a checkbox or additional text that invites visitors to sign up for your newsletter or email updates. For example, you could add a line that says, "Stay up to date with our latest blog posts and sign up for our newsletter!" and include a checkbox that allows visitors to opt-in to your newsletter at the same time they sign up for your email list.
WPForms is a great option for creating opt-in forms as it integrates smoothly with a variety of popular email marketing platforms, including SendX. All you need to do is install it, create a custom newsletter form, and then insert it on your web pages.
Build a landing page to attract an audience and get them to sign up
Creating a dedicated landing page and driving traffic to it is a great strategy for growing your email list because it allows you to focus on a specific offer or campaign and create a clear and compelling call-to-action (CTA) that encourages visitors to sign up for your email list.
With a dedicated landing page, you can tailor your messaging and design to the specific offer or campaign you're promoting. Visuals of a page have a lot of impact on the rate of conversion. This helps to increase the relevancy of your page, capture the attention of your visitors, and encourage them to take action.
By placing an opt-in form on your landing page, you can make it easy for visitors to sign up for your email list in just a few clicks. Opt-in forms typically ask for the visitor's name and email address and often offer an incentive such as a free guide or discount in exchange for signing up.
Here's a short, to-the-point landing page by sniff, a fragrance brand that offers a chance to win free products from them in exchange for the visitor's email address: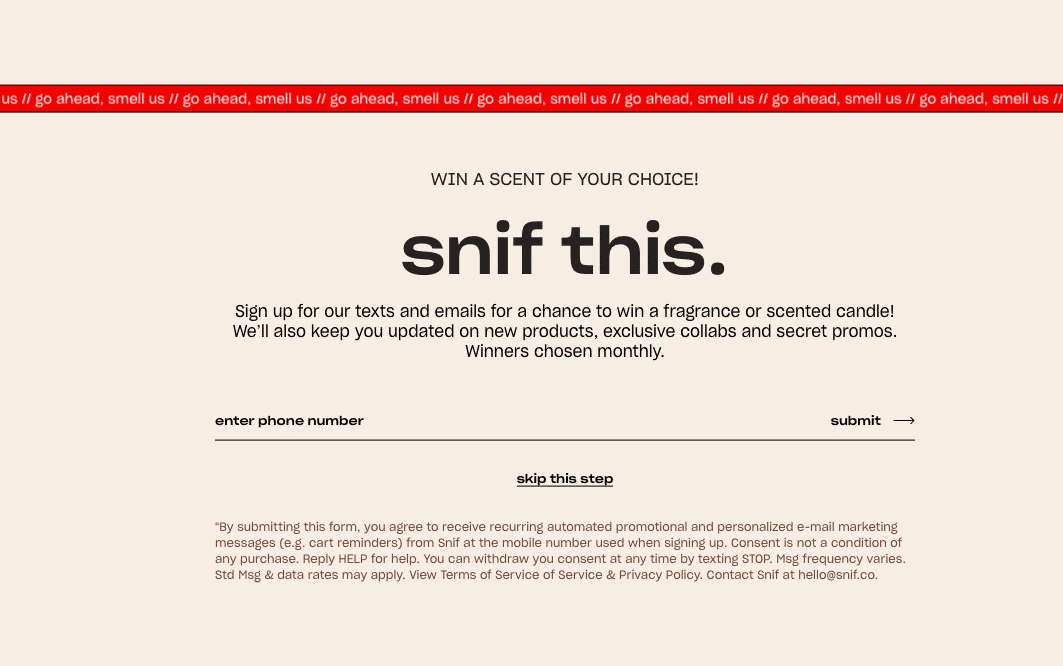 Grace Themes is a popular landing page builder plugin for WordPress sites. Our primary goal is to help businesses and individuals establish a strong online presence with professional-looking websites.
We offer a range of themes that come with convenient theme options, enabling you to customize and deploy our themes with ease. Our support team is always available to assist with any issues related to customization or compatibility.
In addition, we offer a Themes Bundle that contains all our premium WordPress themes at an affordable price of just $79. Our themes come
With Grace Themes Landing Pages, users can choose from a variety of templates and customize them to match their brand and campaign goals. They can add elements such as images, videos, headlines, and call-to-action buttons and use the built-in analytics tools to track their page's performance and make data-driven decisions about future optimizations.
Write guest posts on a high-traffic website that's relevant to your audience
Landing a guest post on another website is an excellent way to drive traffic to your WordPress site and promote your email list. By sharing your expertise and offering value to another website's audience, you can build your credibility, expand your reach, and attract more visitors to your landing pages.
Here are some actionable tips to help you make the most of guest posting for traffic funneling:
Find the right website: Look for websites that align with your niche or industry and have an engaged audience that would be interested in your content. You can use tools like Buzzsumo, Google, and social media to find potential guest posting opportunities.
Create valuable content: When creating your guest post, focus on offering unique insights, valuable tips, and actionable advice that will be of interest to the website's audience. Make sure your content is well-written, easy to read, and provides value to the reader.
Include a CTA and link to your landing page: In your guest post, make sure to include a clear call-to-action that invites readers to sign up for your email list. You can include a link to a landing page that offers a lead magnet, such as a free guide or ebook, to incentivize sign-ups.
Promote your guest post: Once your guest post is published, be sure to promote it on your social media channels and email list to encourage your followers to check it out. This will help you drive more traffic to your landing pages and increase your email list sign-ups.
Build relationships: Guest posting is not just about getting a backlink or driving traffic to your site. It's also about building relationships with other bloggers and influencers in your niche. Take the time to engage with the site owner and their audience in the comments section or on social media. This will help you build a relationship with them, and they may be more likely to feature you on their site again in the future.
Optimize your author bio: Your author bio is an important part of your guest post. It's an opportunity to introduce yourself to the website's audience and showcase your expertise. Make sure to include a brief description of who you are, what you do, and a link to your website or landing page. You can also include links to your social media profiles to help build a following.
Track your results: Finally, tracking your results is important to see if your guest posting efforts are paying off. Use tools like Google Analytics to track traffic and monitor email list sign-ups. This will help you see what's working and what's not and adjust your guest posting strategy accordingly.
How to promote your blog on social media with a simple pitch and short post: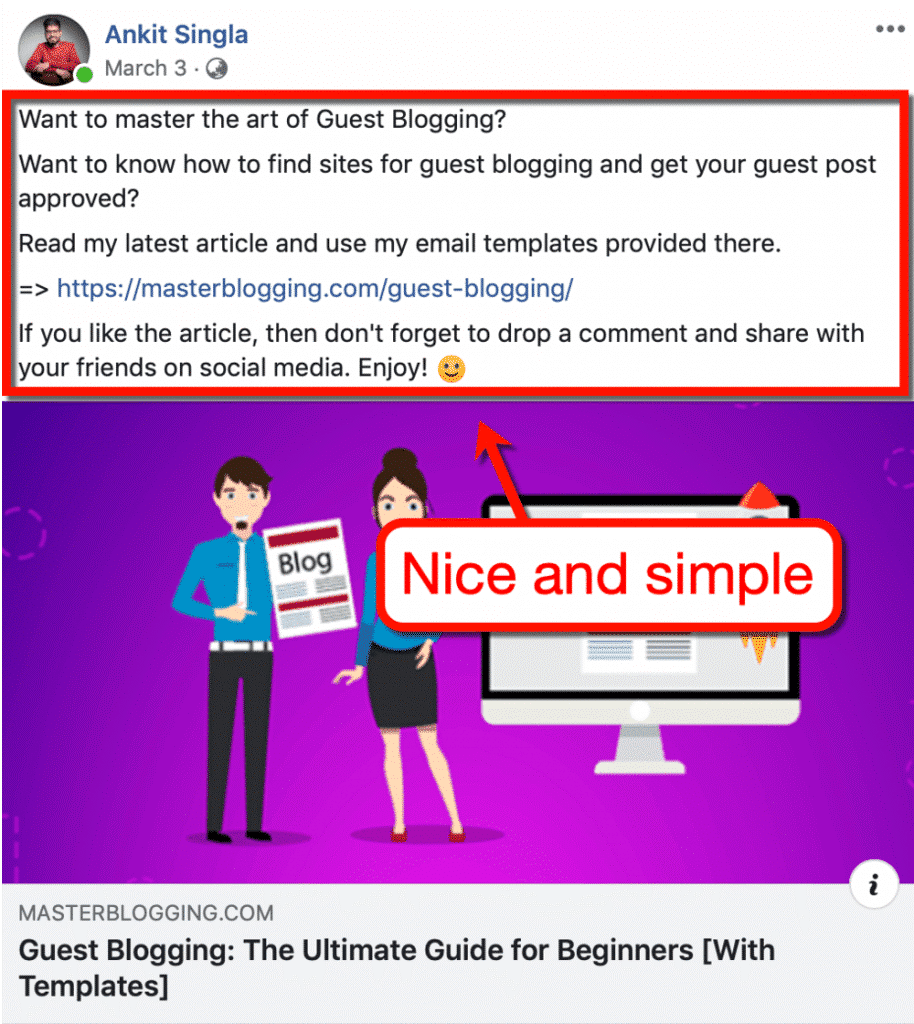 For example, if you're a health and wellness blogger, you could write a guest post for a popular fitness website about the benefits of a plant-based diet. Your post could include a CTA that invites readers to sign up for your email list and offers a free recipe guide for plant-based meals. This will help you attract a targeted audience. You can also use Instagram to drive more sign-ups to your email list.
Final Thoughts
Building an email list is essential to any successful email marketing strategy. By implementing the tips and best practices we've shared in this blog post, you can start building an engaged email list on your WordPress site that will help you grow your business and connect with your audience more meaningfully.
Remember to always focus on providing value to your subscribers, whether it's through exclusive content, promotions, or helpful tips and advice. And don't forget to make it easy for visitors to subscribe to your email list by using opt-in forms and clear calls-to-action.
If you're ready to take your email marketing to the next level, consider using an email marketing tool like SendX, which integrates seamlessly with WordPress and offers a range of features and templates to help you create effective email campaigns.