3 Things You Might Not Know You Can Do With WordPress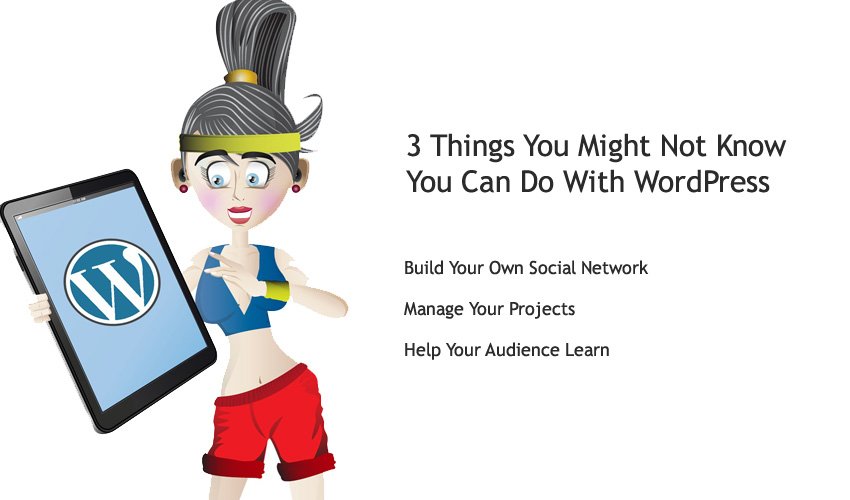 WordPress is powerful. There's a reason it's the foundation of nearly 35 percent of all websites on the Internet. The platform is versatile enough that you can use it to do pretty much anything you might envision.
And I do mean anything.
There are a few caveats. You're not going to be coding a browser-based game entirely through the platform. You (probably) can't use it to build a smartphone app, either. Not without so much work that you might as well toss WordPress aside and do it entirely by hand.
Aside from those narrow use cases, however?
The sky is the limit. This is made possible largely thanks to WordPress's extensive, incredibly active development community. To date, WordPress developers have created nearly 30,000 unique plugins between them.
These plugins run the gamut from paid and professional to free and casual, and everything in between. Better yet, if you can't find a plugin that does what you want to do, a bit of PHP coding knowledge allows you to design one that fits your needs.
Plenty of people, especially newer WordPress users, aren't aware of this. They assume they're limited to just what comes out of the box. Today, we're going to demonstrate why this assumption is false.
Let's talk about a few things you might not know you can do with WordPress.
Build Your Own Social Network
As a content management system, WordPress has a wide range of controls for handling user groups and categorizing the content. By design, this makes it well-suited to creating user-driven websites. Moreover, by adding a few extra controls for user groups and accounts, you can actually leverage WordPress as the foundation for a wide range of community-focused, user-generated content.
There are plenty of plugins with this exact use-case in mind, as well.
Forum Engine and bbPress, for instance, allow you to transform your site into a fully-functional web forum. Plugins like AccessPress, meanwhile, provide a bunch of extra functionality for moderating and organizing user-submitted content. Sabai Directory, the Business Directory Plugin, and Geo Directory, meanwhile, are all plugins that allow you to transform your site with a directory that includes maps, reviews, and NAP details.
Believe it or not, these tools represent only the tip of the iceberg.
It's possible to take things a step further, transforming your website in its entirety into a fully-functional social network. Whether you want to encourage better corporate communication, provide fans of your brand with a place to congregate, or simply carve out your own digital community, there are plenty of options available to you.
BuddyPress is probably the strongest contender in this regard. It's a powerful, flexible community plugin that allows you to quickly and easily set up your network with user profiles, activity streams, fully-functional messaging, and user groups. It also supports the creation of micro-communities, meaning you can even build a Reddit-like discussion network.
If BuddyPress isn't quite your speed, WP Symposium and PeepSo are also more than up to the task.
Manage Your Projects
Wrike, Trello, and Airtable are not your only options for project management. If you aren't a fan of the major offerings in that space, WordPress can provide your team with an alternative. Better yet, it's one that can seamlessly blend into your existing website.
The most powerful project management plugin is probably SP Project & Document Manager. Because it works with WordPress MultiSite, multiple teams and departments can sign up to use it. It also allows unlimited file uploads and comes with all the task management and scheduling options you'd expect of a project management platform. Basically, it does everything Trello or Airtable can do, and then some.
If security is a concern, you can rest easy. The plugin is used in high-security fields such as healthcare, finance, law, and government. It's not a tool that'll put your sensitive data at risk.
If you're looking for an alternative to SP Project & Document Management, WP Project Manager Pro is an excellent choice. I also recommend checking out Project Panorama and Kanban for WordPress.
Help Your Audience Learn
Last but certainly not least, you can transform WordPress into a fully-functional educational tool. This isn't just valuable for people working in the educational field. It's also a good option as a training resource for onboarding new employees.
LearnDash is the king of the crop where educational plugins, known as Learning Management Systems, are concerned. Available at a reasonable price, it lets you easily create engaging digital courses, complete with certificates and awards. There are even quiz and test management tools.
The platform can also be monetized in multiple ways, including subscriptions, one-time purchases, shopping cart checkout, memberships, and so on. It's fully compatible with major payment gateways including PayPal and Stripe, and even allows you to maintain an online forum where users can check-in and receive help.
LearnDash is used by the University of Michigan, but it's far from your only option. There's also LifterLMS, Teachable, and LearnPress.
Conclusion
The real power of WordPress is its versatility. Via its plugin ecosystem, it can accomplish just about anything. At the end of the day, the only real limit is your imagination.
What I've listed above is just a small sample of what WordPress can do. There's a plugin for just about every use case, from educational tools to digital communities to project management and beyond. And if you can't find one that fits your unique needs, you can create one on your own with a bit of PHP knowledge.