12 Best Social Media Management Tools to Save You Time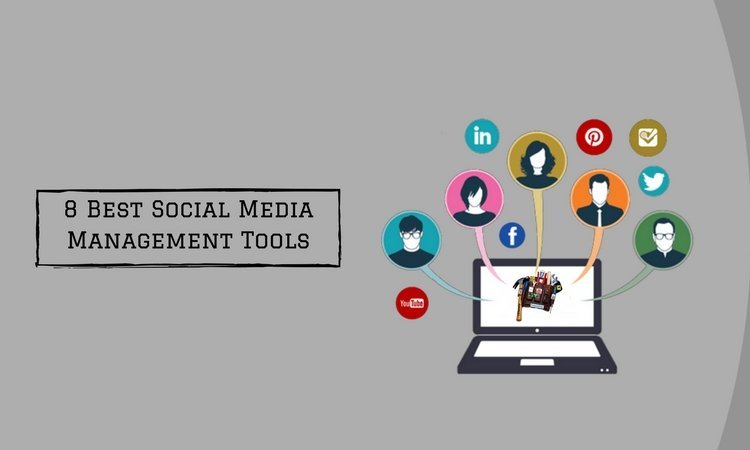 With a single user having accounts on multiple social media platforms like Facebook, Twitter, Instagram, etc., managing these accounts gets increasingly difficult especially when marketing and driving traffic to your space is concerned.
Looking for a social media tool that helps teams collaborate and share feedback on content for platforms like Facebook, Instagram, TikTok, Google My Business, Youtube or Linkedin?
Then Planable is the ideal choice for you.
Planable is a social media collaboration tool with an intuitive design that mimics the feel and flow of social media. It sports 4 ways of viewing content, chief among them being calendar view — which allows for quick and seamless content scheduling and planning — and feed view, which offers a pixel perfect preview of posts. On top of that, Planable also has feedback-sharing functionalities, helping teams collaborate on content via comments and replies in-app, right next to the social media post in question. Finally, for extra safety, teams can opt for one of 4 approval workflows, which ensure that no unfinished content sees the light of day before being approved by the assigned team members.
All in all, if you're looking for a social media tool that offers content scheduling, team collaboration, and approval functionalities, you can try out Planable for free.
However, technology aims to make life better and save time. So, here are eight social media management tools to help you stay on top of your social life online!

GoLogin is a tool that makes managing multiple accounts safe and efficient. With GoLogin, you can handle several accounts, avoiding blocks and ensuring smooth work in any field. You can have different accounts on Facebook for example from one device.

Effective Account Management: GoLogin provides features for managing multiple accounts. You can add tags and notes for each profile, set up proxies, create folders with accounts, and easily import/export profiles. All your favorite Chrome extensions are also supported.

Team Collaboration: In GoLogin, you can easily and safely share accounts with colleagues. This feature allows your entire team to work efficiently, enhancing collaboration and productivity.

Protection Against Blocks: With GoLogin, even if one of your profiles accidentally gets blocked, others remain safe from restrictions. This feature provides a security net, ensuring uninterrupted work on any platform.

Pricing: GoLogin offers a 7-day free trial and 3 free profiles for new users to explore its capabilities. Its pricing packages are designed to meet various user needs, with the most economical package allowing you to manage up to 100 profiles per month for only $24.

Planly

Planly is a social media scheduler to auto publish to Instagram, TikTok, Twitter, Pinterest, Facebook, and Google Business Profile. By creating a free account through Planly, it is possible to auto-post the mentioned social media networks. You can schedule the photo or video you want to share by dragging and dropping it or downloading it from the Planly Media library.

Planly does not require push notifications to auto-publish Instagram stories, reels, or TikTok videos compared to other social media management tools. Once posts are scheduled, they will be automatically posted on the users' feeds.

Planly schedules photos, videos, carousel posts, and reels on Instagram. With Planly, you can also schedule all the features of Instagram. It is also possible to include TikTok, Twitter, and Pinterest shares and the first comment. When scheduling to Pinterest, you can add descriptions and keywords, and add links to increase traffic to your website.

Planly is free to use. To use more features at the same time, paid plans are available.

Buffer

Buffer is a web-based, management tool that lets you schedule and manages posts on multiple social media platforms like Facebook, LinkedIn, Twitter, Instagram, and Pinterest. In addition to Buffer, you may also rely on other LinkedIn automation tools to boost your sales.

Apart from queuing posts, it also lets you track engagement metrics such as shares, favorites, comments, and clicks to help you understand what type of content is popular in your social media network. Buffer also comes with a free image creation tool, called Pablo that lets you use the stock images for posts or upload JPEG and PNG images.

You can access buffer on your Android or IOS devices as well as on their website. They also have a free browser extension if that floats your boat.

HootSuite

As far as social media management tools go, Hootsuite is as good as it gets. Supporting over 25 social networks, HootSuite lets you engage, publish, view analytics, and manage campaigns all in one place. HootSuite pricing plans also allow you and your team to directly interact with your audience by letting you schedule Facebook posts in advance. Anyone on your team can view and quickly reply to messages, mentions, and comments. It also comes with a built-in content library to keep the content that can be shared to maintain that uniformity across all social channels.

HootSuite has the ability to target audience based on location, language, and demographic details. It also lets you create and manage social media ad campaigns for cost efficiency and better performance.

TweetDeck

Trying to manage all things Twitter? Then TweetDeck is for you.

Owned by Twitter itself, TweetDeck allows you to schedule your tweets, mark a tweet as read, and stay updated on what's trending and much more. There is an option that lets you organize tweets based on topics as well. In case you find certain tweets or accounts offensive, then you have the option to mute these by using the keywords and account names, respectively. To top it all off, TweetDeck also offers a number of keyboard shortcuts which makes it super handy to use. Finally, TweetDeck is available for free. So, what are you waiting for?

Sprout Social

Sprout Social is a cloud-based social media management tool that lets users engage with their audience on different social media sites. Other than the post-scheduling feature, Sprout Social has a smart inbox mechanism that organizes social media interactions from different social media websites and makes it available at a single place.

Sprout Social helps you please your existing customers with their Customer Relationship Management tool which lets you respond to issues as they arise and resolve them. Before posts can be uploaded, they are approved by the user, so the content remains well administered. They also have an analytics functionality that lets you monitor performance across various platforms.

Social Champ is one of the best social media management tools available in the market. It offers a range of features to streamline your social media marketing efforts, including scheduling and publishing posts across multiple platforms, content curation, team collaboration, and detailed analytics. With Social Champ, you can save time and focus on other aspects of your business while maintaining a strong social media presence.

Social Champ offers a Free Plan with UNLIMITED features starting from $29.

Sendible

Sendible gathers posts and comments from multiple social media sites and makes it available in one place making it extremely easy to manage and respond to them. Posts are analyzed and the ones that require urgent attention are highlighted to bring them to your notice

Additionally, it also lets you schedule posts 10 years in advance which one might consider a bit of a stretch. Sendible also lets you analyze and track your social media campaigns to help you understand how successful your content is.

BuzzBundle

BuzzBundle not only supports social media websites like Facebook, Twitter, etc. but also forums, blogs, and Q&A websites.

It allows you to engage with the audience on all of these platforms without having to leave your workspace. You can join discussions all over the web with the unlimited personas they offer. Buzzbundle also offers the feature to add image and shorten links.

It lets you choose the target audience and also provides analytics to check how well your content is doing. This feature comes super handy for marketing.

CoSchedule

CoSchedule has a unique design, and it supports Facebook, Tumblr, LinkedIn, Google+ and Twitter. You can also integrate Bitly to track the number of clicks across various social media platforms.

The calendar-like editorial helps you visualize your schedule making it convenient to plan and manage. CoSchedule is very easy to setup and use, so you don't have to waste time going through the learning curve.

Spredfast

This platform lets you monitor online conversations using keyword searches. Spredfast can manage multiple social media sites and is very reliable in terms of its publishing capabilities. Spredfast is unmatched when it comes to reporting. It provides advanced reports, and the data are very neatly represented in formatted graphs that can be easily exported. It also allows you to track what kinds of posts are performing well and the dashboard keeps you informed about the activity across various platforms.

SocialBee

SocialBee is an all-in-one social media management tool that offers features such as AI-assisted content creation, post scheduling, publishing, and account analytics. With SocialBee, users can schedule and publish posts on multiple social media platforms simultaneously, allowing for better time management. Additionally, the tool offers advanced automation features, such as automatically recycling old posts, saving users even more time.

One unique feature of SocialBee is its content categories, which allow users to organize and categorize their posts based on the type of content, audience, or purpose. This feature can help users maintain a consistent brand voice across all social media platforms. An additional feature would be the Canva integration inside the tool's content creator.

Overall, SocialBee can be a valuable addition to any social media management toolkit, with its intuitive interface and advanced automation features, it can help save time and streamline social media management tasks.
Conclusion:
All of these social media management tools are built to maximize traffic on your sites and are not very different to each other. They can save you a ton of time and energy. So if you are struggling to increase your engagement you may try to look for Instagram automation services. Also, most of them offer a 30 day trial period so you can give them a shot and see what works for you.