11 Reasons Why You Should Use WordPress in 2023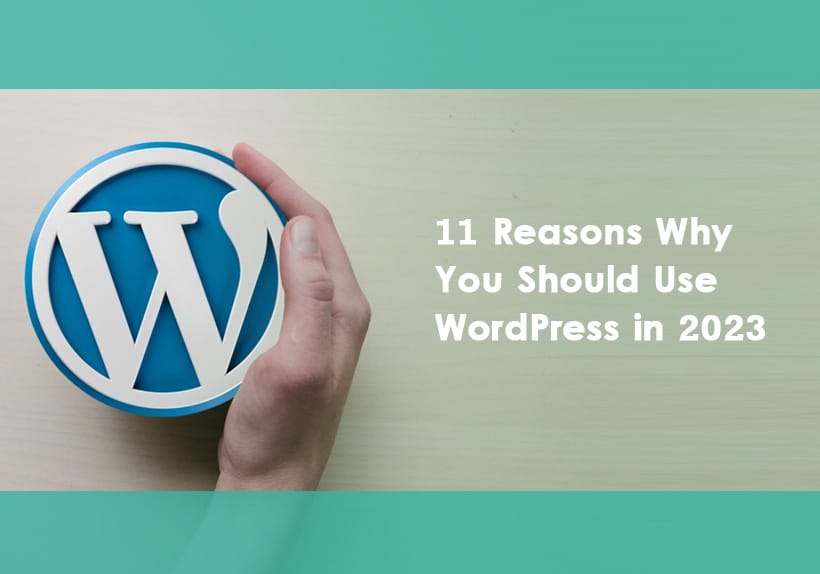 WordPress has come a long way since it was first released in 2003. It is now the most popular content management system on the internet, with over 60% of all websites using it. There are many reasons why WordPress is so popular, and we will discuss some of them in this blog post. Keep reading to find out why you should be using WordPress in 2023!
What Is WordPress?
WordPress is a nice management system that helps you work with website content. It also helps you to make your site from the beginning. WordPress is good for blogs as well. WordPress is open-source software that was realized under GPL, and it's shared for free. WordPress is used by millions worldwide, including many large organizations such as The Wall Street Journal, CNN, and The Times. WordPress is easy to use and provides a versatile platform for creating any website or blog. You can find thousands of free themes and plugins to extend the functionality of your site, and there is a large community of developers who are always working on new features and improvements. WordPress is an excellent platform for building beautiful websites, whether you're a beginner or an experienced web developer.
11 Reasons Why You Should Use WordPress in 2023
There are many reasons why WordPress is so popular, and we have listed the top 11 reasons why you should use WordPress in 2023:
User-Friendly Interface:

WordPress has a user-friendly interface that makes it easy for anyone to create a website, regardless of their technical ability. Even if you've never created a website before, you'll be able to create a beautiful site with WordPress in just a few minutes. And if you have some web development experience, you'll be able to take advantage of WordPress's powerful features to create a truly unique website.

Flexibility and Scalability:

WordPress is also a very flexible platform that can be used for various websites. Whether you're looking to create a simple blog or a complex eCommerce site, WordPress has the tools and features you need. And as your website grows, WordPress will be able to scale with you, ensuring that your site always runs smoothly.

Wide Range of Plugins and Themes:

Another great thing about WordPress is the wide range of plugins and themes that are available. With over 55,000 plugins and 8,000+ themes, you'll be able to find the perfect solution for your website. Whether you're looking for a specific plugin or theme or want to browse through the vast selection, you can find what you need with WordPress.

Powerful Features:

In addition to being user-friendly and flexible, WordPress also offers powerful features that allow you to create a truly powerful website. You can make your site stand out with features like custom post types and taxonomies. And with access to the WP REST API, you can even build custom applications on top of WordPress.

Security:

Security is always a concern when it comes to website development. Fortunately, WordPress is one of the most secure content management systems available. WordPress regularly releases security updates to protect your site from hackers and other threats. And if you want even more security, plenty of security plugins are available to watch your site further.

Supportive Community:

One of the best things about WordPress is the supportive community that surrounds it. Many resources are available if you have any questions or need help with something. You can find answers to your questions on the WordPress support forums or hire a professional developer to help you out. No matter your needs, someone in the community will be able to help you.

Search Engine Optimization:

One of the main reasons why you should use WordPress in 2023 is because of its excellent search engine optimization features. WordPress has built-in SEO tools that help you optimize your website for search engines. Additionally, many plugins and themes are available to improve your website's SEO further. As a result, using WordPress will help you to achieve better search engine rankings, which can lead to more traffic and conversions.

Frequent Updates:

WordPress is always working on improving its platform with new features and updates. This means you'll always have access to the latest and greatest version of WordPress. Additionally, security patches are released regularly, so you can rest assured that your website will be protected from hackers.

Supports Multiple Languages:

Another great reason to use WordPress in 2023 is that it supports multiple languages. This is perfect if you want to reach a global audience with your website. You can easily change the language settings in your WordPress dashboard, making it easy to switch between languages. Additionally, there are many translation plugins available that can further improve your website's multi-language support. Consequently, using WordPress will allow you to reach a wider audience with your website.

Scalability:

As your business grows, your website will need to grow with it. Fortunately, WordPress is very scalable and can handle websites with large traffic. And if you need more power and features, plenty of premium plugins and services can take your site to the next level.

Mobile Friendly:

Another critical factor in the success of WordPress is its mobile-friendliness. Today's businesses need a website that looks great and functions well on all devices, including smartphones and tablets. Thankfully, WordPress themes are automatically responsive, meaning they will adjust to look great on any screen size. In addition, many plugins are available that can further improve the mobile experience for your website visitors.
Conclusion
There are plenty of reasons to consider WordPress for your business or personal website in 2023. Thanks to its user-friendly interface and increased security features, WordPress is an excellent option for anyone creating a website. And with the bonus of finding coupon codes and discounts on WordPress plugins and themes, there's no reason not to try it. So what are you waiting for? Check out the best sales for WordPress themes and plugins at the Coupon Blender website. Then start building your dream website on WordPress!