10 Ways you could Improve your CMS with WordPress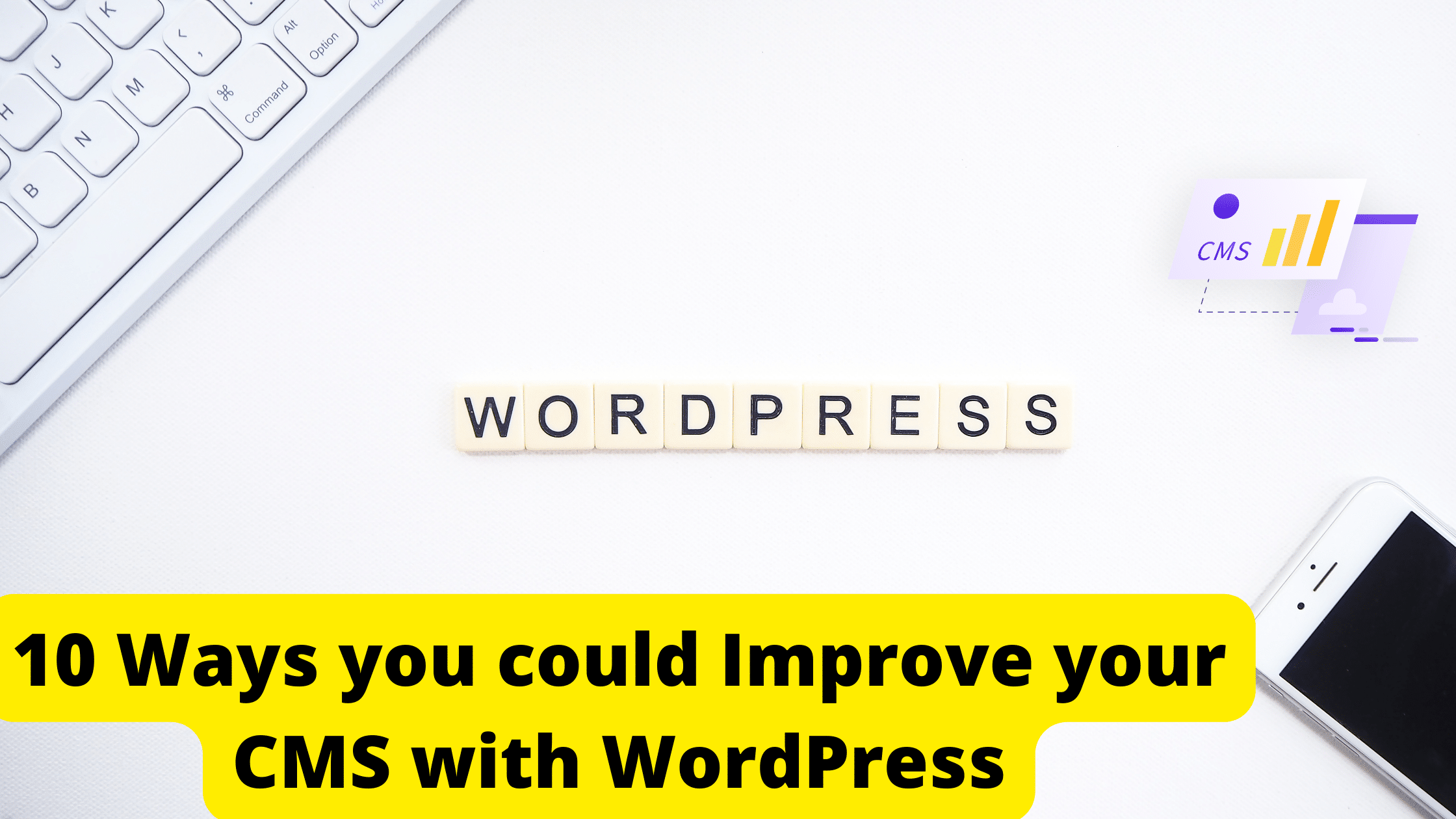 The secret to excellent content management is an excellent content management system (CMS). Content management systems are software applications that help content creators and companies to create and manage content without coding. With the help of a CMS you can independently create, publish, or modify content without seeking out a software developer to help you through the process. It is quick, easy, and accessible to everyone.
When talking about content management, there is one name that can't be left out, Wordpress. Since its launch in 2003, WordPress has consistently remained the most influential blogging platform and evolved into the most popular CMS. Today 43% of the web is built on WordPress alone, which is a tremendous feat in itself.
So what makes WordPress the most popular CMS in the world? Here are a few reasons why content creators and companies worldwide prefer WordPress over other CMS platforms. Let's dive into it.
Open Source and Free

That's right, although WordPress does have a paid version, it is also available for free to users. This is possible since it was released under GNU General Public License (or GPL), which allows anybody to download, modify, use, and even sell the code as long as they do so under the GPL license. Many of the themes and plugins are also available for free to the subscribers, but you might pay for premium plugins or themes if you like them better. This feature makes WordPress an excellent platform for beginners who want to venture into content creation but have limited experience and funds.

Easy to Install, Easy to Use, Easy to Upgrade

As one of the most popular platforms for content on the internet, Wordpress is easy to install and simple to use. Users can publish or modify their content without using codes or text documents. This practice of avoiding complexities, helps the platform garner users from across the world as it is the best platform for non-technical users and content creators with its simple and convenient interface. So much so that Wordpress enjoys a landslide market share of 64.4%, followed by Joomla with its 4.7% which displays a gap. The upgrade process is also quite simple and not as time consuming as in other websites or software. This functionality allows businesses to save up on time and resources. Due to the vast community of users, it is quite easy to understand the different features, tips and tricks of this CMS.

Responsive Website Designs

Keeping up with the smartphone era, the designs and UI patterns available on WordPress speak of their mobile-friendly approach to cater to their ever-growing community. Responsive designs help garner better internet traffic and actively keep users engaged with the website. The best WordPress developers can easily build better and more responsive websites by using their themes and plugins and following the mobile-first approach to reach a wider audience with a website that is easy to navigate.

SEO friendly- Higher Content Visibility

According to Matt Cutts, the former head of Google's webspam team, "sites built with WordPress are capable of ranking higher in search results because the CMS takes care of 80-90% of Google's crawling issues." This automatically makes Wordpress one of the best sites for SEO friendly content. It also has SEO friendly plugins that optimize your site and content and has the feature of identifying the keywords from your content that can make your blog more SEO friendly.

So if you want your site and content to rank better on search engines, you better opt for Wordpress.

Enhanced Security- 2 Factor Authentication

The robust security provided by WordPress is another reason why this CMS is so loved by content creators globally. It offers a two-step authentication to access your page, and that can be two passwords or a combination of a password and a question. While this does not make it foolproof, given the security breaches that happen so often on the internet, it does provide relief to users that their content and information are relatively secure online.

Mobile First Approach

As mentioned earlier, WordPress encourages users to follow a mobile-first approach. It promotes the creation of content and designs that seamlessly integrate with mobile devices as the majority of the world population is more attached and engaged with their smartphones than any other electronic device. Usually, less bulky content and images, videos, and text that load quickly on mobile phones gain higher traction than ones that are not mobile-friendly. Therefore use mobile-friendly themes and plugins on WordPress to increase content relevancy.

Set Your Online Store With WooCommerce

WooCommerce has emerged as one of the best digital platforms for businesses to sell their products online, and through WordPress, this integration has been made easy and convenient. The availability of the WooCommerce plugin allows businesses to quickly set up their online store. You can create mobile-friendly catalogs and promote them on social media flawlessly by adding WooCommerce extensions.

Social Media Friendly- Be Ready To Share

Social Networking sites are the driving force of all content creation, marketing, and promotion today. WordPress, the versatile master of content, allows you to share your content on these platforms flawlessly. The cute icons and share buttons can be added to your blog or website to let viewers subscribe and get regular updates. Many of the plugins for sharing content on social media can be availed for free, while some have to be purchased.

Seamless Integration of Third Party

You can easily add other creators to your site or work, whether it may be a writer or photo editor. As a measure of security, you can control the level of access that they have to your content to avoid any unnecessary modification or theft of content. This is quite convenient for work collaborations as most designers and writers are already familiar with the features of WordPress and can easily navigate to complete their tasks. Apart from creators, you can also quickly integrate other software tools like Google Analytics to improve your content and site on WordPress.

Massive Community

WordPress has a massive community of users, a feature that boasts its command on the web world. It is available to users across the globe, accommodating over 196 languages, another reason why it is so popular because it can be commonly used by anyone anywhere. Not only is the WordPress community huge in numbers, but also quite helpful to new users. There are videos and instructional guides to help new users get used to the features of the site and explain the How-To-Do's as well.
Wrapping up, if you are a content creator anywhere on the internet, it goes without saying that you have heard the name WordPress. Hopefully, this article will help you realize just how much you are missing out on by not becoming a member of the ever-growing WordPress community that boasts of even hosting websites for some of the Fortune 500 companies. So don't hesitate and quickly register on the site and hire top WordPress development companies for your website.