10+ Useful CRM Plugins For WordPress to Grow Your Business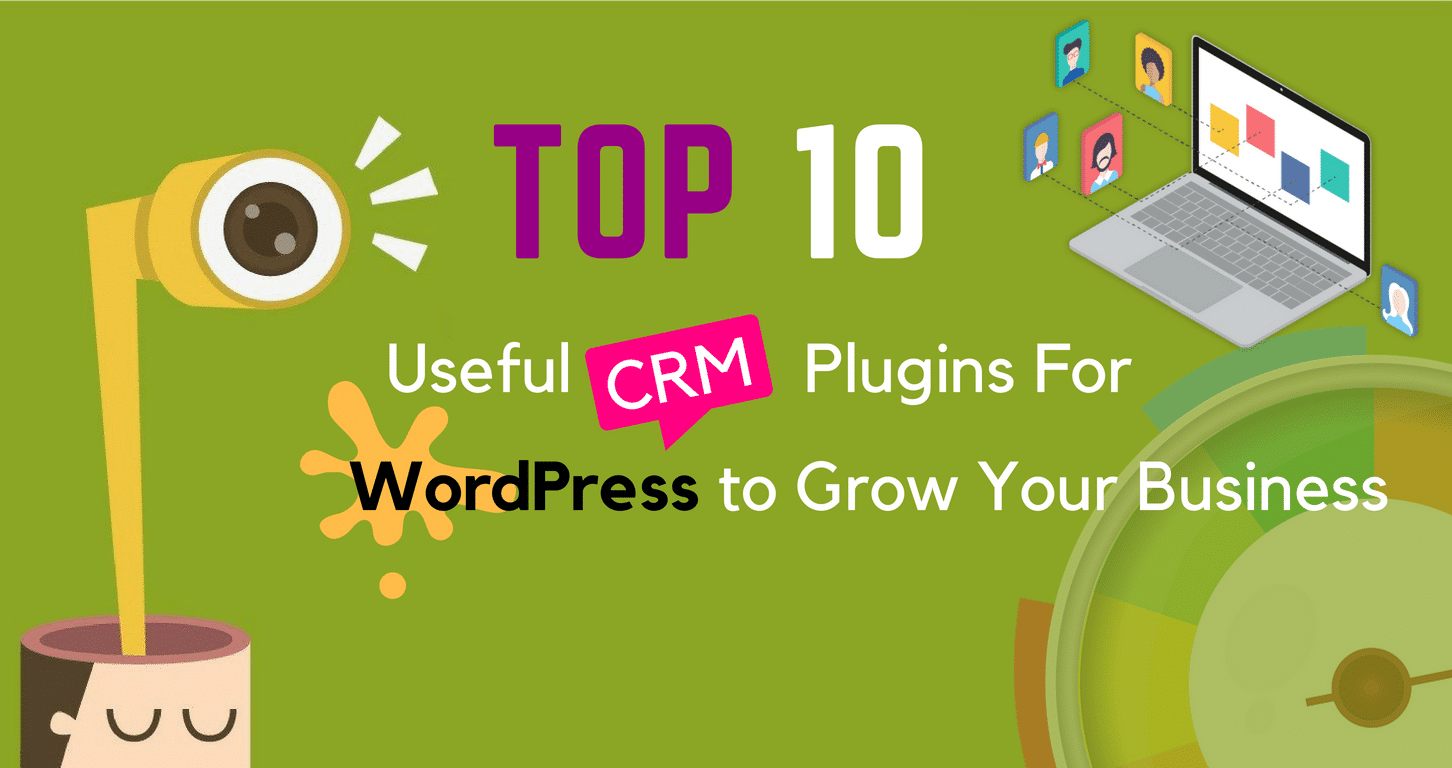 If you're looking for the best CRM plugins in WordPress for your business website, then you've come to the right place. Customer Relationship Management (CRM) is one of the most important parts of any successful business.
Having the largest number of clients is only half the work done in customer relations. The way a business manages their customers' needs is what makes them more successful.
For a website hosted on WordPress, these plugins are integrated into WordPress itself. Here's a list of the best customer relationship management plugins to help you boost your business.
WP CRM Plugins by Usability Dynamics.Inc

This plugin, designed especially for WordPress by Usability Dynamics.Inc, is a useful tool in improving business management.

It enables you to do some excellent work with features, allowing you to have an excellent user organization system where you can easily add new data like a company name, manage notifications, and group notifications and so on.

CRM: Contact Management Simplified by UkuuPeople

This is the next best CRM WordPress plugin for customer management. It's simple to use and easily affordable.

You can schedule meetings, task, manage your upcoming meetings and events, send notifications, and so much more with this plugin. You can also use the TouchPoint feature to track all your customer relationship activity.

Brilliant-Web-to-Load for Salesforce by Brilliant Plugins

This plugin makes your work a little easier. It forms a platform that integrates with your WordPress and installs with your Salesforce account. This way, you do not need to copy paste any information into the lead as the plugin does this for you. You can hire Salesforce developer for any customizations and work in synchronization with your in-house team.

Keap Integration for WooCommerce

Keap Integration for WooCommerce is a powerful plugin that allows you to seamlessly connect your WooCommerce store with Keap, a popular customer relationship management (CRM) system. With keap crm plugin, you can automate your sales and marketing processes, streamline your workflow, and improve your customer experience.

One of the key features of Integration with Keap is its ability to sync customer data between WooCommerce and Keap. This means that you can automatically create new contacts in Keap when customers make a purchase on your WooCommerce store, and keep their contact information up-to-date with any changes made on either platform.

UpiCRM

This is one of the leading plugins for customer management for WordPress. You can easily install and use it, and it's also free of cost.

You can manage your group works and monitor them with the features on this plugin. However, it's possible that it may not be suitable for the latest versions of WordPress.

WordPress Leads

This plugin is intelligent and smart at performing activities on its own and boasts high-quality features that provide versatility to the website. It lets you control your user demographics, see your user's search history for your website, and so on with its other useful features.

WordPress CRM Plugin by WP CRM System

This plugin is useful because it brings all the useful features of customer relationship management under a single roof for the ease of the user.

It lets you manage your user interface through your WordPress account, making it easier to access for both you and your users. It also enables you to manage your group works, tasks, and deadlines.

WP Forms

WordPress Forms is an important equipment to have in your customer relationship management arsenal, especially for a booming business.

With this plugin, you can easily add a contact form anywhere on your website and have your customers get in touch with you to avail the services offered by your business.

PressPoint CRM

This is a paid tool that you can use to empower your business and its customer relationship management skills. The tool lets you control and restrict content, view your customer's most searched topic on your website, manage user permissions, and other services of professional quality and value.

Maximizer CRM

True to its name, Maximizer CRM lets you maximize your business operations to its core by providing you with an all-in-one solution to all your customer relationship management problems and needs.

It has features that enable sales automation, a personal touch to the user interface, better management of content, and so on.

Less Annoying CRM

This is an easy to use CRM plugin that provides you with a simple, affordable, and awesome customer support. It has a free trial period of thirty days after which you can choose to continue using it.

They provide you with a set of instructions for usage and help you set up everything. It's mostly aimed for the aid of small business owners.

WP ERP – HR, CRM & Accounting Solutions for WordPress

This is another trusted and popular CRM plugin for WordPress. It has three important modules, human resource management, customer relationship management, and WordPress accounting system.

It lets you set up your own company profile, has branch management features that let you customize the admin dashboard, check the overall workflow of your website, and many other unique things.

Zero BS WordPress CRM

This is indeed one of the most favoured plugins by entrepreneurs and is definitely worth your time. It's a simple and quick option for customer relationship management and lets you make a better profit from your website. It's simple, practical, free, and entirely controlled by the owner of the website that it's installed on.

Ninja Forms

Ninja Forms is one of the many plugins that do not waste your time with complicated features. It's simple to use and install on your website. It's absolutely free and lets you build forms in minutes.

It has both beginner level features for those who are not tech-savvy and has a more complex version for proficient developers. You can use Ninja Forms as a framework to build your contact forms with its gorgeous and very intuitive user interface features.

CRM WordPress Leads

This plugin is very useful as it lets you link your leads to your CRM without too much of a hassle. You can easily download and install it on your website and even provide ratings depending on how you like their user interface.

You can do a lot of things with this plugin like generate forms with or without the use of a third party web form, embed the forms in your Page, Posts, or Widgets to be able to capture the CRM leads and so on.

CRM and Lead Management Plugin For WordPress by vCita

This plugin lets you manage your customer relationships by offering you features like generating opportunities for new sales, providing you with insights on any new leads, saves your time with automated client interactions and reminders, and helps you manage, search, and track your clients and leads.
It is advisable to use the one that resonates with your requirements the best.