10 Things You Should Know About WordPress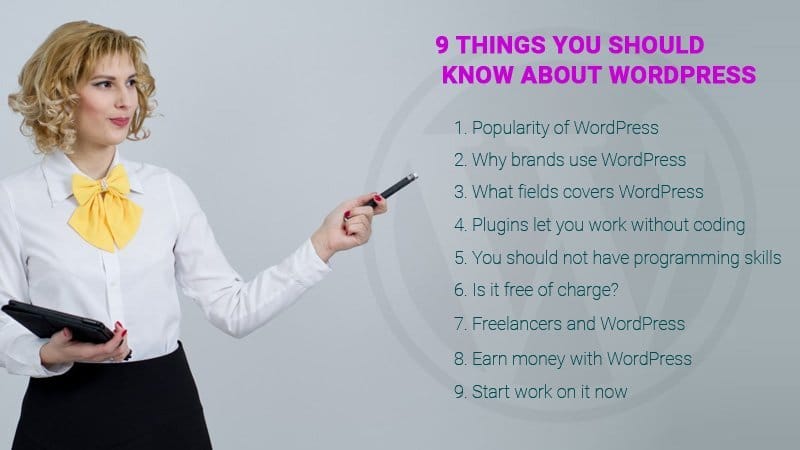 WordPress, the first content management system (CMS) is used by many people to not only blog but also build websites.
Many people have been using WordPress to build and develop their sites by creating theme designs, custom essay writing, plugins, extentions for any business.
This has helped them to market their content while attracting clients in the process. As well as WordPress helps to develop educational projects that will be recognized soon, in business themes and medicine and webshops.
However, many people still wonder, "What does WordPress do?" This question has crossed the mind of many people, and they would like to know and understand. So, below are ten things you should know about WordPress.
Popularity of WordPress
As mentioned earlier, WordPress is the first and most popular content management system worldwide. It allows people to write, edit, and publish content on the web. WordPress powers a more significant part of the web.
Additionally, many websites which use CMS are built on WordPress. Numerous blog posts are published on WordPress daily. Thus, this makes WordPress the best site to write a blog.
Why brands use WordPress
Many sites and brands use WordPress such as CNN, Reuters, Forbes, And the Wall Street Journal. The New Yorker and The Next Web are also built on WordPress.
Other remarkable brands using WordPress include Vogue, The Rolling Stones, MTV News, People Magazine, NASA, and Harvard Business Review among others.
Facebook also uses it for its newsroom. The potentiality or dominance of WordPress enables these brands to use it. Thus, if you need to build any site or want to learn how to write a fashion article, choose WordPress.
What fields covers WordPress
WordPress, as mentioned before can be used for blogging and building websites. It started as a blogging platform back then. And, along the way, developers came to realize that you could do much more with than you thought.
Today, WordPress covers many fields. These include e-commerce sites, online courses, and communities.
So, if you want to create a basic website for selling brands online or for local business, WordPress is the best option for you. Additionally, its ideal nature can help you learn how to write a blog on WordPress.
Plugins let you work without coding
WordPress has the plugins feature which allowsyou to extend its functionalities through it. There are free and paid plugins which you can use to virtually do anything without needing to write the code from scratch.
Hence, you can learn how to write a WordPress plugin without necessarily following the whole how-to guide.
Currently, over 45 000 free plugins are in the WordPress directory excluding the premium plugins which boost functionality in your site. Additionally, you can customize or modify any plugin you want to what you want it to.
However, you have to know the language WordPress is built on (PHP). Also, knowing PHP helps you develop your plugin from scratch.
You should not have programming skills
WordPress skills are beneficial in very many aspects. You do not have to be a developer or programmer to enjoy its benefits.
For instance, as an entrepreneur, you can use it to set up an online business, customize a theme, install plugins, or set up WordPress among other benefits.
Also, as a marketer, you can create landing pages and publish blog posts from WordPress skills. An advantage of not having to wait for your programmers or developers to make changes, or set up a new website is knowing the ins and outs of the functionalities of WordPress codes.
Is it free of charge?
WordPress is free of charge and open source. You do not need to pay any money for WordPress. Additionally, you can make any changes you want to the site's code.
You can also use it for your website, or any other site you want without buying additional licenses. There are free themes, different ways to write, and plugins you can use to your heart's desire on your site.
There are also premium themes and plugins which you can use. However, you have to pay for them as they come with improvised functionalities. On the upper hand, you can create your premium themes and plugins and make some income from it.
Freelancers and WordPress
WordPress skills give room for many people in the job market. You can work as an employee in a creative agency which runs its sites on WordPress. You can attain the post of a designer, marketer, or developer with WordPress skills.
Additionally, you can freelance as a WordPress expert offering services like theme customization or site setup. Andriy Haydash is a great example of a freelance Wordpress expert. You can become one too with enough practice and research.
Earn money with WordPress
With the premium themes and plugins mentioned above, you can generate income by creating and selling them. Many premium theme designers more than a thousand dollars monthly.
So, make an effort to earn money with WordPress by selling premium themes and plugins without working directly with customers.
Start work on it now
To get started as a freelancer, you need WordPress skills which you can get in three months. And you can begin with setting up new WordPress sites and customizing themes in a short period. You can also learn how to write a review paper with your WordPress skills.
The easiest platform to use
WordPress sites are the most comfortable platforms to use. It I easy to maintain and manage the website content. Its longevity has allowed massive community online and extensive documentation. Any issue you may come across may have been solved.
Additionally, developers provide premium support which you can use to seek help when you run into an issue.
Conclusion
WordPress is used by many people because of its various benefits. And, you should not be an exception in enjoying the multiple benefits of WordPress. Additionally, above are some of the things you should know about WordPress.