10 Essential Tips for Choosing an Accessible WordPress Theme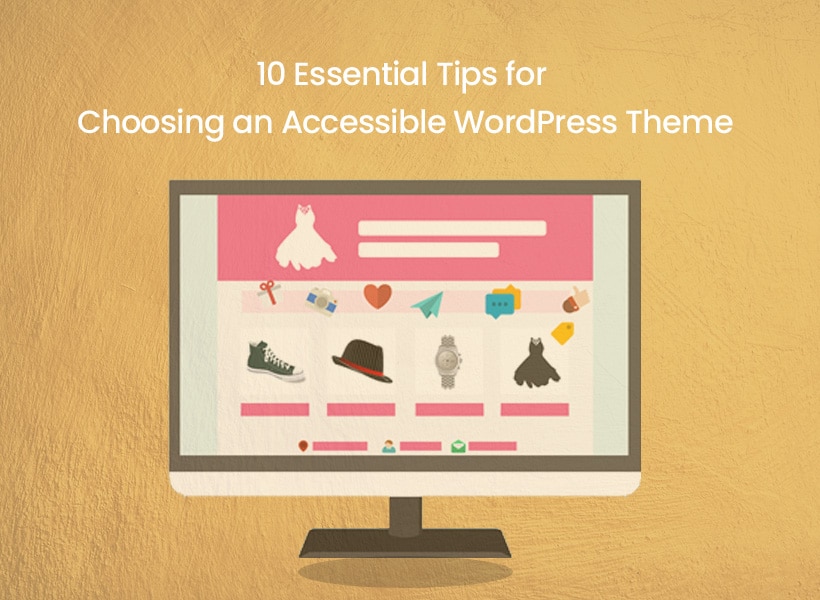 When creating a website, it's important to make sure that it is accessible to everyone. This means ensuring that the design and layout are easy to use for people with disabilities or impairments. One way to do this is by selecting an accessible WordPress theme.
An accessible WordPress theme will allow you to create a site that meets accessibility standards, such as WCAG 2.0 AA compliance, while still looking great and providing a good user experience. However, choosing the right theme can be tricky since there are so many options available on the market today.
What is an Accessibility Ready WordPress Theme?
An accessibility-ready WordPress theme is one that has been designed to meet the guidelines outlined in WCAG 2.0 AA for web accessibility. This includes providing elements such as:
A logical reading orders
Sufficient contrast between text and background colors
Alt-text for images and videos
Keyboard navigation support
Appropriate headings and other elements to make the structure of a page easier to understand
Appropriate use of color and other visual cues
Some of the themes can also integrate with a reliable transcription service to add captions and transcriptions for those who are hard of hearing.
To help you find the best theme for your website, here are 10 essential tips for choosing an accessible WordPress theme:
Choose a theme with a clean design

A clean and minimalistic design is often the best choice for accessibility, as it helps reduce clutter and makes it easier for people with disabilities to navigate the site. Moreover, it's important to ensure that the design is consistent throughout and that there are no confusion or unnecessary elements.

Look for a theme that is well-coded

A well-coded theme will help ensure that all features are usable by anyone, regardless of their level of sight or mobility. It should also be optimized for fast loading times and have a clear hierarchy of information.

Ensure that the font size can be adjusted

People with impaired vision need to be able to adjust the font size of your site in order to read it clearly. Also, check whether the font color has sufficient contrast against the background.

Make sure the theme utilizes high-contrast colors

High-contrast colors, such as black and white, can make it easier for people with impaired vision to read and understand the content on your site. Additionally, a well-designed theme will also provide other visual cues, such as icons and buttons, to help users navigate.

Look for themes that are keyboard-friendly

Many people with disabilities rely on keyboards as their primary means of navigating websites. Make sure that any theme you choose is easy to use with a keyboard. For example, it should have keyboard shortcuts and other features to make navigation easier.

Avoid using too many animations or graphical elements

Animations and graphics can make it difficult for people with certain disabilities to use your site. In addition, they can be distracting and slow download times which is an important factor in terms of SEO.

Check if the theme is WCAG 2.0 AA compliant

WCAG 2.0 AA compliance is an important factor when it comes to web accessibility. Make sure to check whether the theme you're considering is compliant with these standards, as this will help ensure that everyone can use your site.

Look for a theme that supports WAI-ARIA landmarks

WAI-ARIA (Web Accessibility Initiative – Accessible Rich Internet Applications) landmarks are special HTML tags that help people with disabilities to easily navigate websites. Make sure that the theme you're considering supports these landmarks, as this will make it easier for everyone to use your site.

Avoid using popup windows or overlays

Popup windows and overlays can make it difficult for people with disabilities to use a website. If you must use them, ensure that they can be easily dismissed and don't interfere with keyboard navigation.

Test the theme before purchasing

Finally, it's important to test out the theme you're considering before buying. You can do this by using an accessibility testing tool, such as the WAVE Web Accessibility Evaluation Tool. This will help you ensure that the theme is truly accessible to everyone.
By following these tips, you can make sure that your website is accessible to everyone and that it meets the latest web accessibility standards.
Additionally, you can also enlist the help of an experienced web designer to make sure that your site is truly accessible and user-friendly for people with disabilities. With careful planning and attention to detail, you can create a website that is both beautiful and accessible to everyone.