10 Best WordPress Slider & Carousel Plugins for 2023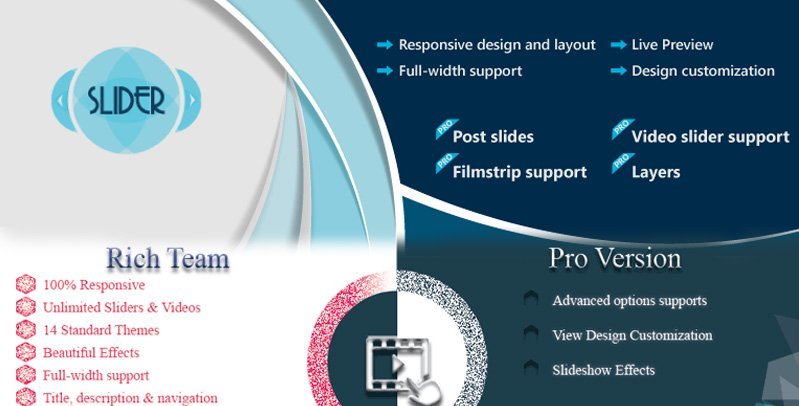 Content sliders are a very significant part of today's website design and development work. They allow website designers & developers to add visual to sites or its pages and increase its appearance.
Sliders allow SEO professionals to present different types of information before visitors and seek their attention effortlessly.
If you attach sliders to your WordPress website, its content consumption, page views, and traffic is increased a lot. If you create a slider manually, it takes a lot of time and energy.
If you want to create attractive sliders easily and quickly for your website, here are 10 Best WordPress Slider & Carousel Plugins you can opt for:
Video Slider – Slider Carousel

Most website visitors are crazy about video sliders. They slide videos and view them to gain the desired knowledge in an easy way. This plugin allows you to create amazing video sliders without knowing any programming languages.

You can create mobile responsive sliders using this excellent plugin. The plugin is fully compatible with major web browsers. It supports Vimeo, Vevo, Youtube, and MP4 videos. So, this plugin can be your real pal if you are creating exquisite video sliders for the purpose of video marketing.

Testimonial Slider

Testimonials are given by clients & customers to companies/service providers once they receive the requested services and are satisfied with that.

Testimonial slider helps you to present client's testimonials on your website in slider format and enhance the attractiveness of your website. It is responsive to all mobile devices and you can create high-quality sliders without knowing your programming language.

Slider by WD

Do you want to focus on visitors coming from the small screen? Do you want to create SEO-friendly, responsive and quick loading sliders in an easy way? If yes, then use this plugin without having any suspicion in mind.

It supports image and video sliders and if needed you can add several transition effects to sliders to make them look better for the targeted audience.

Ultimate Responsive Image Slider Plugin

This is a very useful plugin for all passionate WordPress bloggers and website owners. This plugin comes with multiple image uploader tool.

Just use it if you want to upload infinite image slides in one slider. It makes your website a knowledge hub and helps visitors to grasp the desired info in an easy way.

This plugin is fully responsive and contains several useful settings, such as navigation buttons, slide thumbnails, autoplay slides, customizable height, and width, etc. You can use those options as per your specific needs and easily seek visitor's attention.

WordPress vertical image slider plugin

WordPress website admins, bloggers, and owners can use this responsive vertical image slider plugin to create and manage several vertical image sliders.

As per your needs, you can add, edit or deleter slider images without any problem. Moreover, it gives the preview option, allowing you to see the look and feel of final image sliders and make the required changes if needed.

Tiny carousel horizontal slider plus

If your hunt for the best WordPress Slider & Carousel Plugins doesn't get any suitable option, this is the plugin you should care about. You can easily create horizontal sliders using this plugin & customize them as per your specific needs.

It is responsive to all mobile devices & supports all leading browsers. The most excellent thing about this plugin is that it automatically pauses on the mouse. It also supports navigation and location.

This feature-rich WordPress slider plugin was mentioned as one of the best WordPress plugins by Designbeep. You can create all types of sliders using this amazing plugin.

It comes with a number of features, such as Live Slide Editor, unique layouts, page builder support, etc even if you are using the free version of the plugin. The premium version comes with advanced features and functionalities using which you can add more beauty to sliders and impress website visitors easily.

Master Slider

If I say this plugin is the master of all contemporary slider plugins, it will not be incorrect. With this plugin, you can easily create SEO-friendly, responsive and user-friendly sliders and add transition effects.

The plugin comes with a number of features, such as Easy to Use Interface, HTML5 Valid and Clean Markups, Touch Swipe Navigation, CSS3 Transitions with jQuery Fallback, Auto-height Sliders. It is compatible with different web browsers also.

MetaSlider

Are you facing problems to create sliders? Want an instant solution? If yes, then use Metaslider. You can create all types of sliders, add them to your WordPress website/blog and get more traffic and business generation opportunities easily and effortlessly.


Ultimate Blocks is a versatile WordPress plugin that includes an Image Slider block, allowing users to create a visually stunning slideshow of images on their website. With this block, users can easily display a set of images in a dynamic and interactive format, enhancing their website's design and engaging their audience.

The Image Slider block comes with various customization options, including the ability to add captions, adjust slide speed, and choose from different animation effects. Users can also customize the slider's layout and design to match their brand or website style, ensuring a cohesive and professional appearance.

WP Contact Slider

Contact forms help website owners to capture the contact details of customers, help them become subscribers, and grab more business opportunities from them by sending personalized newsletters.

This plugin helps you to create amazing contact sliders and add them to your website/blog to increase the numbers of subscribers in an easy way.
Final Words
Sliders have now become an integral part of web design and development assignments. Even SEO professionals use them in digital marketing activities to help visitors gain the knowledge in an easy way. These are 10 best WordPress Slider & Carousel Plugins for 2022. Just use them to create marvellous sliders easily and effortlessly.