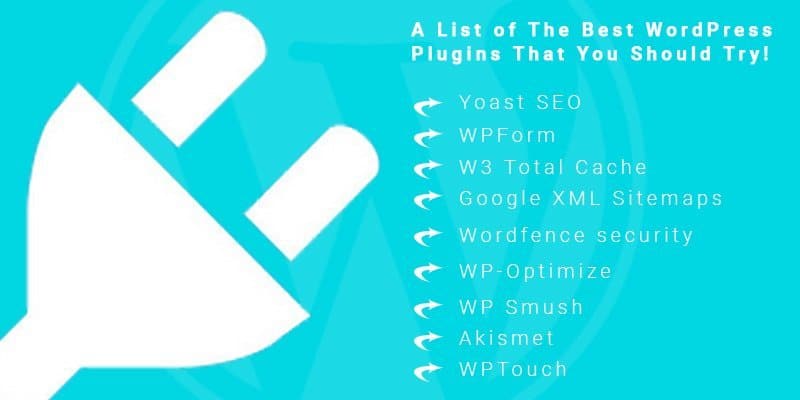 One of the greatest advantages of using the WordPress platform for developing your website for business or blog is the option to use plugins in the design. Nearly 28% websites of entire internet world are built via WordPress.
WordPress is among the most popular content management systems and is open source. It provides a vast number of themes and thousands of plugins.
A WordPress plugin is the part of the software that contains a bundle of functions which can be easily added to your web design. It helps to extend functionality and add new features as well.
The plugins are written in PHP language and are easy to integrate with WordPress. There are thousands of plugin options present with every theme.
The advent of such large number of plugins might lead you to pretty natural confusion. To help you with it, we are here with a list of most popular and used plugins present on WordPress.
Top plugins on WordPress
Yoast SEO
Often regarded as a complete SEO plugin, it boasts of having been used by most of the websites. It is among the most popular SEO plugins and allows your site optimization for search engines.
Using SEO plugins is particularly crucial because, according to surveys, most of the users on search engine go for the results displayed on the higher tabs. Yoast not only helps with optimization but also allows the addition of Meta tags.
WPForm
For any firm, allowing their customer to contact them has to be their top priority. WPForms is a contact form plugin in WordPress which is a drag and drop type form builder and provides you the liberty to different forms like contact forms, order forms, email subscription forms, and payment forms with great ease. It has both lite version which is free and a premium version which is not.
W3 Total Cache
Among different search engine optimization factors, the speed of the website is most important. It is very regular that faster sites get ranked higher in search engines.
Moreover, it allows you to serve cached and compressed files to the users which reduces load from the server thus making the website faster.
Google XML Sitemaps
It is another useful SEO plugin which helps the search engines like Bing, Yahoo, and Google to index your site in a better manner with unique XML sitemap.
It is so easy to use, that as the plugin is activated, it instantly and automatically creates an XML sitemap for the website thus making it easy to map. It is apparently more efficient than most of the SEO plugins.
Wordfence security
This plugin is a security service for any site. As a firm, the most important thing for it will be to keep the website safe from the hackers as well as malicious bots.
This wordfence security features firewall protection, login security, blocking, malware scan, live traffic monitoring, etc. with monitoring your site for real-time traffic, you can be more aware of security threats faced by your site.
WP-Optimize
It is an essential tool which lets you clean up the website database and thus optimize it for better performance. It automatically removes the chunk of data weighing down the site.
It reduces substantial manual work by doing some of them automatically. It eliminates the spammy as well as un-approved comments, thrash posts, and pingbacks.
WP Smush
Images are an asset to your post. It not only provides better brand credibility but also improves the users' attention. Many times images deliver the messages in better manner then texts.
But in inserting images, it covers much of the space thus slowing down the speed, and therefore doing disaster.
Using WP Smush, one can optimize and compress the images without even disturbing the quality. It incorporates advanced compression techniques to do so and is mostly very easy to use.
Akismet
It is a default plugin and comes with each WordPress core installations. It is an automatic anti-spam plugin, which examines all the comments and filters out the spammy ones.
In addition to that, it provides a status history of every comment as well. This plugin is free for use.
WPTouch
This plugin is solely for smartphone-based solutions. It allows the firm to serve different themes to different operating software like Android and iOS, by providing a screen optimized version of the content.
It makes the content more emphatic as compared to the sites, in which the users have to navigate desktop-oriented design on their smartphones.
Purple Cow Online regularly comes up with new trends in this sector of the market and helps its users and viewers with reliable data regarding latest market trends and technological advancements in WordPress web design sector.
Conclusion
These were the best WordPress plugins which must be used by every website to get desired results. These plugins provide all the necessary features as well as some advanced features just for little costs.
WordPress is the present and the future of web designing world. We hope that this list featuring the most popular plugins would help you in getting your website via WordPress.