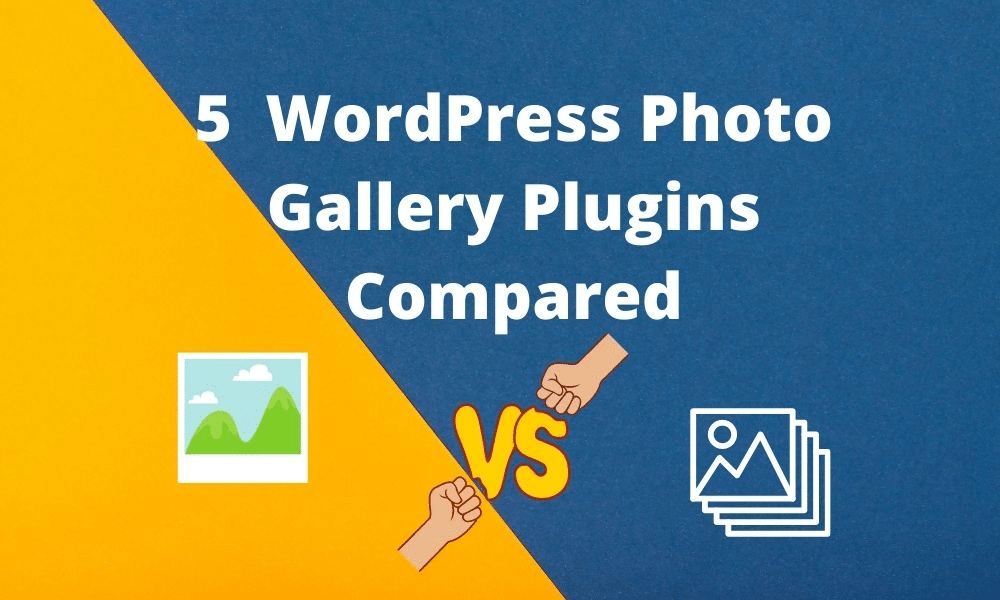 Photos are essential to make your WordPress site more attractive. But, managing photos on the WordPress gallery can be tricky. The standard-issue comes as slow performance, unresponsive and difficult to use.
You have an unbelievable stock of WordPress photo gallery plugins to choose from. There are 900 plus WordPress plugin available in the WordPress plugin directory.
So which is the best WordPress gallery plugin? A good WordPress gallery plugin is easy to use, fast, has some advanced features, and comes at a reasonable price.
Even if you're a capable WordPress coder a plugin makes good sense as it'll save you a ton of time. Save the WordPress skills you've been taught for other challenges.
Lets look at some of the most popular plugins and rank them for performance, ease of use, features, quality and reliability.
How do we choose the best WordPress Gallery Plugin?
A perfect WordPress plugin has all the features you need to create excellent galleries. Features include responsive, slideshow, lightbox, watermarking, filtering, video support, SEO linking and assets protection etc.
Galleries are a very simple way to improve your user experience. If a picture is worth a thousand words, an image gallery is worth a lot more.
Best WordPress photo gallery plugin: 5 options compared
Ready to get a hands-on look at five of the best WordPress photo gallery plugins out there? Let's get going!
We have chosen these five plugins
1. Envira Gallery
2. Modula
3. NextGEN Gallery
4. Photo Gallery by 10Web
5. FooGallery
Features
Standard functions of a photo plugin are slideshow, responsive and social sharing.
All of our plugins offer these features so we'll have to rank them according to their more advanced features.
As you can see above, Envira Gallery has the most features, although Modula came as a very close second with no ecommerce support.
Envira Gallery is most suitable for photographers and digital e-commerce stores that need high-end features.
Modula is new on the market. They offer all the features you'd need if you don't run an e-commerce store.
Winner: We can say Envira Gallery is the winner, and Modula came out at the second position.
Performance
When picking a plugin, you need to ensure it doesn't reduce your site performance. Speed is now the essential part of SEO. We cannot afford a slow website because it degrades the user experience.
40% of people abandon a website that takes more than 3 seconds to load.
Below are the speed results,
As you can see, the Envira Gallery is the fastest, just. Again, Modula is in second place. Both offer great performance.
Winner: If the performance is your primary concern, then Envira Gallery and Modula are both great options.
Ease of Use
There's no point in having a great plugin if it's a pain to use.
Lets take a look at what these different plugins are like to use.
Envira Gallery
Envira Gallery is easy to use and lightweight and provides a self-guided user interface.
Customization is easy with the drag and drop builder and pre-build templates.
If you need to extend it's functionality (which is already great) you can increase it by installing their addons.
Modula
Modula is a highly user-friendly WordPress Gallery plugin that helps you quickly create galleries that look awesome.
Modula makes it super easy to resize images in your WordPress gallery with an instant preview.
Modula comes with many valuable extensions, i.e., migration tool, speed up, video extension and many more that help you increase the core functionality.
NextGEN Gallery
NextGEN Gallery is the most famous WordPress Gallery Plugin. It has a lot of extensions that make it a bit difficult to handle.
NextGEN Gallery is a heavy-duty gallery plugin for photographers and other creatives. It has a complete ecommerce solution to sell digital products and physical products.
It isn't easy to find out how to add galleries to post and page. It will take users some time to understand its interface.
Photo Gallery by 10Web
Photo Gallery by 10Web is a fully responsive WordPress gallery plugin that allows you to add photo and video in one gallery.
You can get various views options such as blog style, image browser, compact group and many more. It also enables photo protection by watermarking and disabling right-click.
It also has a full support ecommerce extension to sell digital products.
FooGallery
FooGallery is a powerful WordPress photo gallery plugin. It's developer-friendly that comes with many hooks and filters to customize it as client need. 
It is not mobile responsive out of the box. You will need to install addons to add to its core functionality.
Winner: Envira Gallery is the winner again all though all of the plugins are very close. Envira Gallery offers all the features you need and can be extended using plugins. e.
Pricing
All of the above WordPress Photo Gallery plugins offer a free version.
If you need more functionality, upgrade options are available with different packages and for various features.
You can choose the plan based on the features you need and the number of sites that you have.
Envira Gallery
Envira Gallery offers basic, plus, pro and a lifetime plan. Their plans depend on the extension that comes with the plan.
Modula
Modula has four plans, and the price per year varies with features included in the plan.
NextGENGallery
NextGEN Gallery also offers three option and a lifetime subscription offer.
Photo Gallery by 10Web
Photo Gallery by 10Web offers three premium plans.
FooGallery
FooGallery offer three premium plans based on the number of websites you have.

Winner: There is clear winner here. Each offer different features in different plans. You must be clear about the features that you need before you can figure out which is best value.
Conclusion
All of these plugins work well. Depending on your use case the best one will differ.
However as a general recommendation we think that the Envira Gallery is the best WordPress gallery plugin. It offers the best combination of high performance, ease of use and features at a reasonable price tag.
It comes with dozen of addons without compromising the user experience and performance.
If you don't need advanced e-commerce features like payment integration etc then NextGEN Gallery is definitely worth a good look.