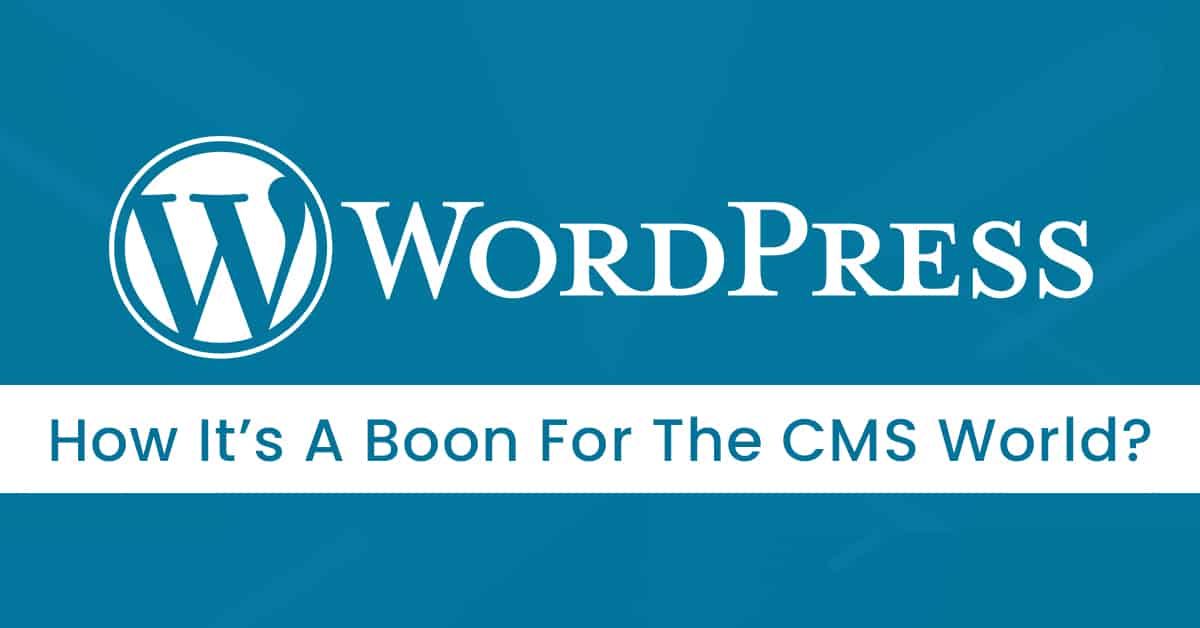 In the digital world, managing and updating the websites is all-important to keep the customers engaged, step in with the latest trends, and stay competitive. CMS (content management system) helps a ton to manage and update the website's functionalities and design without requiring technical knowledge.
WordPress, HubSpot, Joomla, Drupal, and more are the popular CMS leveraged worldwide to incorporate the changes easily, quickly, and cost-efficiently. Out of all CMS, WordPress stands out as one of the CMS that's powering 43% of websites worldwide by 2022. WordPress usage is consistently increasing for 12 years in a row.
What is WordPress?
WordPress is an open-source CMS that's leveraged to develop different types of websites. Technically, WordPress written in PHP paired with MySQL database and supported HTTPS has a large number of tools pre-packaged that makes website development effortless. It contains plugin architecture and templates that are available to use in different flavors- free or premium to enable custom website development.
When the rookie developers begin searching WordPress term on Google, they will get endless results, but generally, two related websites- WordPress.org and WordPress.com confuses them. However, both are completely different in terms of the target audience and the purpose they serve. Here's the answer.
Let's clear up the air: WordPress.org and WordPress.com
WordPress.org is a free version of CMS that enables the running of a self-hosted version of WordPress and leveraging it to the fullest for a high degree of customization, flexibility, and scalability.
On the flip side, WordPress.com is a hosting service provider that uses a website builder built on top of WordPress CMS to host all the websites.
What does WordPress feature?
Admin dashboard
It's admin reign that enables an administrator or key stakeholders to manage the WordPress website and perform maintenance activities. Admin can easily log in and access the dashboard using the user ID and password that is created during WordPress installation. The dashboard is a central hub to manage the website with content editing, theme customization, new plugin integration, and widgets addition.
Content editor
The content editor is essentially a text editor that enables the admin to add, edit, and manage the website posts and pages just the way content is managed in Microsoft Word. Gutenberg- the latest content editor simplified content generation by allowing users content components in various text types, design elements, and media formats. The users can add meta descriptions, images, or tags after content creation with the help of the settings option.
Plugins and widgets
Officially, the WordPress plugin directory features 59,825 free plugins that enable businesses to enhance their website with an array of features such as improving performance, uplifting security, forms addition, SEO optimization, and more.
The free plugins help in adding more features to the WordPress website that are not available with the core software. The developers are free to create a plugin from scratch or can integrate the existing plugins. The premium plugins receive the benefit of customer support from WordPress.
WooCommerce is a popular plugin globally that enables building an online store quickly and inexpensively. The Visual composer takes the center stage in making website designing a plain-sailing journey. Yoast SEO brings the WordPress website to the top by adding SEO indicators to the text editor ultimately increase SERP. Wordfence security is highly used to protect websites from vulnerabilities.
WordPress development companies prefer integrating all of these plugins to help businesses reap all the expected advantages and stay ahead of the pack.
Theme customizer
WordPress theme repository enjoys the virtue of having 9,124 free themes and 31,010 WordPress themes available for download or purchase. The free themes have limited customization options, but premium themes support unlimited customization of design and functionality to best meet the website-specific needs.
Under the customization umbrella, the users can customize the navigation menu, add a new logo, change the homepage design or other elements, and pretty more things. Theme customization from a design perspective becomes painless with page builder plugins such as Beaver and Elementor installation that helps novice players to make design changes with simple drag-and-drop functionality.
Why WordPress is the best choice for website development?
Open-source
WordPress is open-source in nature, which means it's free to install and use. Thereby enabling businesses to save money from the get-go. What's more? The CMS is continuously upgraded and 32 upgrades to date are the best instance of how much it's up-to-date. Daily, hundreds of websites are built using WordPress.
Easy-to-use
The bespoke CMS is intuitive to understand and learn because the knowledge of basic HTML is enough to get your hands on WordPress development. With little-to-no coding skills required, the non-tech geek can install and start using the CMS right away.
Highly customizable
Unlimited customization facilitated by WordPress makes it a favorite choice of the leading brands such as CNN, TechCrunch, and Fortune that have leveraged it to power their websites. The range of themes, widgets, templates, and plugins makes it damn easier to build a WordPress website the way you want.
SEO-friendly
The CMS is entirely SEO-friendly with a lot of features baked into WordPress. For instance, the permalink structure makes URL keyword-rich, effective HTML markup, XML sitemap plugin that allows you to control title tags and headings, and others.
Easy updates and accessibility
The continuous upgrades keep the website up-to-date. WordPress upgrades are easy to download with only a single click. With a free license server, WordPress is installed on Linux or Windows server. WordPress pages are rendered using HTML and CSS with PHP which makes websites mobile-responsive irrespective of platform and screen size.
Renders security
WordPress CMS is packed with necessary security tools that are regularly upgraded to ensure airtight security. The security plugins excel in detecting the vulnerabilities before they damage the website security and prevent them ahead of time. It helps in making the website secure.
Which types of websites you can develop using WordPress?
Business website
Building brand awareness digitally has become an integral part of running a business successfully. WordPress provides everything that allows start-ups to SMBs to create a website that builds brand credibility, reliability, and integrity in the market along with an online presence.
Portfolio
The professionals such as writers, photographers, or artists can promote their business by creating an online portfolio using WordPress. Easily accessible WordPress themes allow professionals to take the projects to the world.
Online store
Post-Covid, businesses globally have realized a need for the online shop setup. WordPress makes it possible without spending huge bucks. WooCommerce- the WordPress Ecommerce plugin provides everything such as shopping cart, checkout, order management system, refunds, marketing tools, and other features that make launching a full-fledged online store effortlessly.
Blogs
Initially, WordPress was launched as a blogging platform. Selecting the best blog idea, picking up the right theme, writing quality content, and promoting it fairly enable bloggers to start blogging websites in a day.
How can you get started using WordPress?
As an entrepreneur, at this stage, you are convinced about website development or redesigning using WordPress. That's great! Here are the following steps that help you create a WordPress website.
Buy a domain name after checking the domain name availability that you want to purchase.
Select a hosting service provider with good reviews.
Purchase a hosting plan optimized for WordPress, and fits well your budget.
Install WordPress from the hosting control panel.
It's time to tweak the website functionality and design as per your business website needs.
Create the content for your website and keep updating it regularly.
Leverage various marketing methods such as SEO, SMO, PPC, or email marketing to promote the website and generate traffic.
Conclusion
WordPress has grown into a complete platform with plenty of moving parts that allow businesses to create and manage their website securely. It's your turn. Try your hands-on WordPress CMS and share your experience in the comments below.