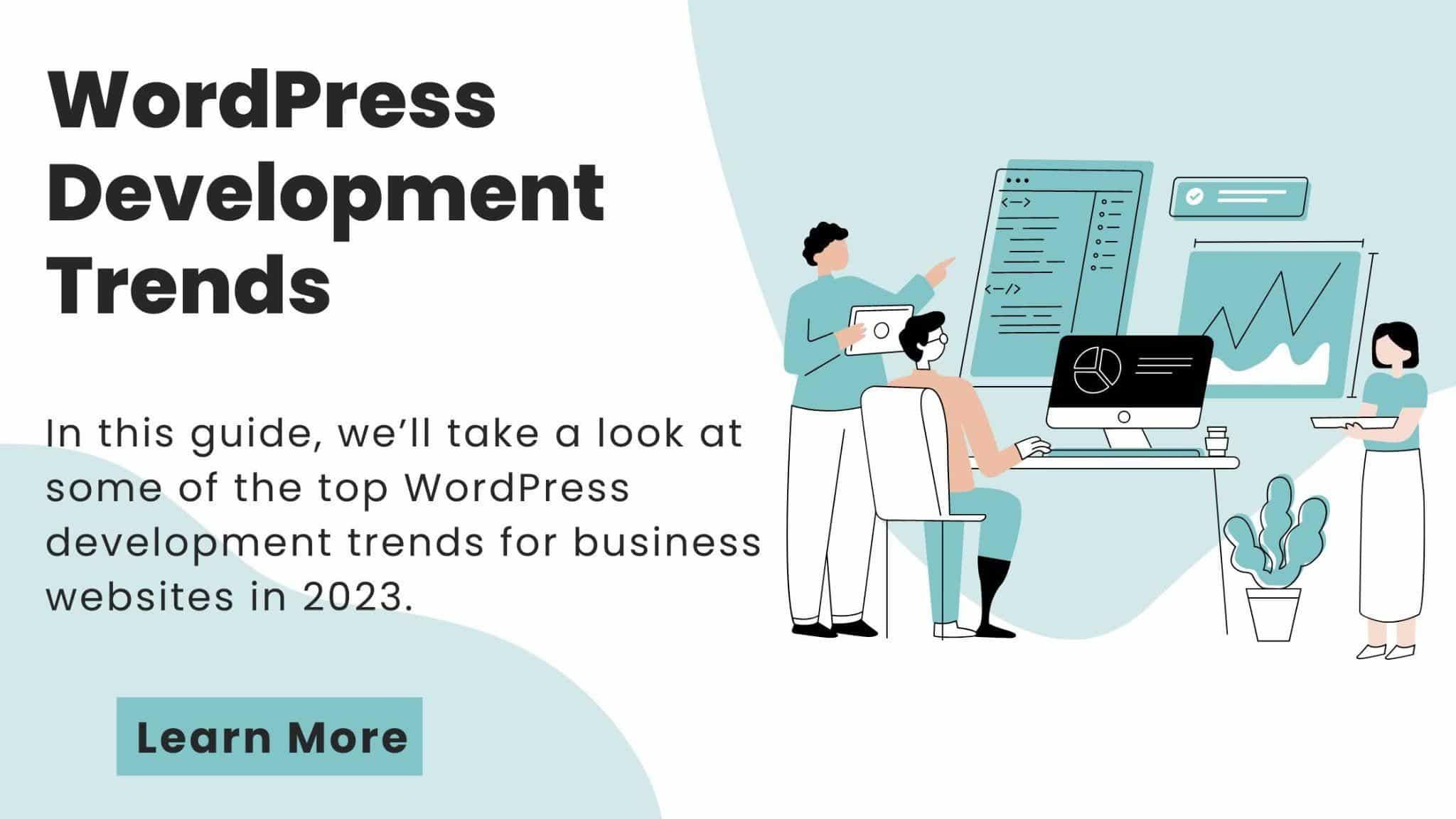 WordPress is one of the most popular web development platforms in use today. And for good reason – it's easy to use, highly customizable, and very versatile. WordPress powers everything from small personal blogs to large corporate websites.
However, as with any technology, WordPress evolves over time. New trends emerge & old ones fade away. As a business owner or a Web Design & Development Company, it's important to stay up-to-date on the latest WordPress trends so you can make sure your website is always using the best practices.
In this guide, we'll take a look at some of the top WordPress development trends for business websites in 2023. We'll also provide some tips on how you can incorporate these trends into your own website.
WordPress Development Trends 2023
As we move into 2023, there are several trends that businesses should be aware of when it comes to WordPress development.
Increased Use of Page Builders

One of the biggest WordPress trends for 2023 is the increased use of page builders. Page builders are plugins or themes that allow you to easily create complex pages and posts without having to code.

This trend is being driven by the increasing popularity of drag-and-drop interfaces. These interfaces make it easy for even non-technical users to create beautiful pages without having to know any code.

There are a number of different page builder plugins available, but some of the most popular ones include Beaver Builder, Divi Builder, and Elementor. If you're not using a page builder on your website already, now is the time to start.

More Focus on Mobile-Friendliness

Another big trend for WordPress in 2023 is the continued focus on mobile-friendliness. Mobile-optimized websites are important, since more and more people access the internet using smartphones & tablets.

There are a few different ways to make your WordPress website mobile-friendly. One option is to use a responsive theme, which automatically adjusts the layout of your site to fit any screen size.

Another option is to use a separate mobile plugin or theme. This approach gives you more control over how your content looks on mobile devices, but it can be more time-consuming to set up.

Improved Security Measures

As WordPress becomes more popular, it's also becoming a bigger target for hackers. That's why security is another big trend for WordPress in 2023.

It is possible to improve the security of your WordPress website in a number of ways. Passwords for administrator accounts need to be strong. You should also consider using two-factor authentication to add an extra layer of protection.

In addition, one of the best security measures you can take is to keep your WordPress installation up-to-date. Each time a new version of WordPress is released, it includes security fixes for any vulnerabilities that have been discovered. By keeping your site up-to-date, you can help prevent it from being hacked.

You should also consider using a security plugin like Wordfence or Sucuri to add an extra layer of protection to your site. These plugins provide features like malware scanning and firewalls, which can help keep your site safe from attack. Whichever approach you choose, make sure you test your site on a variety of mobile devices to ensure it looks and works the way you want.

Increased Use of AI and ML

Artificial Intelligence (AI) & Machine Learning (ML) are two other big trends that are impacting WordPress in 2023. These technologies are becoming more and more sophisticated and are starting to be used in a variety of different ways.

One way AI is being used in WordPress is for content creation. There are now plugins that can help you create better content for your website by using artificial intelligence. For example, the Jetpack plugin includes a feature called Editorial Calendar that uses AI to suggest post ideas based on your site's content.

In WordPress, AI is also used for security. There are now plugins that use machine learning development to scan your site for malware and other threats. These plugins can provide an extra layer of protection for your website.

Greater Use of Multilingual Content

As the internet becomes more global, there's a growing need for multilingual content. In 2023, we expect to see an increase in the use of multilingual content on WordPress websites.

There are a number of different plugins that you can use to create multilingual content on your website. One popular option is the WPML plugin, which allows you to create separate versions of your site in different languages. This plugin also includes features like automatic translation and language Switcher, which makes it easy for visitors to view your site in their preferred language.

The qTranslate X plugin is another popular multilingual plugin. This plugin allows you to create separate versions of your site in different languages and includes features like automatic translation and language Switcher.

Increased Use of Chatbots

Basically, a chatbot simulates human conversation using a computer program. There are a number of different ways you can use chatbots on your website. For example, you can use a chatbot to answer common questions from visitors. This can help free up your time so you can focus on other tasks.

You can also use a chatbot to collect leads or sales information. For example, you can use a chatbot to ask visitors for their email address or phone number. You can then follow up with them later and attempt to convert them into a customer.

As you are now through with the trends, it is important to get a detailed analysis and be in line with their changing landscape. It is advisable to Hire Web Developers from a quality WordPress Development Company or remote staffing agencies such as Distantjob, and get their experts on-board.
Closing Notes
If you're planning to update your business website in 2023, these WordPress development trends are ones you'll want to consider. From advances in AI to the rise of chatbots, there are plenty of new features and developments that can take your site to the next level. By keeping these trends in mind, you can ensure that your business website stays ahead of the curve and provides a top-notch experience for your visitors.