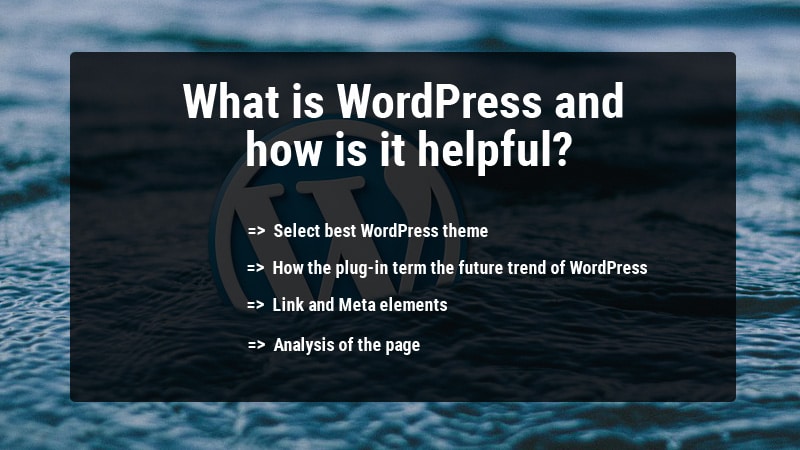 WordPress is a path breaking innovation that allows you to design your own webpage using content management system. It has hundreds of useful features. Started in 2003, WordPress is free and used as open source blogging tool based on the PHP and MySQL.
It was started to upgrade the typography of writing but with the use of codes. This web based software technology enables anyone to program and maintain a webpage or blogging site.
WordPress is the most perfect and most popular trend of the present day culture and it is meant for people to keep a check on where the famous CMS is heading towards.
After a lot of researches, extensive digging & after analyzing a good amount of the trends associated with plugin as well as development of theme, you can easily identify the main innovations in factors which shape WordPress.
It is one of the most important platforms of CMS in terms of web development. It is also one of the most famous and also the best CMS due to its flexibility in terms of customization and for offering huge support to the platform of development.
You can easily improvise the performance and working of WordPress website by just adding a few plugging with some wonderful features.
Select best WordPress theme

It is very important that you select a perfect theme for your website because it plays a very crucial role in determining the fate and success of your website. It makes for a great impression for your website visitors and helps to maximize the SEO.

The design is also significant if you want to use the search engine to its potential. Always remember to choose a design theme that is aligned to the concept of your website and work. The theme should reflect the work you do and it should be relevant to the industry you belong.

How the plug-in term the future trend of WordPress

Plug-in is also one of the solutions such as The Visual composer, which replaces the post of WordPress or the Pages editor. The interface of the Visual composer helps you to drop, drag and re size different modules on your web page each of which has a contrasting function.

Some modules are very powerful and they would help you in creating a very novel design of page with the help of columns, tweets, tabs, sliders. It is very flexible as compared to the dedicated approaches of theme.

The post is replaced and the Page editor, for this particular reason if any of the changes are made, just the main content part of the theme is affected. The header, the side bar as well as the footer are not touched until and unless any blank pages template are chosen.

Important features of WordPress development plug-in

Some of the main features are:

Link and Meta elements
Analysis of the page
Creating the site maps XTML
Optimization of RSS
Scanning the comments for any spam along with fast configuration
Highlighting the links in the body of comments