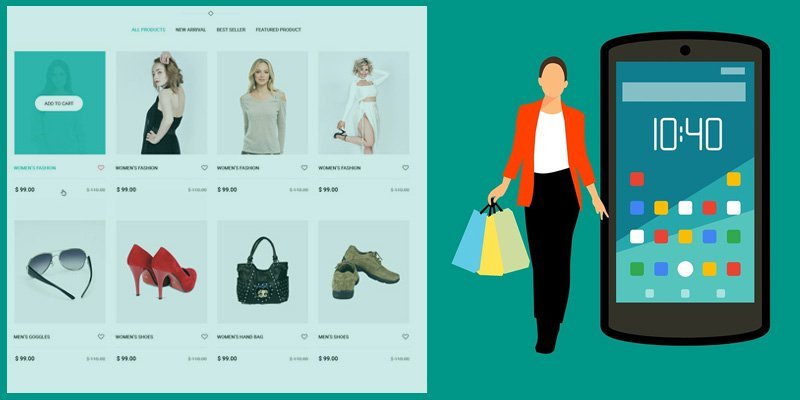 WordPress websites have emerged in great numbers. It is one of the most famous platforms around as it is an open source platform and easily available for people all around. There are almost 75 million websites on internet which are driven by WordPress.
This could lead to just one conclusion that this platform is the most trusted one. Millions of business owners around the world trust WordPress for commercializing their business online. This is the reason that 27 percent of the internet is driven by WordPress.
The websites powered by WordPress are very highly responsive. They are a great platform for E-Commerce and SEO activities. This is the reason that this platform is widely selected. But following the great features and plugins there are some E-Commerce trends which are needed to be catered in order to acquire good services from an E-Commerce website. Let us look into some common E-Commerce trends.
Personalization
Personalization is common trend of e-commerce which is always a top priority of the customer. Providing a website having features for user personalization would always attract the customer and he/ she will be ever ready to jump into the opportunity to create something suiting or matching his/her style.
This one feature could make your website standout from other sites because the e-commerce biggies like Amazon and Walmart are already reaching great heights in their businesses. Therefore, try something unique which could attract the user.
Augmented Reality
Nowadays, everything is online. From personal information, official documents and lots and lots of information on various issues, each and everything is being transferred online by the computer scientists. Be it, buying, selling, watching movies etc. everything is online.
So why not provide your customers the same experience as they are already facing in their routine. Augmented reality can be one that feature which helps in visual presentation of your product online.
This helps the customer to visually view the product online via augmented reality and it attracts the customer more towards the product. It would be an obvious point to consider that a website having simple product image might not convince the customer as much as the website displaying products via augmented reality will.
One Page Websites
Designs for websites have started changing. Most of e-commerce websites comprise of single pages and covers all the activities for the users on that single page. This helps in better interaction, speed and increases ease for the user.
Therefore, considering these points try to have a website having a single page with fast speed and better design which could increase user comfort, interaction and functionality.
Mobile Shopping and Payments
One of the latest trend that is evolving rapidly is mobile shopping and payments via mobiles. 10% of retails sales for e-commerce are coming from mobile shopping and payments.
Web developers these days are focusing on mobile optimization by enhancing the features of websites to update the mobile website design and provide latest features for the websites such that the users and customers could use the website conveniently. Hence, make sure that your WordPress website is working good on mobile optimization.
Conversational Websites for better Commerce
Websites today have become advanced in every way. One latest feature is termed as conversational commerce. This is a trend where websites send notification to its customers and users via email.
This helps in making user aware about availability, unavailability of different features like certain shopping cart working or not, information related to products and their availability etc.
Up till now these notifications have been reaching the user via emails whereas the need is to send notifications via a quicker means through which users can readily access them. Hence the fastest means for this purpose is SMS. Some websites have already started working on it in 2017 and we are hoping that this becomes a major feature in 2018.
Voice Searching Facility
Big IT giants like Google and Apple have been working on voice recognition and voice searching features lately. This is because it is believed that by 2020, 50% of the search will be done through voice. So, it is recommended to have voice searching facility in your websites. This would be beneficial than any sort of extra features added to garner more viewers for the site.
People are keen to add up extra features to enhance the layout of the website. Meanwhile they forget about usability of the site their user's comfort. Bringing in voice recognition would be an extra attractive feature for your customer which enhance the views for your site.
WordPress 5 in Beta
WordPress has been providing various facilities for the developers and have been working greatly for E-Commerce. The latest release of version of 5 in beta has been already bringing a lot of changes. It is an updated version with a lot of fixes that were required in version 4.9. WordPress 5 in its beta version is up with lots of extra features for e-commerce and also provides various themes which could be helpful for managing your business. There have been some eye-catchy plugins, code editing and customization features which are more facilitating for the user and the developers.
The users and administrators of the website have been enjoying the latest version as it is very helpful in maintaining and managing the sites as well. WordPress 5 vows to empower its users in every way possible and it is a step forward to enhance your business. If you are looking for an important trend of e-commerce for WordPress sites then remember to use WordPress 5 for developing them.
Conclusion:
E-commerce is spreading day by day. As a result of which websites are being built and a huge number of this consists of websites built through WordPress. Therefore, to co-op with the requirements and expectations of the customers, the builders and owners need to come up with some news ideas and need to follow new trends which would attract the customers. Some of these trends have been mentioned in this article and increased your knowledge regarding the topic.