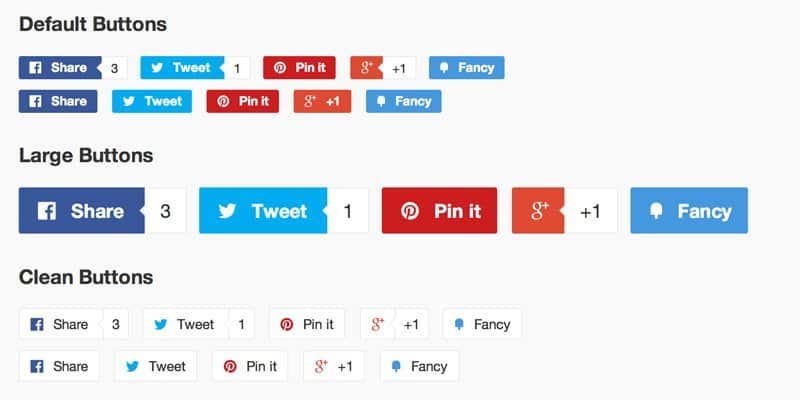 Anyone doing business in this day and age should understand that social sharing is an integral part of a wholesome internet experience. The internet contains so much content that it may take your audience long time before accessing your website or content for that matter.
Now with a social sharing app, you can connect your website or series of websites to social media networks. This will enable you to track the performance of each content while at the same time attract more visitors.
Need For Social Sharing
Why is social sharing so important?
Creating good content for your site is a job half done, and the other half lies with you mending the content before your target audience.
Now this is where a social sharing app comes in. With just a simple push of the buttons, the content can be shared to any social media to influence your target audience.
Most Responsive Social Sharing Plugins
The following list contains the best responsive social sharing plugins for WordPress. There is no particular order used in listing the plugins;
Easy Social Metrics Pro

If your intention is to track down how your content performs on social networks, this pro metrics plugin is surely the way to go. Easy Social Metrics Pro gathers all necessary information concerning your post.With it, you can see the less viewed content and the highest viewed ones. Data collection also is automatic with timely reports, and if you want this plugin, it goes for a one time purchase price: 28USD

ShareBang

This is a modern, lightning fast plugin that basically gives you the ability to control every aspect of your social shares with different styles of buttons to attract visitor's attention. This plugin has 21 positions for perfect responsive engagement to attract visitors.

Also it comes with page locker that temporarily locks content until it's shared. ShareBang operates on 42 major social sites. For only 19 USD, you can get this plugin that supports PHP development.

Social Locker

The principle behind this plugin is to hide content to increase shares. How does this work?Content may be blurred using a translucent overlay which is removed only after you share the content. This improves social performance of your site, while also generates valuable traffic. It only supports 8 networks currently and with only 25 USD, you can get yourself this plugin that comes with built in analytics as an added advantage.

Social Network Tabs

Social network tabs for WordPress is a fast loading plugin that offers PHP development in site. This plugin minimizes the use of AJAX and slide away tabs can be incorporated within the content of a page.

Supporting 16 social avenues and with more than 69 feed option, social network tabs is a plugin that you should try. To top everything up, you will only pay a one off 15 USD.

Monarch (87+ themes)

As the name suggests, this is a premium social sharing plugin. This is one of the top rated plugin from elegant themes.Monarch supports a wide array of social platforms to be exact, 20+ networks. It's an easy to use plugin and the settings can be accessed from the custom panel in the WP dashboard. The settings can be exported or imported from one WP website to another without distortions.The purchase price is 89 USD per year.

Kiwi

This comes in two available options; free and premium. Kiwi is a simple and easy to use social sharing plugin. The plugin has its popularity from the simplicity and the numerous themes made by Colorlib. Kiwi is highly responsive and supports numerous social networks.

Social Warfare

Visually stunning plugin that gives you access to great features. This plugin works well with most heavy WP themes. With this plugin, you can add custom tweetable quote boxes in different shape, designs and colors. Social warfare is developer friendly, which supports PHP development and its functions can be extended by the use of add-ons.

Wpsharely

This plugin can single handily get you more social shares, track the results and attract more visitors.Apart from Facebook doing away with likes, other social sites use it. Therefore, Wpsharely can be a way to track visitors and to get them to perform specific tasks.

TweetDis

For its simplicity, it's a beloved amongst many. It works differently from other social sharing apps. For example, you can create tweetable content. Tweedis understands that social media works better with images. With tweetDis, you can tweet even images.

Ultimate Social Deux

This social sharing app supports up to 10 social media sites. It also hassleek buttons and logo and email sharing options. Ultimate Social Deux is a multipurpose package and is compatible with most WP plugins. The plugin uses lightweight JS and CSS so the buttons load faster.
For more information on social sharing apps development, please keep tabs with us.