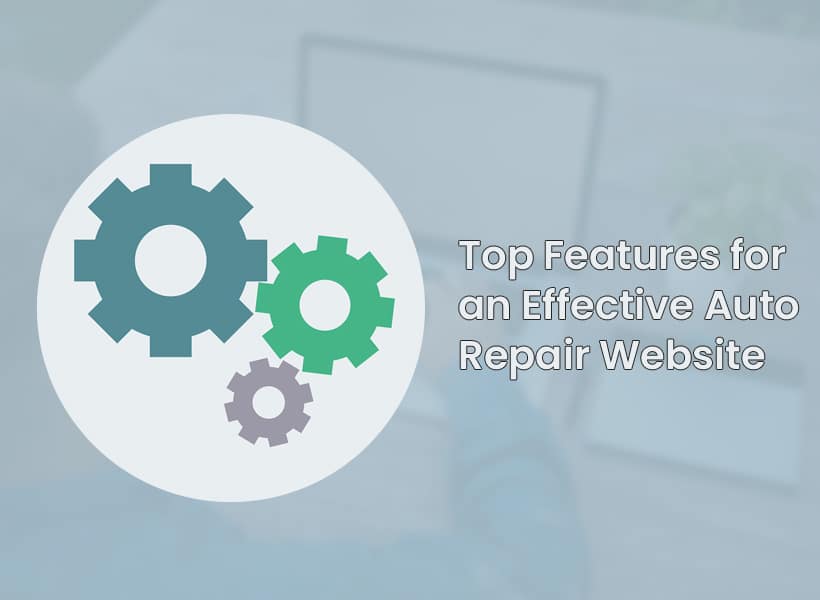 For years, countless individuals have successfully operated auto repair shops, relying solely on word-of-mouth marketing and their business's physical location. Yet, this approach only reaches a local audience, limiting potential growth.
In the contemporary fast-paced market, expanding your customer base and enhancing your business footprint calls for more than just a well-placed signboard. It necessitates establishing a robust digital presence, which is where auto repair websites come into play.
A professionally designed website is not just a tool for large businesses; it is equally essential for small auto shops. Such a digital platform enables businesses to attract and serve customers beyond geographical constraints, thus opening the door to exponential growth.
Hence, in this post, we are going to discuss the top features and steps for setting up top auto repair websites for auto repair shops. We will explore the essential elements that can elevate your auto repair shop from being a local favorite to becoming a widely recognized brand in the automotive repair industry.
Top Reasons For Investing in Websites For Auto Repair Shops
Since so many individuals these days look online instead of asking friends for recommendations, an auto repair website is your finest tool for generating business. In fact, some potential clients might not even be aware that you exist if you don't have an online presence.
But that's only one reason why you need to invest in an auto repair website. There are various other benefits your auto repair shop can reap from setting up auto repair websites.
Here are the top six reasons why investing in an auto repair website should be on the top of your to-do list:
1. Prospective Customers Expect You To Have a Website
Customers anticipate that you will have a website.
Nowadays, a website is crucial to be taken into account by customers because it conveys credibility. Did you know that without a website, 30% of shoppers won't even think about making a purchase? Even though automotive repairs are still done in person, auto repair firms are expected to have websites.
2. Your Auto Repair Shop Will Get Featured in the Search Engine
The term "Google it" is commonplace in today's society. Isn't your shop the first one you want consumers to find when they search online for an auto shop in your area?
To guarantee that your store shows up correctly in Google searches, you need a website. Once your website is up and running, you may concentrate on using search engine optimization to raise the website's search engine ranks (SEO). Your auto shop's website will rise to the top of search engine results with time and the appropriate strategies.
3. Auto Repair Websites Help You Keep up With Competition
It's critical that you have a contemporary and well-designed auto repair website because most shops in the auto repair industry do.
Make sure your website highlights all the fantastic qualities of your car shop in order to ensure that you stand out. Make sure your website accurately represents your brand because it's the first place customers will look while doing research,
Basically, it's through your auto repair website that your customers will get to know you and your key services. Don't ignore your internet reputation because it represents you.
4. It is the Platform Where You Can Connect With Your Customers
The best auto repair websites are responsive, easy to navigate, and also connect with customers. In fact, you should add a send us a message call to action on your auto repair website, so your potential customers can stay in touch with you.
Your auto repair website is also an excellent way to communicate details about your repair and maintenance services to potential customers.
Customers can learn all they need to know about your auto repairs without bothering you by visiting your website instead of calling to ask a question.
Since your clients will want to know about services, hours of operation, locations, directions, contact information, FAQs, and more, it is crucial to include all of this information on your website.
Eliot's complete auto repair website, for example, has all of the contact details listed including the phone number, whether or not it is a family owned business and details on car repair services.
It is important that you list the phone number on the home page, thereby inspiring customer interaction with your team.
5. It's Convenient For Your Customers to Book an Appointment
The time when customers preferred to make appointments over the phone has long since passed. In today's world, people prefer to act alone and forego dialogue which is why it is a great idea to add an appointment booking button to your website.
In fact, you may save your customer's time by letting your customers schedule directly and lock your calender by offering an easy-to-use "request an appointment" form on your website.
You don't need to go over multiple potential times and days with the consumer over the phone; you may just acknowledge their request for an appointment. Imagine having a full schedule without having to debate logistics; you'd have more clients and more time to concentrate on the repairs themselves!
The appointment booking call to action can help achieve all of this.
6. A Website Can Boost Your Sales
An auto repair website is an excellent tool to have, one that can boost your sales. It can help your shop grow its footprint and gain more customers by tapping a wider market.
Your shop will receive fresh leads and consumers via an optimized website, and it may even aid in closing deals.
You can advertise and show coupons on your website, for instance, if you have any special deals or promotions going on at your store. The added incentive that promotions provide for customers to choose your store will improve sales and bring in new clients.
By including social proof on your website, you can boost the sales revenue for your auto shop.
Displaying user reviews on your website will help you gain customers' trust. 84 percent of consumers, according to studies, put as much faith in internet reviews as they do in their own friends. Sharing customer testimonials is actually one of the features of the best auto repair websites.
You'll expand your company and attract new clients by showcasing your high-quality service through these testimonials
The bottom line is that if you own an auto repair shop and want to grow it, you need to invest in a website. Maintaining an auto repair shop is easy but growing it, is not.
Attracting new customers in your local area comes down to being available on their preferred channel of research and communication. Don't hesitate to meet your customer base where they're at by providing a website that includes an easy way to get answers and book appointments.
You'll be showing up in search engine results and scheduling new customers in no time!
Top Features of An Effective Auto Repair Website
1. The Right Domain Name
The first step in setting up an auto repair website is getting the right or appropriate domain name. Be careful while choosing domain names because they are one of your most valuable marketing assets.
Your URL, which is the text you type after the "www," should be somewhat related to your company. It ought to describe the nature of your company or detail what it performs.
Short and uncomplicated is best. For example, find out if you can buy the domain name www.joesautorepair.com if your business is called "Joe's Auto Repair." Consider www.bestmechanicinphilly.com or another memorable and promotional moniker if spelling your company name is a problem for some people.
2. Your Company Logo
Featuring your branding materials like a company logo on the website is important. Christian brothers automotive has a repair shop in every state of the United States and yet their home page features their brand logo for customers online.
When choosing your company logo, it is recommended that you opt for fonts and colors that complement your branding. The job of the brand logo is to be memorable for your customers and also represent your branding theme, colors, and purpose.
3. The Structure of Your Website
Regarding the structure of your website, it is recommended to have at least three pages. This includes the homepage, about page, and contact page. All three of these pages should be well-written and designed with a professional appearance.
You should also have a pop up window and call to action that connects with customers and allows them to drop your business a message.
Homepage:
The homepage should list your key services, and contact details like primary phone number and email address and also have a call to action.

It is also recommended that you add engaging photos of your shop in addition to key information and client testimonials. The key is to add details about what kind of repair services you are offering. For example, a shop, that offers tire sales and maintenance often adds that to the website. If your shop is offering a shuttle service, you also need to list that down.

You can also add photos of your team members including the key personnel. Key information, social media links, and photos of your business go a long way in engaging customers.

About Page:
The about page is the best way to convey your brand's story to customers. You will also have the opportunity to include what makes you and your services different from other players in the industry.

You can also add social media links of your team members while introducing them to the about page. Also, add the google maps location link here.

Contact Page:
How can your clients contact you? Include your phone number, physical address, and any links to social media platforms to make it simple for them. Make it clear if you're open to taking texts. Even better, offer an email form so people can contact you whenever they need your services.

You should also list your primary phone number here. Another option is to add a pop up for 'contact us' here, which serves as a quick call to action.
4. Responsiveness
The next thing to check is that your website functions properly on both, a smartphone and a desktop computer. Customers today use their cellphones to seek for garages, especially if they are stranded on the side of the road. You'll lose customers if your website is challenging to use on mobile devices.
Hence, having a website that is responsive is quite important.
5. Engaging Content
Although you might begin simply, you should eventually add interesting material to your website. Customers are more likely to choose you when they need service for their vehicle if you provide them with more blogs, videos, preventive maintenance advice, and other important information for free.
A business engine could be your website. The objective of a digital marketing strategy, such as one run through Facebook business pages or Google My Business, is to increase the number of people who see your website and interact with your store.
In the long term, you'll benefit from more customers through engaging content on your website.
Website Tools and Builders
You can create a quality website that performs as intended without knowing how to code.
You can also browse the web to see examples of excellent websites for auto repair as inspiration.
Nowadays, you have access to a wide range of options when it comes to website tools and builders. For example, you can add a green color scheme or a red one, generate text message alerts and add design to make it a great website.
Small businesses should also focus on getting google reviews to supplement their website.
Conclusion
In conclusion, an auto repair website can offer tangible benefits, from augmenting visibility and credibility to streamlining appointment scheduling, all while ultimately increasing sales. Leveraging the digital sphere to maximize your auto repair shop's reach and potential has become a crucial strategy in today's digital age. With the right features, such as an appropriate domain name, engaging content, and responsiveness across devices, coupled with a structure that prioritizes user experience, an auto repair website can become your strongest marketing tool. Furthermore, with various user-friendly website builders and tools available today, setting up a powerful online presence has never been more accessible. Therefore, for auto repair shops aiming to grow and thrive in this digital era, investing in a well-designed, customer-focused website is not just a good idea – it's a necessity.