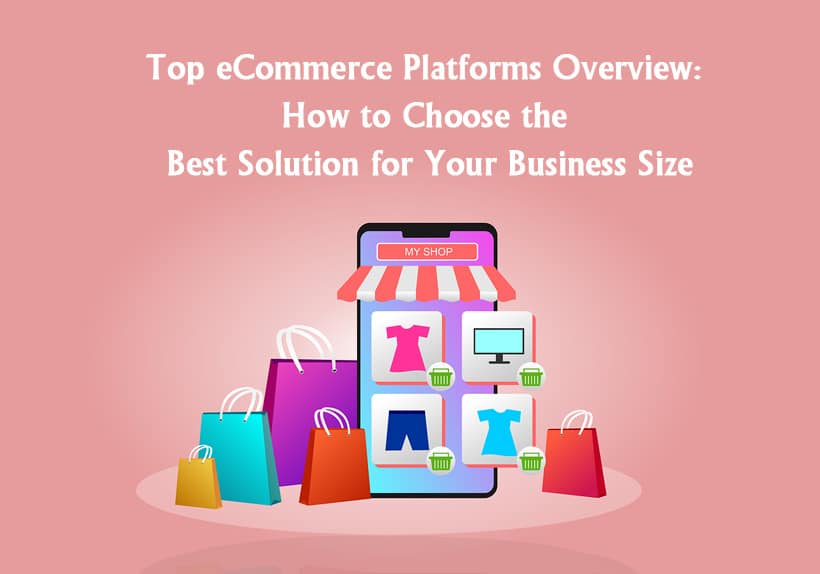 Whether you have a startup that just claims its place on the market or an owner of a big-scale company, the one thing that you have in common is a need for a high-performing website. A reliable eCommerce platform is a bulletproof way to own a successful website. Check out IT Delight, an eCommerce development company that provides cutting-edge solutions for various eCommerce businesses.
Meanwhile, in this article, we'll talk about different eCommerce platforms and how to choose one that will fit your needs.
Different types of eCommerce platforms
Before heading to the list of eCommerce platforms, let's talk a little bit about the types of eCommerce platforms that exist on the market:
Open-source eCommerce platforms. These platforms provide access to the code, allowing merchants to modify and adjust them to their needs. This type of platform requires serious knowledge of coding to make the platform customized.
SaaS eCommerce platforms. Alternatively to the previously mentioned platforms, they offer ready-made solutions for a standard fee. You can also buy advanced features for an additional price.
Headless eCommerce platforms. They combine features of the two other types and combine the best out of the two. They offer great control and the ability to customize online stores.
Tips on choosing the right eCommerce platform
With so many different eCommerce platforms that all seem the same at first sight, let's talk about some things to pay attention to when choosing the one for you.
Evaluate the current state of your business

Start with analyzing the organizational structure of your business. Determine how you are going to communicate with your customers, handle data, manage sales, etc. Basic requirements can be handled with a SaaS platform, like Shopify, while more complex businesses must opt for headless solutions.

Set the priorities

Create a list of all the needs of your business and set the priorities. No eCommerce platform will be able to cover all of your needs, each of them has a specific feature or detail they are strong in, such as flexibility or speed. And you need to choose what's the most important for your business.

Choose from trusted vendors

With an eCommerce platform, you'll not only need to launch it but also add new features, run updates, etc. Reliable eCommerce development partners will be of great help in such a case. Or, if not, you should be able to choose from a community of developers to help you with specific questions. As such, choose an eCommerce platform with loads of helpful resources, including FAQs, guides, etc.

Analyze the feature set

This is one of the key things to consider when choosing a platform. You need to create a list of critical and non-critical requirements for your online platform and know exactly what you cannot overlook when making a decision.

In this way, you'll be able to narrow down the list of potential platforms. Additionally, pay attention to different versions of the same platform. For instance, Magento Open Source doesn't have built-in module features, while Magento Commerce does.

Check third-party integrations compatibility

Last but not least, check the third-party integrations that you need to install. Lots of eCommerce platforms integrate with third-party integrations via API. Check the list of integrations to see what are those that they need for your online store. For instance, if selling internationally, it's convenient to use Drupal Commerce because they offer more than a hundred payment gateways. You will provide your customers with convenient payment methods no matter where they are located.
eCommerce platforms for startups: Shopify, OpenCart, WooCommerce
If you are a startup, chances are you have a limited product catalog, a tight budget, and a lack of human resources. When talking about web development, such companies don't need much customization and experience light traffic.
Let's review possible eCommerce platforms:
Shopify – This is one of the most popular eCommerce platforms that makes up a sufficient choice for a newbie. You don't need much technical expertise to set up a shop and can benefit from a free SSL certificate, dozen payment gateways, etc.
OpenCart – This is a free, open-source eCommerce platform. You can download it and add needed features and functionality with the help of pre-built plugins and modules.
WooCommerce – This is a WordPress plugin with an open source code that you can modify to your needs. According to statistics, merchants mostly use WooCommerce because it's very easy to use and handle.
eCommerce platforms for mid-sized businesses: Magento Open Source, BigCommerce, Drupal Commerce
Mid-sized businesses have different requirements and needs for eCommerce platforms. Scalability and customization are of key importance for those businesses. They have a wider product catalog and experience medium-load traffic.
Let's review some of the platforms that can be used for those businesses:
Magento Open Source. This is one of the Magento editions that has reasonable pricing, free core code, and basic functionalities. It can be greatly customized and has excellent scalability options.
BigCommerce. This SaaS subscription-based platform allows you to create and launch an online store in a matter of days. It has lots of built-in features and affordable pricing.
Drupal Commerce. It's quite a new platform that started as a content management system. However, it has quite a wide set of features and functionality and also can be integrated with other platforms.
Conclusion
By now, you are probably overwhelmed with choices and things to consider when choosing an eCommerce platform. The main things to remember are:
Your budget
The necessary features and functionalities of the online store
Priorities for the project
The future needs of the business that will appear after store's growth
Keeping these things in mind, go through the options on the market. After analyzing your options, don't be shy to contact the vendors and discuss your needs with them. Listen to what they have to say and ask to clarify all the uncertainties. Because this decision is the one that will determine the speed of your business development and growth.