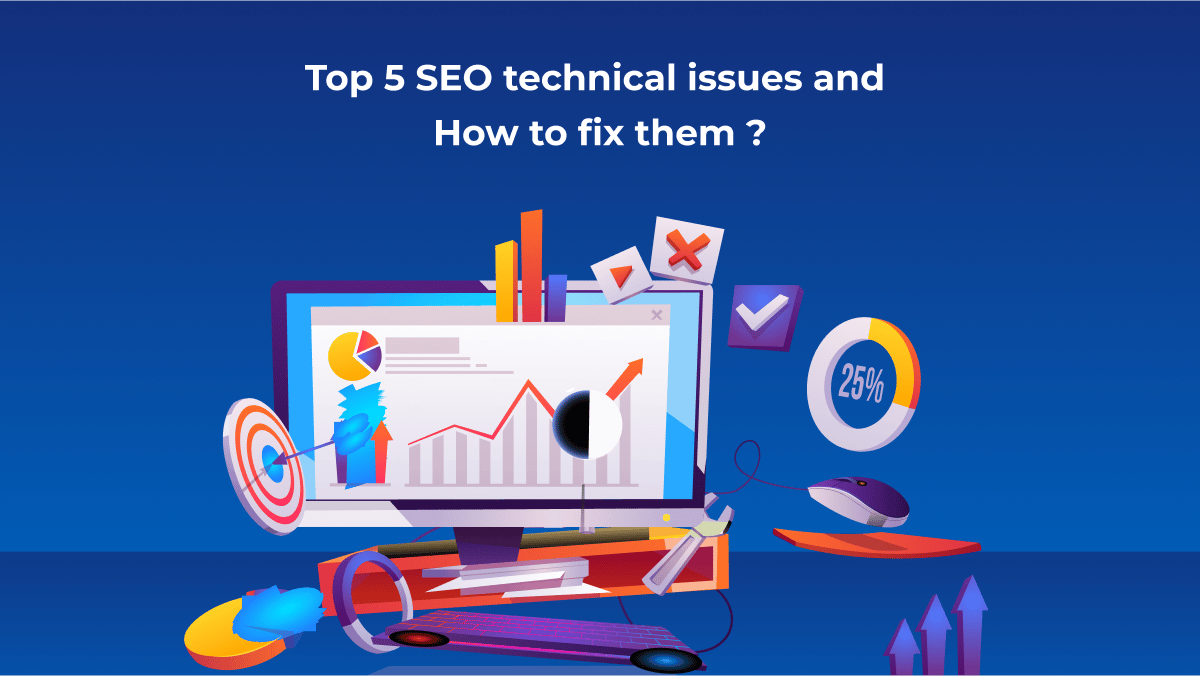 You want your website to rank for relevant keywords on search engines! But even after using all the knowledge and the right techniques, you don't get desired results.
We generally ignore the facts like slow page loading, spammy traffic, poor interlinking because all websites go through it! But ignorance can result in a dip in traffic.
You are here either because you don't want your traffic to free fall or you are already facing an issue and trying to resolve it. Whatever is the case, we have highlighted some SEO technical issues and what you can do to avoid these issues.
1. Copied or Duplicate Content
We all have heard or maybe experienced that Google penalises sites when they try to manipulate search engine rankings with duplicate content.
Obviously, it is not possible to totally avoid duplicate content. But, if you are purposely doing it to manipulate search engine rankings, Google might penalise your site.
However, if you have any duplicate content and you don't want your search engine results to fall, it is better to resolve this issue. There is a reason behind this. You want Google crawlers to visit your website to find new updates. But when it finds identical information, you probably lose your crawling cycle.
The chances of duplicate content are increasing because more and more brands use dynamic websites. The other reason behind this is CMS (Content Management System) functionalities like sorting parameters.
Solution:
There are four things you can do to fix this issue:
A. You can use the robots.txt file to inform Google's crawlers about folders and directories that are not worth crawling.
B. By using rel="canonical", inform Google which URLs to prefer while indexing. It basically informs crawlers which pages are duplicates of another and which is the primary one for indexing.
C. If you have websites in multiple languages, use rel="alternate" hreflang="x" code on every page. It identifies the geolocation of the content that is similar to the given language.
D. You can check whether your URL is with "www" and without "www". It should redirect to the one you prefer. If it does not redirect, it is not properly set. So, choose the one URL as your main URL and redirect other requests using 301 redirects.
2. Missing Alt Tags
All websites use images to add more depth to text or to make it interactive. But if the images don't have a proper image name and alt tags, you might miss SEO opportunities. It tells bots indexing the page what the image is about. Alt tags usage boosts SEO values.
Solution:
You can perform regular site audits. Audits help identify broken or missing alt tags. You can fix those names manually or use a plugin that helps you with that. There are a lot of image optimizers in the market.
They auto-detect images and rename the alt tag to the format you decide. An added advantage of using such plugins is that it compresses images without compromising on quality. Reducing image size increases the speed of your website.
3. Lack of Structured Data Usage
The reason why a website should have a structured data format is to help the crawlers in understanding the content and data on a page. Some sites don't have location-specific web pages at all.
Solution:
Whenever you launch new content, ensure the page is well structured and follows the content marketing norms. You can also create local-specific web pages. It shows searchers looking for information specific about local businesses. Using structured data format, your site might result in "rich snippets."
It can highly impact search result rankings and improve clickthrough rates. However, if you find it hard to understand and implement this solution, you can hire dedicated developers in India . They can help you structure your code and make it SEO friendly.
4. Poor Mobile Experience
Mobile site users ditch websites if it takes more than 3 seconds to load. So, you only have less than 3 seconds to hold a visitor. Google encourages AMP (Accelerated Mobile Pages) format for websites indicating clean and fast experience is a priority for mobile users. Google has transitioned all websites to mobile-first indexing. You need to ensure your mobile site has the right implementations as discussed below.
Solution:
You need to fix the below things to index your mobile site first:
A. The hreflang code and links should be appropriate and correct.
B. The metadata on the mobile site must be updated. Also, the meta description in mobile and desktop sites should be equivalent.
C. As discussed above, the mobile pages must have structured data and all the URLs are updated to mobile URLs.
5. Indigent Navigation
Internal linking in a website is perfect when visitors can come back to the homepage from a page of the website. The art of internal linking is to link core pages and supplementary pages wisely. If the website is considered not useful by crawlers, it is not going to rank. Because if it finds your site irrelevant, it is not going to show.
Solution:
We usually focus on the pages that bring in money while making the site structure. But it isn't the best way to interlink. Try linking the core pages to smaller pages. You can also create new links from old content and link them to new ones. The pages should be linked in a way that the content in it supports the other.
For example, you have the main page describing the features of the product you sell. You can add some supplementary content that shows the usage or benefits of those features, user manuals, guides, how-to videos, articles, etc.
On the other hand, if you don't have supplementary content, you can create a few core pages. You create a coherent web by creating a web of internal links. The only thing you need to take care of is to avoid anchors containing keywords you are targeting. If you understand the art of internal linking and rich content, any page is a money maker.
Conclusion
If you are facing all the issues discussed above or a few of them, try solving them one by one. Start with small changes like fixing links, fixing images, and alt tags. Fix the issue and see what difference it is making.
It is not a one-time process, you have to keep checking it every time you upload a new image. You should perform regular site audits to save your site from falling into the same trap. Once you fix all the issues, you would definitely see a rise in search traffic.