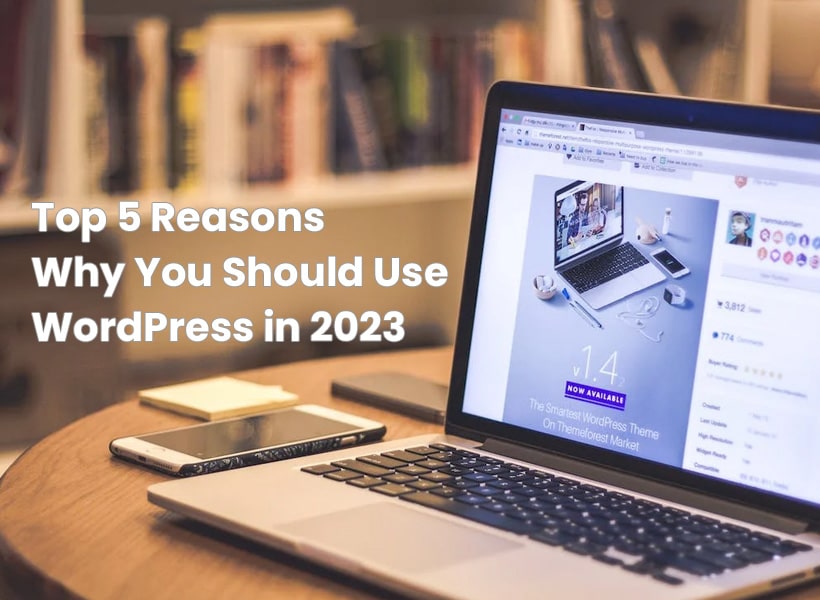 Websites are the data source for your customers. So, there is no denying that a website is a necessity and WordPress is a leading CMS with a 65.1% market share.
The popularity of WordPress has numerous reasons, including cost-efficient, ease and security of web development. However, you must consider various WordPress development characteristics.
So, in this article we will discuss top 10 important reasons to use WordPress, these will help you establish the answers for the following queries:
Why is WordPress the best for your website development?
Is WordPress secure for website development?
Is a WordPress website cost-efficient?
Is it easy to develop a website with WordPress?
What is WordPress?
It is an open-source content management system CMS that offers tools for website and blog creation and it is written using PHP. Furthermore, it uses the databases MariaDB and MySQL for data storage.
There are millions of websites that have been built using this CMS and the credit goes to the fact that it uses a flexible interface. The tools of WordPress are easy to understand and use. To add more, WordPress has been ranked as the top content management system.
It is intuitive and straightforward for beginners; at the same time, it is a powerful tool for experts. Now, comes the point where you must know the reasons why WordPress is or can be the best CMS for your website development. Here you go;
Reasons Why WordPress Is the Best for Website Development
TekRevol is an advanced mobile app development company London that will transform your ideas into life be offering a unique user experience through robust and innovative solutions.
WordPress is Resilient and Adaptable

WordPress is highly adaptable for many applications such as, blogging, online publishing and running complex sites for big enterprises, and design independent blogs.

By developing a website using WordPress you can make a portfolio and host a social network, community, etc.

WordPress is highly versatile to fulfill the requirements of your client using the basic plans and all complex demands can easily be fulfilled by using basic + premium plans.

Everything is manageable because of its several themes and straightforward access to its source files.

Easy-to-use

WordPress can be installed and run within minutes and it requires least to no expertise. Moreover, another peek is, it is highly intuitive and user friendly for beginners!

To start your website development using WordPress CMS, you only need a web hosting account and domain name, it can be installed for free!
WordPress is so far the best platform for developing intuitive websites for your project or business.

Now, here comes a question, what do you need to start developing a WordPress website?

A domain name
Hosting service
Minimal effort

Your domain name is the identity for your website, with tis name you are visible to your users. Simultaneously, you need a hosting service for your WordPress website and keep in mind that choosing the right hosting service is essential for your web development.

For instance, shared hosting might have multiple websites on the same host. Which leads to making the website inefficient in handling and operating peak loads.

Moreover, WordPress website development needs some technical knowledge and for this you need a proficient WordPress web development company London to ensure proficient WordPress website development.

Better Customizations with Multiple Themes

WordPress offers a wide range of options to the display and many of these options are accessible to a consumer via the WordPress theme directory. WordPress is the best option for customizing your website because it offers more than 60,000 plugins and 9,000 themes for customization.

Henceforth, choosing the right WordPress plugin is critical because many plugins do not receive any updates, so you need a WordPress development partner to choose the right plugins for your website.

Optimized for SEO

WordPress is a proficient content management system (CMS) having features that play a critical role in improving a website's search engine optimization (SEO). WordPress's websites have higher visibility over search engines like Google, Bing, Baidu, and Yahoo.
How WordPress improves your website SEO?
Here are some key reasons:
SEO-friendly structure, making it easier for search engines to crawl and index your website and understand your content.
Customizable permalinks enable you to include relevant keywords in your URLs.
SEO Plugins like Yoast SEO and All in One SEO Pack, allow you to optimize meta tags, generate XML sitemaps, analyze keyword density, and more.
Mobile Responsiveness is a crucial factor in search engine rankings and having a responsive WordPress website improves SEO performance.
Content Management with WordPress allows you to publish blog posts, tag content, and manage website's content structure.
Social Media Integration allowing you to share your content and directly influence your search engine rankings.
Higher speed and performance tend to rank your website higher in search results.
Easy Integration with SEO Tools can connect your website to tools like Google Analytics and Google Search Console, optimizing it for search engines.
Regular Updates and Security
WordPress is constantly been maintained and updated by its development team and these regular updates ensure that your website is secure and upgraded with the latest technology. It has a robust security framework that identifies and addresses vulnerabilities, hence offering a secure environment for your website and its visitors.